Those who are fans of both Bethesda and Nintendo, you'll want to pull up a chair for this piece of news. The Elder Scrolls Twitter account just announced a giveaway that provides winners the option to choose one of two prizes: either a custom Skyrim Nintendo Switch or PS4 Pro. In less than a year, we've seen our share of Switch customs from various groups and individuals around the world, but there's no denying that this particular custom stands out like no other: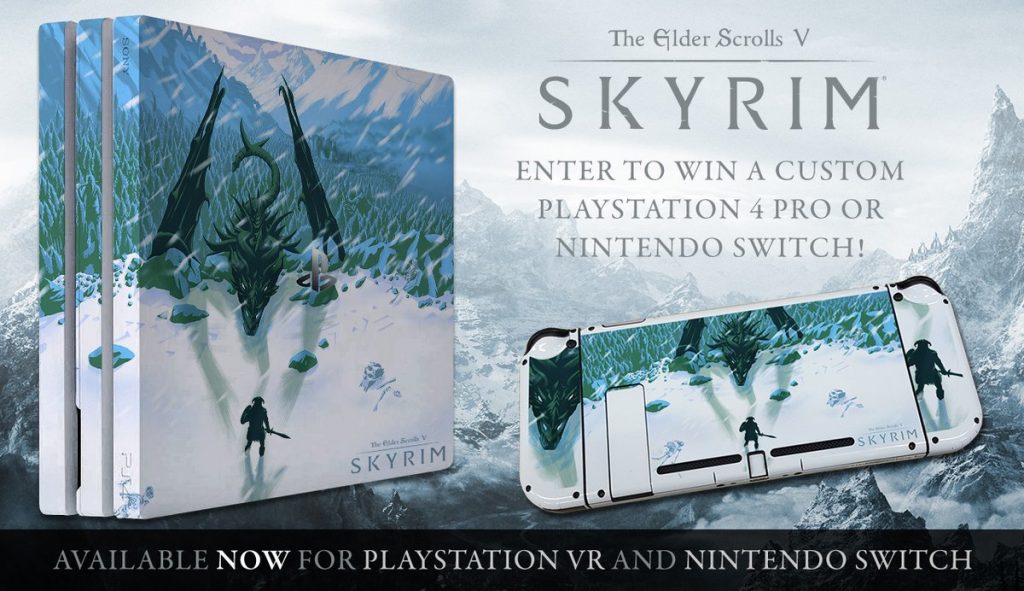 Decked out in a gorgeous white design that displays a scene with Skyrim's hero facing a dragon in the midst of a blizzard, Bethesda was somehow able to pull off creating a detailed snowy landscape in a very subtle fashion on the casing of the Switch and PS4 Pro. You've gotta admit: the very prospect of winning such a contest and having the option to choose one of these glorious customs is incredibly exciting!
Here are a couple important details:
You'll be able to enter the giveaway if you're 18 years or older, with no purchase necessary.
Enter on Twitter: During the Giveaway Period, log in to your Twitter account and 'Follow"
@ElderScrolls, located at http://www.twitter.com/elderscrolls, retweet the official
Giveaway post, and comment whether you'd like a PlayStation 4 Pro or Nintendo Switch. In
order for your entry to be valid, your Twitter Account must be public and thus viewable by
the Sponsor and its agents.
Entry ends on Monday, November 20th, 2017 at 11:59:59 p.m. EST, and you can expect the two winners (one gets the PS4 Pro, and the other the Nintendo Switch) to be announced one day later on November 21st.
Keep in mind that as quickly as this giveaway begins and ends, it will still take up to eight weeks for the prize to be delivered to the winner. As difficult as it may be, you'll have to keep your patience in check should you find yourself bringing home on of these systems.
Head over to Bethesda's giveaway page where the full list of entry rules and details are enclosed, and make sure to read over everything before entering.
To any winners who stumble across this: We'd love to see some closeup shots of your Switch, should you choose that system as your prize. Make sure to share your pics with us on Twitter.
Good luck to everyone who enters!
Leave a Comment