Disclaimer: Due to the fact that Skyrim has made its rounds to other major consoles over the years, we spent the majority of the review below primarily focusing on how it performs on the Nintendo Switch and what this version offers in comparison to other console versions. For those of you who are brand new to the title, fear not, for we very briefly segue into the newer content by describing what you'll find in Skyrim when it comes to the lore and gameplay.
It's been just over six years since Skyrim, the fifth installment in the Elder Scrolls franchise, was released on PS3, Xbox 360 and PC and it doesn't seem to be going anywhere anytime soon. With last year's release of a Special Edition on PS4 and Xbox One and the announcement of Skyrim VR coming to PSVR, it's no surprise to see the title making its way to Nintendo's hybrid just in time for the holiday season. While I'm sure many of you reading this have ventured through the Old Kingdom at least once in the last few years, we'd like you to know that the Switch version of this classic, especially when played using the stellar handheld mode, more than warrants a repeat trip back.
Gameplay
The world of Skyrim is filled to the brim with quests, exploration, towering enemies and even romance — all of which, in my opinion, make it the best series installment to date. If there's something that you want to do inside of this massive world, chances are you can. The main story surrounds the resurgence of dragons to Tamriel; once thought to be extinct, these terrifying creatures have returned to wreak havoc on the good people tending the land. You find yourself in the role of the Dragonborn, a mythical dragon slayer who must discover the mystery surrounding the dragons' reappearance to usher back in an age of peace and prosperity.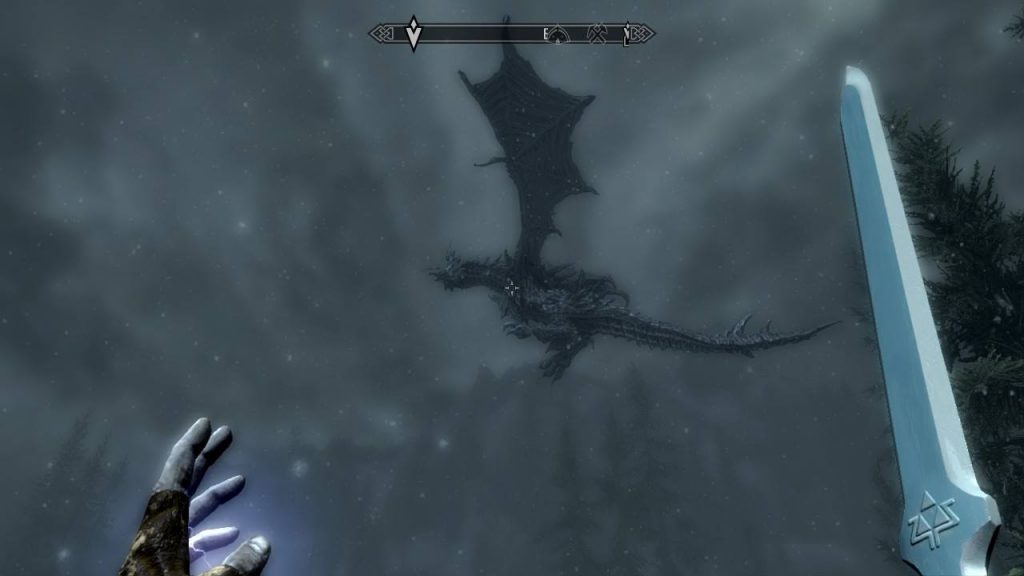 The main draw of Skyrim comes in the form of a gigantic open world that the player gets to explore. For those of you familiar with the massive world in Breath of the Wild, know that you'll feel right at home here, as the game follows the same, "if you can see it, you can go there" approach to adventuring. This world is filled with wildlife to hunt, enemies to slaughter and NPCs to talk with. While discovering the secrets of the dragons is your main objective, you will soon find yourself overstocked with side quests, hunts, and simple good, old-fashioned exploration.
The beauty of Skyrim is that it plays at your own pace. If you would rather hunt a giant or join a guild of thieves than fulfill the obligations of the Dragonborn, you can do just that. In the 100+ hours that I've spent obsessively inspecting every nook and cranny, I never once felt obligated to do anything I didn't want to. The player always has full control of how they want to play while never running short of interesting things to do.
Performance
My first experience with Skyrim was on the PlayStation 3 all the way back in 2011, and while the game looked amazing, it was littered with performance issues, slow loading times and game-breaking bugs. When first announced for the Switch last year, my main concern was that it would bring players a repeat of that experience. Luckily, after spending many hours playing the Switch version in both handheld and docked mode, I can confidently report that these issues are few and far between on Nintendo's compact console, running silky smooth no matter how you choose to play. While some glitches did appear during gameplay — such as clipping into the side of a mountain, occasional and annoying audio popping, and one complete game crash about four hours into my adventure, no issues were so substantial that my experience was seriously hindered. Everything from traversing in lush wooded areas to fighting towering enemies generally went off without a hitch, which was a welcome surprise.
In regards to the audio popping, hopefully this is something Bethesda can address in a future patch.
Update: Bethesda has confirmed via a post on Reddit that a patch is on the way to correct the audio glitches in the game.
ISSUE: I sometimes hears a loud burst of static, especially after fast travel.

RESOLUTION: Try loading a recent save. This issue is fixed in a patch that will be out soon after launch.

One of the many improvements I noticed compared to the last gen release of Skyrim is just how smoothly the game ran. Many of you, especially those who played on PlayStation 3, might remember just how inconsistent the frame rate could be. In some cases, simply going from Point A to Point B with minimal encounters was enough to drop the frame rate noticeably. So far, in the 20+ hours I've spent playing on Switch, I've yet to encounter a single noticeable dip in performance. From what I can tell, the action stays locked at a smooth 30fps in both docked and handheld mode. While we don't have the means to do a sophisticated breakdown of frame rate and resolution, I can say that the handheld experience was always in line with what we experienced while docked. On top of a smooth frame rate throughout, textures appeared to be just as crisp while playing the game in either setting — an impressive feat for a mobile GPU.
Visuals
One of the biggest surprises I experienced while playing was the visuals. When the title was first announced, I made the assumption that the graphics would be in line with the PlayStation 3 and Xbox 360 version of the game, rather than the newly released Special Edition. I'm happy to say that Skyrim on the Switch lands somewhere in the middle. While textures aren't quite as sharp as the PS4 and Xbox One versions of the Special Edition, Nintendo's offering manages to be a decent step up from the original console release. Everything from character models, landscapes and enemies look absolutely stunning, with little to no detail being lost when swapping over to handheld mode. Even for a title that's half a dozen years old, I was beyond impressed with the visuals that Bethesda was able to cram onto my portable pal. As far as system sellers go, this is definitely one of those titles worth showing your friends to convince them to pick up a Switch.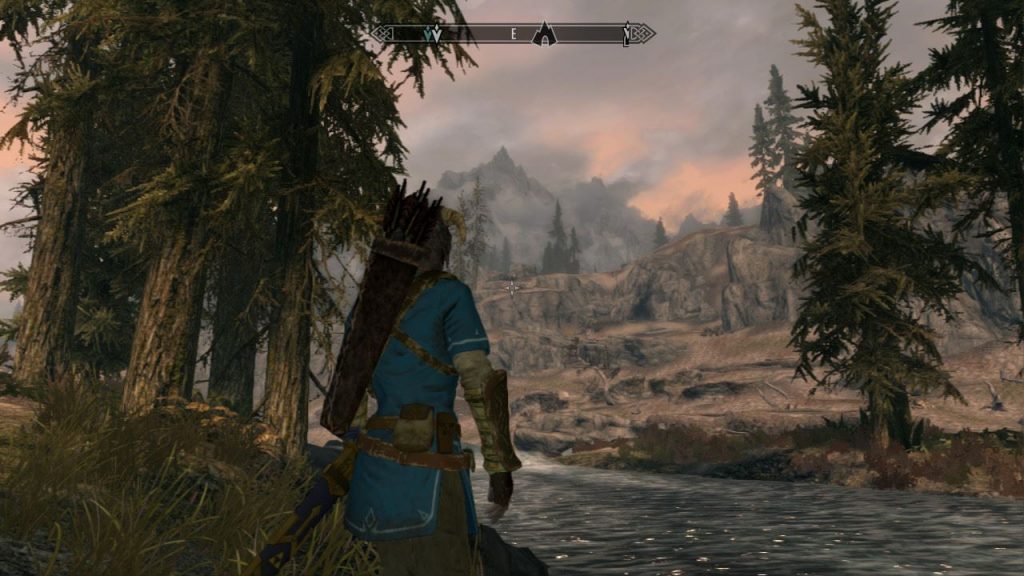 One area that the portable port struggles with is draw distance. While walking through forests or fields, textures would randomly pop into focus as I continued taking steps, especially when I was in grass. This happened pretty consistently throughout my playthrough, but I'll admit that it's a considerably minor complaint in the grand scheme of things. In truth, Skyrim on the Switch is an absolutely gorgeous title and one of the best looking handheld experiences I've ever had. The fact that Bethesda has such a beautiful and robust game running so smoothly on a handheld is a testament to the company's craft.
Controls
Thanks to the power of peripherals offered by the Switch, this version of Skyrim offers a variety of playstyles, ranging from a traditional controlled experience via the Pro Controller to busting out Joy-Cons for a more motion heavy scheme. Using detached Joy-Cons, players can swing their swords and raise shields with a simple flick of the wrist. The harder you swing, the more powerful the attack. While I applaud Bethesda for trying something new, the longer I used motion controls, the clunkier they felt. I found myself missing enemies completely and using more powerful attacks than I intended, which caused me to lose precious stamina during battles.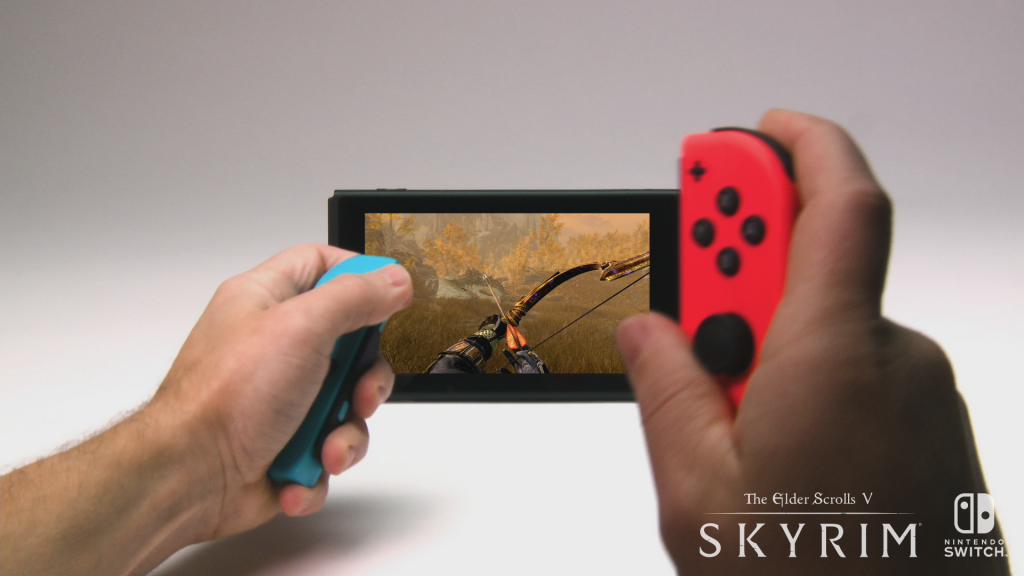 The one exception to my motion control woes was the gyro aiming while using a bow. Accuracy was improved exponentially by tilting the controller, and I found using it to be a seamless experience. Luckily, the Pro-Controller also took advantage of this feature as well, no Joy-Cons required.
Ultimately I preferred the feel of the Pro-Controller while playing through Skyrim, but I also found that using the console in handheld mode was more than satisfactory for hours of adventuring. As I've mentioned in other reviews, I sometimes find the smaller buttons and joysticks on the Joy-Con to hinder my ability to perform specific actions — Skyrim in handheld mode was an exception to this, thankfully.
amiibo

One major facet that separates the Switch version of Skyrim from the rest is the exclusive Legend of Zelda armor and weapons that you can acquire by using an amiibo. Much like Breath of the Wild, tapping in a compatible figure drops a chest filled with random goodies. If you're lucky, the chest might contain part of Link's now-famous ensemble, including the Master Sword, Hylian Shield and Hero's Tunic. I was able to unlock these items immediately after starting the game so there are no specific conditions you must meet to acquire them. You can only scan in each amiibo once daily, but luckily, there's no shortage of variety in the Legend of Zelda line of toys. During testing of the game, I was able to unlock pieces of Link's costume with every Zelda series amiibo released to date, including my newly acquired Champions figures.
Non-Zelda amiibo work in the game as well and unlock gear, gold and food items for you to use throughout your adventure. While the Link costume is a neat addition, I was hoping to see a bit more variety in terms of content. I found myself hoping against hope to come across a Mario hat, a Varia Suit or a Fire Emblem weapon as I scanned my 100+ amiibo collection into the game — only to be disappointed (although I was fully stocked with carrots and meats). At the end of the day, it's a cool, yet lacking feature.
On a positive note, if you're looking to snag some of the Zelda gear without amiibo, the developers added a chest with the Champion's Tunic and Hylian Shield somewhere in Skyrim. Check out our video above to see how to get it.
Conclusion
Skyrim on the Nintendo Switch is absolutely gorgeous and one of the best looking and playing handheld experiences I've ever had. With hundreds of hours worth of gameplay included and the ability to take your adventure on the go, I can honestly say this version of Skyrim is the best I've had the luxury of playing. Although the Nintendo Switch doesn't have the horsepower to match rival consoles, I think this is a perfect example of function over fashion.
Leave a Comment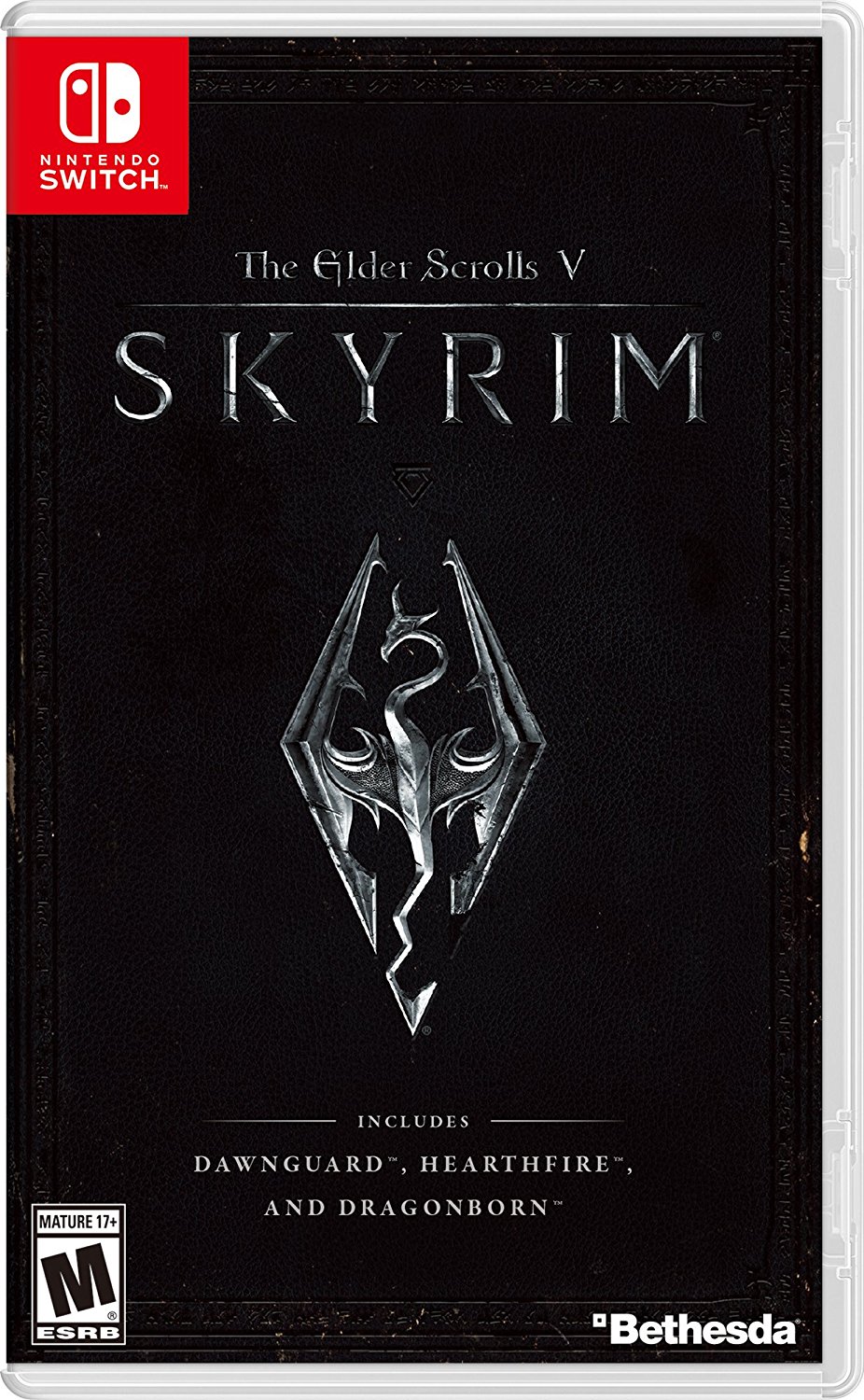 System: Nintendo Switch
Release Date: November 17, 2017
Categories: Role-Playing, Action
Publisher: Bethesda Softworks
Developer: Bethesda Game Studios