One of the first bits of news to come out of today's Xenoblade Chronicles 2 Direct was that
much like Fire Emblem Warriors, dual audio will be an available option via a free download.
While the first Xenoblade Chronicles featured a primarily British voice cast that's become highly quotable in its own right, the availability of the original Japanese take on the characters and their story was a welcome addition. It's great to see that availability continue in the next, upcoming release, and it's a good sign when it comes to ongoing trends from Nintendo.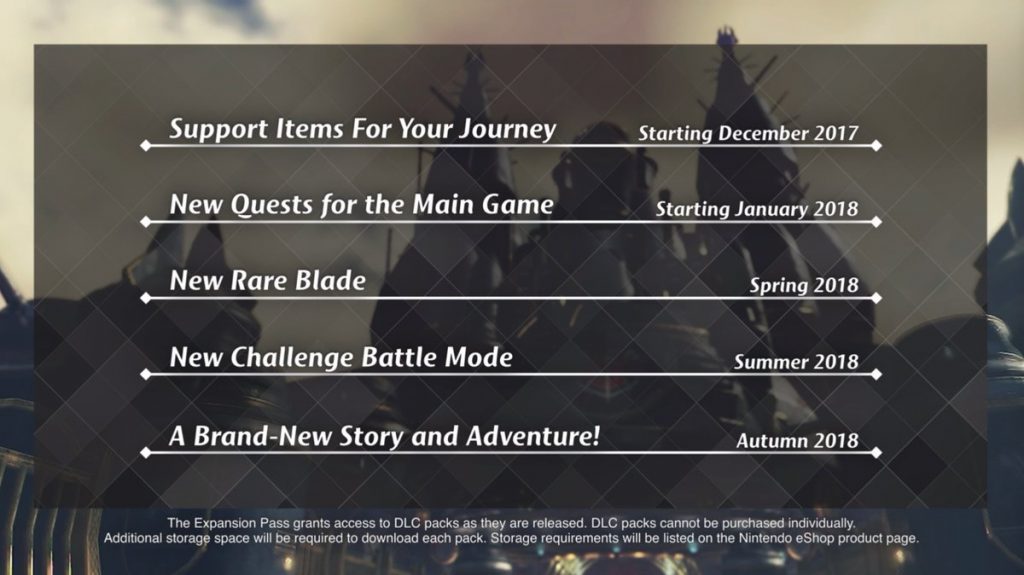 We've also yet another Expansion Pass coming for a big Switch title. You can pre-purchase it today just like the game, and over the next year it'll make the expectedly massive base game grow even more.
As the lineup shows, the first piece of content will be Support items for the game. No word on if they're exclusive to the pass itself, though they may be available as early as the game's launch. We'll definitely see something new in the form of quests once January rolls around.
In Spring 2018 we can expect a new rare Blade, potentially adding more combat options and greater power with the new character. The next two pieces of news have me very curious though:
Summer will offer a Challenge Battle mode, with no indication of what that could be. With rare, powerful creatures being re-battleable in-game by default, this could be a way to take on boss characters or even something more surprising.
Last up, nearly a full year from now, will be a brand new story and adventure. While I wouldn't expect it to be comparable to the game itself, to have a next chapter to look forward to so far away from now shows just how confident Nintendo is with this title.
No pricing has been given for the pass — with it being available to purchase later today it shouldn't take long to find out.
Leave a Comment