There's only one more day until the big release of Super Mario Odyssey, and the embargo on reviews has been lifted. As of this writing, Super Mario Odyssey is sitting at a 97 on Metacritic, tying it with this year's The Legend of Zelda: Breath of the Wild.
On the list of top rated games of all time on Metacritic, Super Mario Odyssey currently sits at number 7. The game has over 20 perfect 10 scores, and more are coming in.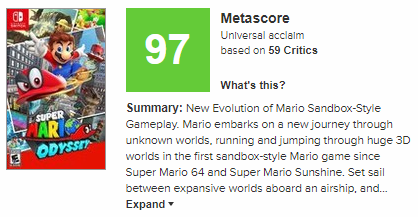 Stick to Nintendo Wire for our very own review in the days to come! Wahoo!
Leave a Comment