This weekend seems to be a busy, yet fun smackdown of ink parties in the world of Splatoon 2. The festivities kick off tonight — let's see what else is coming to Inkopolis Square!
KEEP ON CHARGE'N
October is the month of chargers. This week's weapon update brings the Custom E-liter 4K to Sheldon's arsenal of goods, along with its scoped version, Custom E-liter 4K Scope. Both share the same sub and special weapons: Squid Beakon and Bubble Blower. That's where the similarities end and the differences begin though. Custom E-liter 4K has the plus of keeping a charged shot, whereas Custom E-liter 4K Scope forgoes that in order to have a longer range. Like previous Friday weapon updates, both chargers will be available at 7:00 p.m. PT.
A BITING SPLATFEST BATTLE
How fitting that North America gets a Halloween themed Splatfest — and on Friday the 13th, no less! Side with the near-immortal, blood sucking Team Vampire or practice your howl as you sign up for Team Werewolf. From 9:00 p.m. PT tonight to 9:00 p.m. PT tomorrow evening, purple and orange ink will be thrown down in the name of spooky creatures. We'll have Pearl and Marina's opening remarks about this Splatfest up later tonight!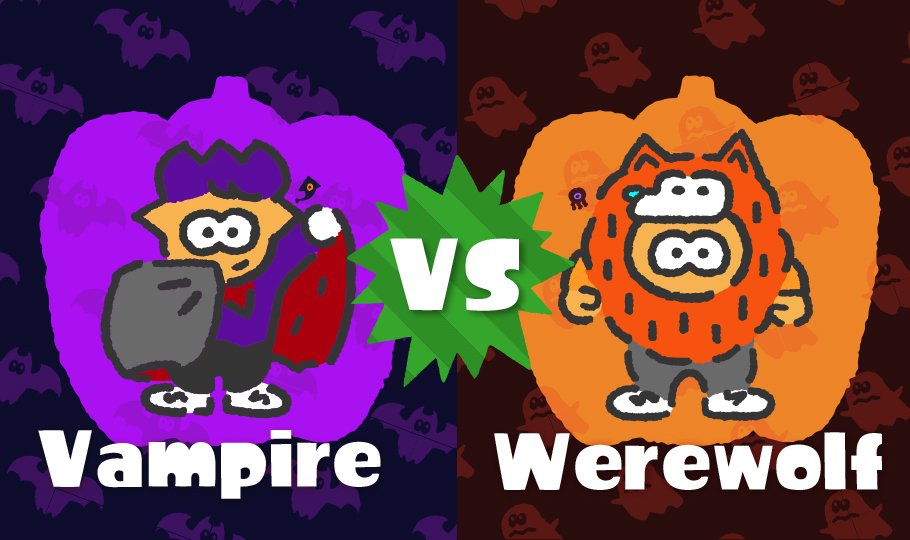 SOMETHING SPOOKY COMES THIS WAY
Oh Shifty Station, keep on changing. The Squid Research Lab hinted that this month's layout will fit quite nicely with the Halloween theme, and it didn't disappoint. The clock struck 9:00 p.m. PT and we explored the new, haphazardly designed layout. Check it out in our video tour!
GRIZZ CO. HIRING FOR THE HOLIDAYS
I spy a row of question marks. Yes! Fans of the mystery weapon roulette of fun Salmon Run will want to clear their schedule this weekend. From October 14th at 5:00 p.m. PT to October 15th at 11:00 p.m. PT, Mr. Grizz is sending out all employees to Marooner's Bay to collect all the salmon eggs they can carry. As of yet we don't know if something from Mr. Grizz's personal collection will be making the random weapon selection, but if it does, you won't want to miss it!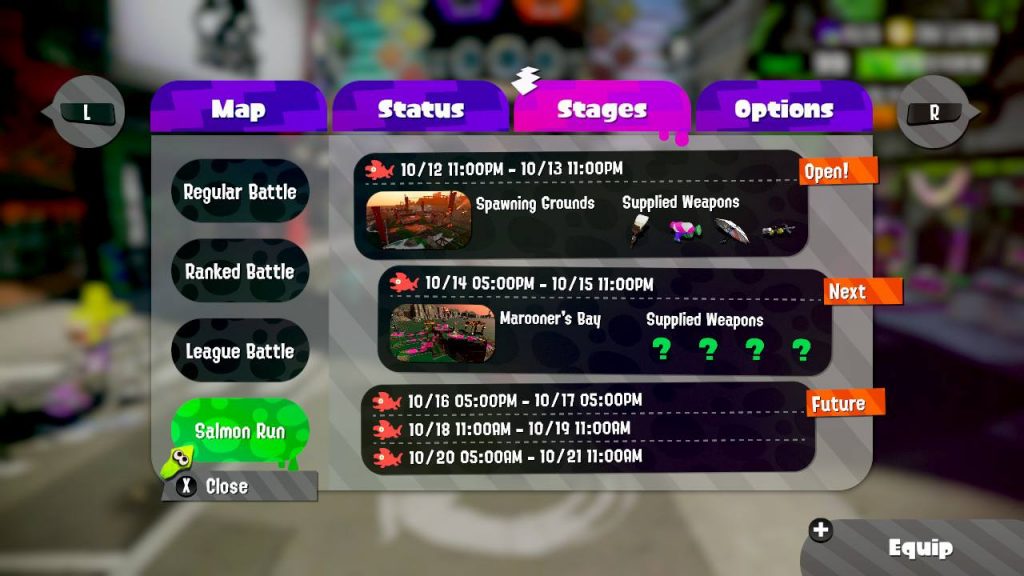 Good luck to all squids, kids and squid kids this weekend. May all your weapons fire in your time of need!
Leave a Comment