It all starts out with a dead body. You've heard this story before: a corpse lying in the middle of a field, near the sewer system. Yet, all in Thimbleweed Park is not as it seems at first glance. There's much more going on here than just a simple murder.
Two federal agents, Agent Ray and Agent Reyes, arrive at the scene to begin investigating, but it becomes clear fairly quickly that they're hiding something from one other. Reyes starts off by lying to his partner about the assignment, saying he was assigned by a prefecture that Ray points out doesn't actually exist. She isn't squeaky clean either, as taking a good look at her notes reveals she's trying to ditch Reyes so she can complete her "true objective" with the body.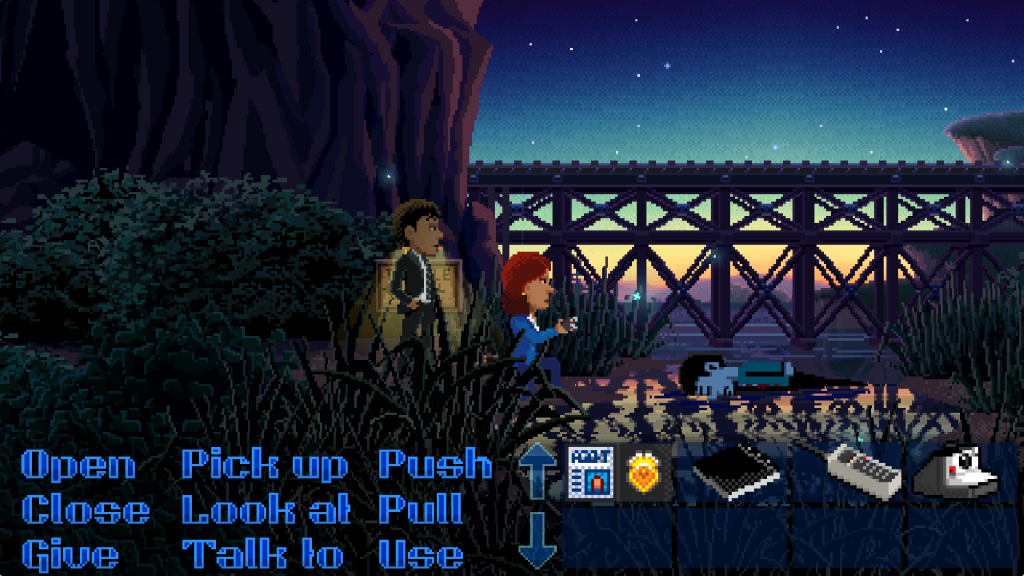 And what about the glaring red eyes in the sewer? Or the sheriff who changes outfits and doubles as the coroner? Or the recent fire at the factory in town? And that's just the first ten minutes. Thimbleweed Park is oozing with mystery in every corner, and you can't help but wonder how everything is going to fit together.
Point and click like the old days
Thimbleweed Park plays like a classic point-and-click adventure game pulled straight from the 1980s. You interact with the world by selecting verbs from a menu in the bottom left, and then choosing an object onscreen to apply that verb to. You'll investigate as Ray, Reyes and three other playable characters (who appear later on in the story), swapping between them at will. Besides the conversations, there are plenty of puzzles to keep you busy as well, ranging from photographing the body to solving issues at a local circus.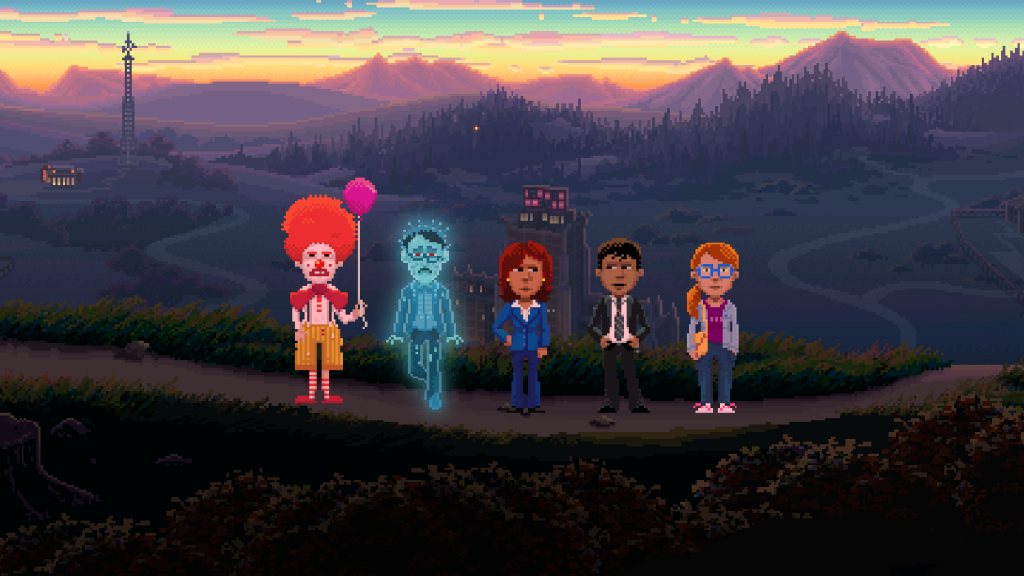 The puzzles can get very difficult, and I found myself stepping away from the action occasionally to clear my head. Coming back to the puzzle after a short break and looking at it from a fresh perspective was usually enough to solve it. For those who just want to experience the story without any headaches, there's a difficulty setting that removes about half of the puzzles in favor of a more streamlined experience.
Conversations are constant in the game, so it's a big positive that Thimbleweed Park is hilarious. One optional branching dialogue sequence featured Reyes drinking from a water fountain, with options like "sluuuuurp-gulp-gulp" and "choooo-choooo" to decide how he was going to enjoy his water. The sequence never goes anywhere though — it's strictly for player enjoyment. Thimbleweed Park is full of moments like these small, humorous bits of dialogue that break up the serious tone of the story.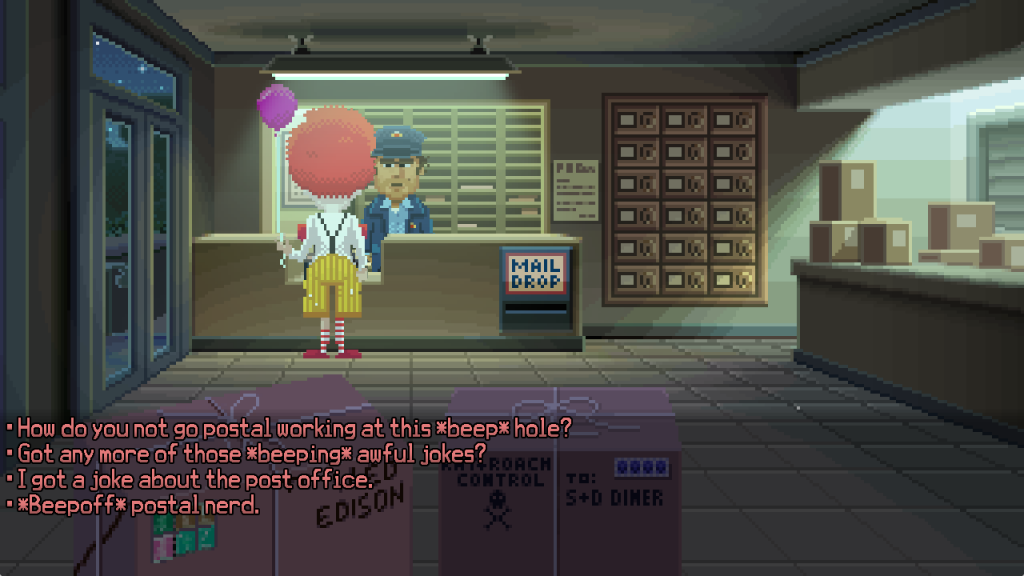 A mystery worth solving
If you're craving an intriguing mystery that will pull you back to your days playing Maniac Mansion, I can't recommend Thimbleweed Park enough. There will be frustrating, head-scratching moments on the classic difficulty, but that comes with the territory of adventure games.
The "more than meets the eye" approach to storytelling works wonderfully here. Every character seemingly has something to hide, making it impossible to trust even the characters you're playing as most of the time. The story of Ray, Reyes and Thimbleweed Park is well worth experiencing, one that will keep you on your toes from start to finish.
Thimbleweed Park Launch Trailer from Ron Gilbert on Vimeo.
Leave a Comment