In case you needed a reminder about how ahead of the game Japan's Nintendo merch is, a few extra special pieces are making their way to their exclusive online shop. Breath of the Wild and Splatoon 2, arguably the two biggest games on the Switch, are inspiring some iPhone case designs.
For Zelda fans, you'll be able to house your phone in a style modeled after the Sheikah Slate itself. If there was a way to inspire me to start taking more pictures, this was it. Just don't expect the hip-clip to make a comeback, no matter how appropriate it would be.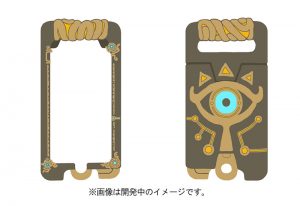 For all you squid kids looking for the hottest new thing, you can deck your phone out to imitate the special phone style the inklings themselves use. Modeled after squids, these cases are a little on the larger side but will definitely stand out, especially the green and pink variants. There's also a more typical shell case design with some fresh art on it of Inkling Girl and various logos, giving fans a more low key (by comparison) way to rep their game.

Again, all of these are to be exclusive to the Japanese online Nintendo shop. By spending some My Nintendo Gold Points fans will also be able to grab them with a discount when they drop early this October.
Leave a Comment