It's November 10th! Courtesy of today's Nintendo Direct, we now know we're less than two months from Daruk, Mipha, Revali and Urbosa scanning into Breath of the Wild to our amiibo loving heart's content. Besides having a release date dropped during today's Nintendo Direct, we also get a glimpse into how these four Champions will function.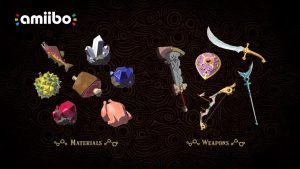 Surprise, materials and weapons can be obtained! OK, well, we probably knew that this was a feature from the moment they were announced at E3. The element that makes these amiibo special is a series of Divine Helms that can be obtained. If you weren't a massive fan of the "guardian" Ancient armor's Helm, then you have four new ones to pick from. Each champion has a helm that's designed and tied to the Divine Beast they're paired with: Mipha with Vah Ruta, Daruk with Vah Rudania, Revali with Vah Medoh and Urbosa with Vah Naboris.
Interesting to note that while we do have a date now for the Champions, we don't have a release date for Breath of the Wild's DLC Pack 2 that features the new story content, The Champions' Ballad. Perhaps that DLC will drop on November 10th or later. Hopefully by then fans and amiibo collectors can have Daruk, Mipha, Revali and Urbosa ready once the update goes live.
As for those who are looking forward to the massive combo pack that's been shown off for Japan and Europe, that might not make it to North America. From a press release issued by Nintendo, the following appears in the description of these four:
"Four amiibo figures based on the Champions from The Legend of Zelda: Breath of the Wild – Daruk, Mipha, Revali and Urbosa – launch in stores on Nov. 10 (sold separately)."
Regardless, here at Nintendo Wire we'll keep an eye out as we would still love to see this massive amiibo bundle available in North America.
Leave a Comment