In a shocking turn of events during today's Nintendo Direct, it was revealed that Bethesda Softworks will be bringing two of their biggest titles, 2016's Doom reboot and Wolfenstein II: The New Colossus, to the Nintendo Switch. It's still a little odd to see an "M" rated game on a Nintendo console, but I'm sure adult owners of the Switch are excited to tear into these two wherever they go.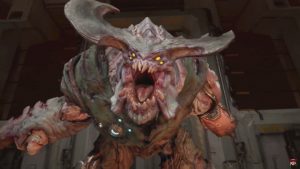 While little is known about Wolfenstein II, we do have a ton of info on what Switch players can expect from Doom's portable debut. For starters, it'll come packaged with all updates and DLC released for the original game except for the SnapMap and level editor. Due to size constraints, physical copies will also be missing the online multiplayer modes – available as a free update with a quick run 'n gun to the eShop.
Doom will be launching this holiday season, while Wolfenstein II will be available sometime in 2018.
Leave a Comment