It's already September and time is flying by. Later this month, Tokyo Game Show will be taking place and we're already seeing what will be making an appearance.
According to Famitsu, translated by Gematsu, DMM Games is jumping from mobile and PC and is crafting a brand new game for the Nintendo Switch. Rhythm fans rejoice as that's what Garu Metal is all about. With Shuuhou Imai leading the project (previous work includes Tokyo Majin Gakuen Denki), the game is considered to be more than halfway through development. Tak Fuiji is on deck as executive producer, as he left Konami in 2014 and has been at DMM Games ever since; and Toshinao Aoki is the character designer for the series. If you're a Pokémon fan, chances are you have some of Toshinao Aoki's earlier illustrations — he previously designed some Pokémon TCG cards, including the famous Surfing Pikachu.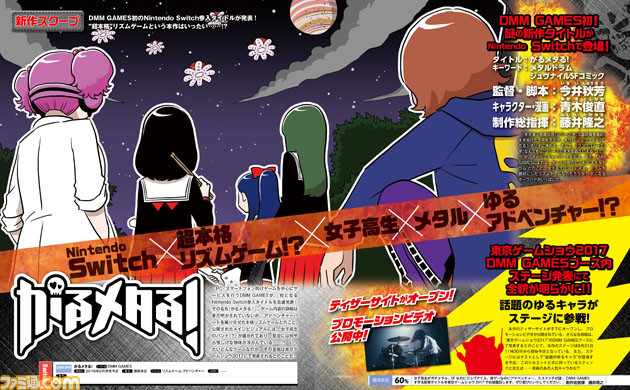 The Tokyo Game Show will take place from September 21st through the 24th where Garu Metal and many other games for the Nintendo Switch will be available for the first time.
Leave a Comment