Ever since launch, the Nintendo Switch has been transforming into a de facto follow-up to the Neo Geo Pocket, with its library of retro Neo Geo ports growing by the month. The next confirmed game to make the leap is the colorful side-scroller Blue's Journey.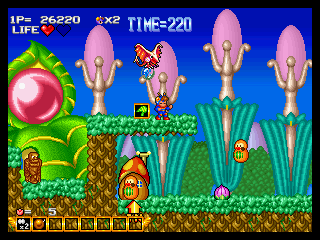 Released in the early '90s, Blue's Journey has you platform your way across several vibrant worlds to take down the evil, polluting Daruma Empire. A second player can also join in as Princess Fa, so here's hoping there's native Joy-Con support for easy multiplayer sessions on Switch.
You'll be able to download Blue's Journey on September 7th for $7.99 in North America, £6.29 in the UK and €6.99 in Europe.
Leave a Comment