Nintendo's tweeted out a means to learn about and keep tabs on the in-game Voting Gauntlet happening in mobile strategy/character collector game Fire Emblem Heroes. While it's pretty easy to pick a character and battle in their name, there are some other elements to the events that can potentially shake things up to make the game even more interesting.
The breakdown of the multiplier for disadvantaged teams is extremely helpful when it comes to adding more complexities to Heroes. After the first few Gauntlets turned into pure popularity contests with one clear champion apparent from the start, this feature allowed teams that fell behind to receive more points to try and close the gap.
There's also a handy calendar of the rounds, as well as current scores for each participating hero. Corrin seems to be the frontrunner for the competition at this time, making it likely poor Elise will be kicked off the beach by this round's end. The matchup between Xander and Leo, on the other hand, is much closer and could swing either away over the next few hours.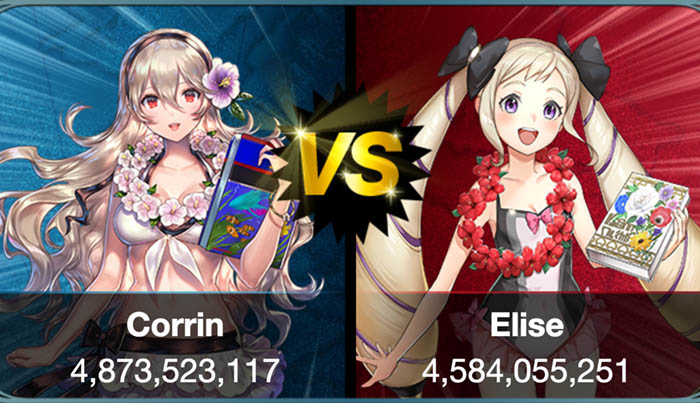 It's also possible to observe past gauntlet results, with the overwhelming triumphs of Lucina and Camilla having existed before the multiplier was introduced. If anything, it just reminds me of how heated the round between Chrom and Ephraim was, making me wonder how things would've turned out if those extra points existed back then. Kudos to the dev team for finding a way to keep it interesting though, as the match-ups between Mage and Cleric rounds were much tighter contests.
Good luck to everyone supporting their favored hero this time around — and for anyone curious about characters and their popularity, this would be a great time to jump right into Fire Emblem Heroes to learn more about them.
Leave a Comment