This last weekend, I was able to spend four consecutive days at the San Diego stop of the Nintendo Summer of Play tour. This is the Switch's first summer and seeing Nintendo tour it around the country, offering attendees the chance to play the latest games and walk away with some prizes, is something I didn't put a lot of stock in before going. After all, I've been to events like this plenty of times, and I had the fortune of attending E3 earlier this summer. I even had a means to play nearly every game on offer thanks to eShop demos and recent releases.
When I walked in, I was presented with a stamp rally card with eight spots to fill, as well as a spot for talking about the event on social media and one for completing the whole card. Once this was filled out I was able to head over to a monitor, press a button and see what Mario related icon came up to find what tier of prize I was allowed. Standouts included Nintendo Switch hats, Splatoon 2 sunglasses and even the Modern color variant of the 30th Anniversary Mario amiibo — though guests were just as likely to walk away with sticker sheets at the lowest tier.

The star of the show was clearly Splatoon 2, with two areas set up for eight player Turf Wars and a smaller station devoted to Salmon Run. Lines for these were long but moved quickly enough, with prizes being given to winning teams or highest scoring players. There were also tournaments at various times, letting squads of players team up together and show off just how fresh they were. If you're worried about seeing the action, thanks to the spectate features, the matches themselves were watchable on a larger screen making for some great, competitive displays of skill.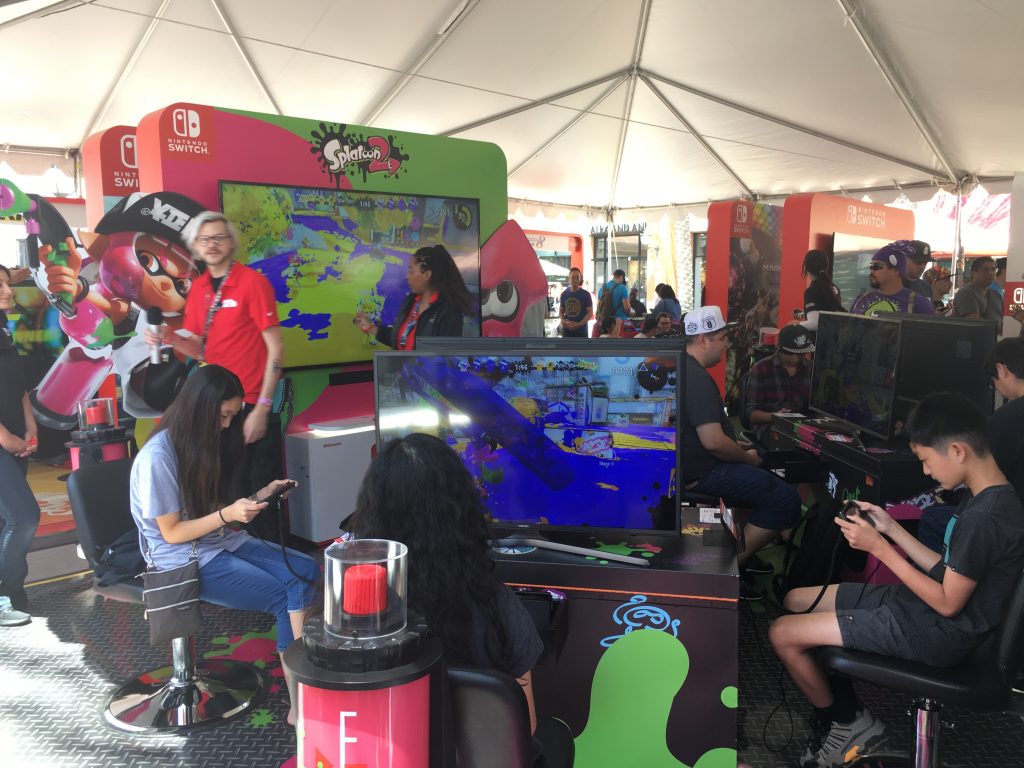 ARMS was another popular title, with people loving the motion controls every time I walked by the station. This one may've had the longest wait for the mainline titles, but the staff made efforts to keep these times entertaining by passing out Spring Man and Ribbon Girl paper masks. Mario Kart 8 Deluxe and Pokkén Tournament DX both got a lot of love as well, with Pokken's wait in particular being one of the quickest. Plenty of people enjoyed picking their favorites for playable and support Pokémon, though Decidueye still stood out as a cool, new face.
Beyond these main stations were other, smaller Switch setups, as well as some 3DS demos and other products. The SNES Classic Edition was definitely eye-catching, as was the Monopoly Gamer Edition, both displayed under glass. Mario + Rabbids Kingdom Battle was on hand and had long lines throughout the weekend for its strategy gameplay, while upcoming eShop game Flip Wars offered some quick, competitive matches.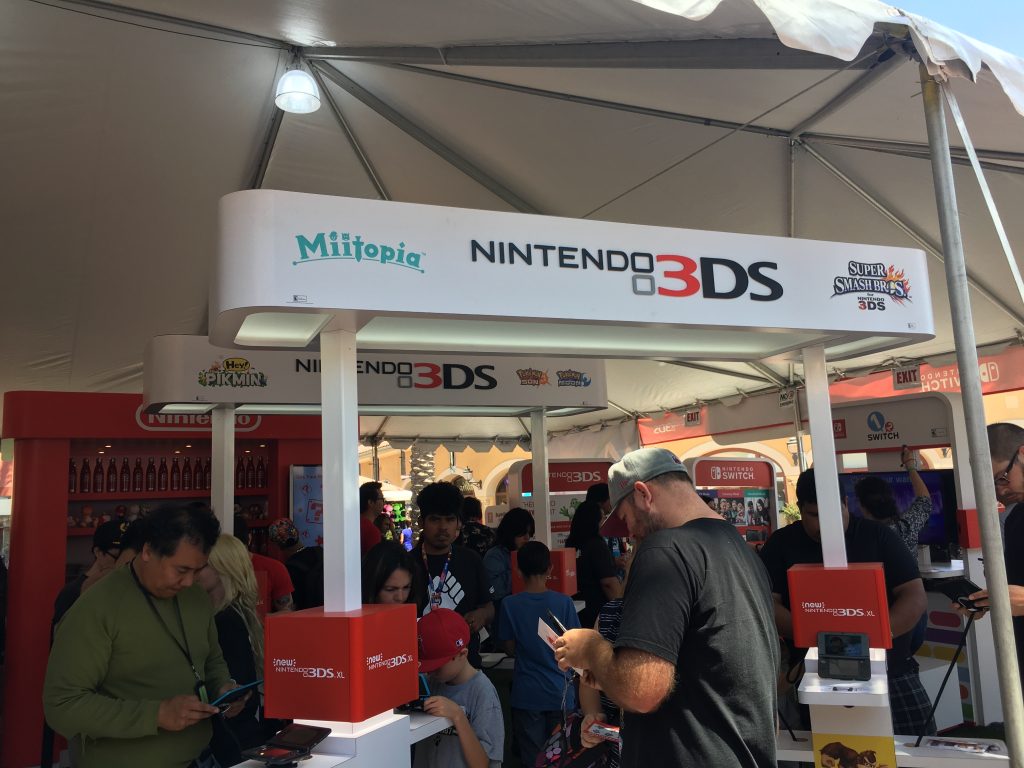 Even with playing a different game for all eight of the stamps I needed, I can't think of a moment I wasn't enjoying myself. With a lot of the events I'd been to recently, there'd been more of a lean towards gamers or professionals, so while everyone was having fun it was a controlled and understanding kind of fun. At a public event like this there was a different, more excitable crowd ranging from kids to grandparents. Some of my favorite moments involved having a great round of Pokkén Tournament with a man who insisted he only knew how to button mash, and also helping a little girl understand Flip Wars' power-ups. Sharing the fun with everyone was what made this an event worth going to, and Nintendo pulled that off easily.
A few tips for anyone planning on going to more, upcoming stops:
Have your My Nintendo QR card on hand. Every day, those hosting the event were giving away 100 metal My Nintendo water bottles that always managed to go quickly. When those were gone, they had pins as well. Getting service was tricky with all the people and stations present, so having the images saved on your phone ahead of time can make things easier for you.
Some games also move through people quicker than others, so if prizes are your main concern then take a good look around. Hey! Pikmin's touch-based action in particular seemed to move pretty quickly, while Miitopia was a slower demo, thanks to it being a RPG.
The game lineup can vary from location to location. The official website lists Snipperclips and Breath of the Wild, which I didn't spot throughout the weekend.
I had a fantastic time and scored some sweet swag, but more than anything I was reminded how fun playing games with others can be. I love playing with my friends both locally and online, but it was seeing the excitement on others' faces and sharing in that joy that really made the time there worth it. If you want to see what Nintendo's got on offer these days while playing with hundreds of other, like-minded fans, you can't beat the Nintendo Summer of Play.
Leave a Comment