Welcome to the Crazy Cap! Last month at E3 we were able to see what these stores had for Mario and Cappy, including this particular location at Tostarena Town. Nintendo tweeted out a clearer picture today and we can see more than just the sombrero, poncho, Jaxi statue, Tostarena emblem and another statue that we saw featured in Nintendo Treehouse's run demonstration.
Let's break this down!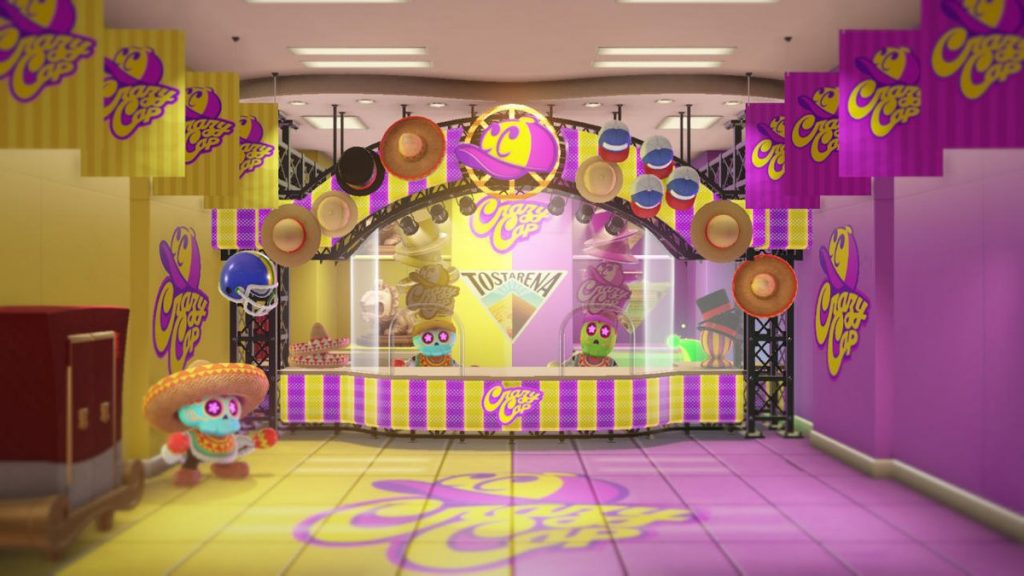 Mario will be able to buy items with gold and purple coins. While gold coins are universal, purple coins are different in each kingdom and are tied to that specific location. Plus, it looks like that all items for sale on the purple side of Crazy Cap will total 100 purple coins, the limit for each area.
If you check out the hat display, some of the headpieces will look familiar — Tostarena's sombrero, Mario's safari hat, a top hat and more. The football helmet off to the left is a neat nod to an enemy you don't see everyday: Chargin' Chuck. It would be fun to see this American football player (international soccer player) charge after Mario, and the next best thing would be to have this Koopa's outfit for Mario to wear.
There are a couple other small details to take note of in the image. The green moon behind the counter provides you with another incentive to collect all the moons in the game. Off to the left, in front of the counter, is a chest of sorts — and if you look closely enough, it resembles a top hat! It seems as though Nintendo is really going cap crazy with Super Mario Odyssey…
What outfit do you want Mario to wear this October?
Leave a Comment