Attendees of this year's San Diego Comic Con don't have to wait in line for hours to get a chance at securing UDON's exclusives. Available to pre-order now, but must be picked up inside the convention center during SDCC, fans can score some pretty awesome Street Fighter and Monster Hunter merchandise. Also, if you're a fan of Neon Genesis Evangelion, a couple items are also available for you!
Ultra Street Fighter II
For Street Fighter, each item is celebrating the game's 30th anniversary. There's a gold foil t-shirt designed via a collaboration between Ultra Street Fighter 2 artist Long Vo and Megaman Legacy Collection Artist Jeff "Chamba" Cruz. Evil Ryu and Violent Ken are duking it out in the art on the shirt. No edition size has been released, but it's stressed that sizes are limited (ranging from small to XXL). The other two Street Fighter items are metal card sets: Evil Ryu and Violent Ken in gold, and The Four Kings (Sagat, Vega, Balrog and M. Bison) in silver.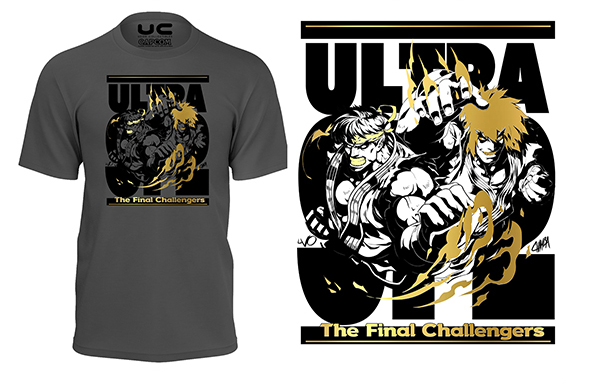 The folks over at The San Diego Comic-Con Unofficial Blog also have the details on some special free with purchase goodies that are Street Fighter themed! More metal cards will be available:
"Street Fighter Limited Edition Metal Cards Round 3 – The New Challengers! ($0.00): The Street Fighter Limited Edition Incentive Metal Cards are back by popular demand! Precisely crafted with special laser etching, printing, and die-cut technology, these metal trading cards feature brand-new artwork by ULTRA STREET FIGHTER II artist Long Vo. Just like last year, these highly collectible cards will be given away to fans who make qualified purchases at the UDON Booth! Designs will be handed out at random. 4 new silver cards include fan favorite characters Cammy, Dee Jay, Fei Long, and T Hawk! Beat this bonus stage with a perfect score and collect the whole set!"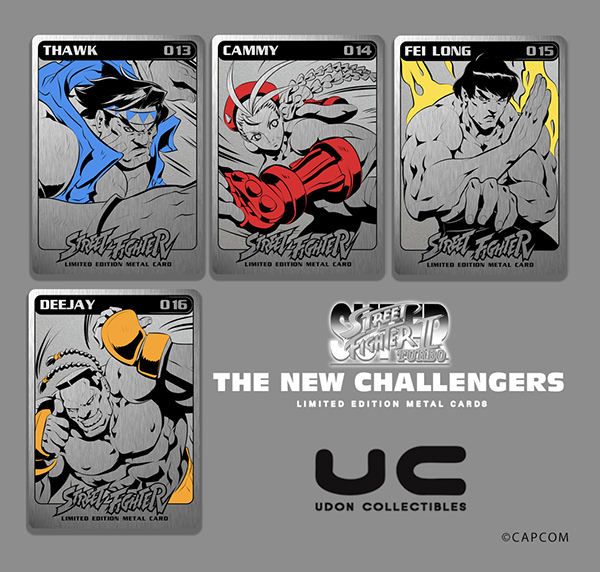 Monster Hunter
Monster Hunter will have the weapon class icons immortalized into pins. Split up into two sets, the first set includes Sword & Shield, Light Bow Gun, Dual Blades and Long Sword together. For the second, it's grouping the heavy weapon class together: Great Sword, Heavy Bow Gun, Switch Axe and the Charge Blade.

To see all the items available, check out UDON's site. You'll also want to read the rules before buying:
1. YOU MUST BE AN ATTENDEE OF COMIC­CON INTERNATIONAL (aka SAN DIEGO COMIC­CON) 2017 TO QUALIFY FOR THIS PRE­ORDER OFFER!

2. You must be able to pick up your pre­ordered items at the UDON Entertainment booth (#4529) during show hours between the start of Preview Night on Wednesday, July 19th, 2017 and 12:00pm on Sunday, July 23rd, 2017.

3. For verification purposes, at the time of pick­up you must present a print­out of the order confirmation email, one form of photo ID with address, and the credit card associated with the order.

4. All pre­orders are final and non­refundable. Orders not claimed at the UDON booth by the pick­up deadline (see #2 above) are considered abandoned and automatically forfeited. After the deadline, any unclaimed products will be sold at the booth on a first-come, first­ served basis.

5. Pre-orders for any Street Fighter related exclusives will entitle the purchaser to lineup for the ONO-san signing on Saturday, 7/22/2017 between 2pm-3pm PST at the UDON booth 4529. No rainchecks.
Leave a Comment