UPDATE: For all you NBA Playgrounds players, check your Switches! The update for North America is now available for the title. Read below for all update specifications.
---
Rejoice! Online play and so much more are finally here for NBA Playgrounds. As of right now, the update has been announced via the Nintendo Switch news tab, thanks to Nintendo of Europe.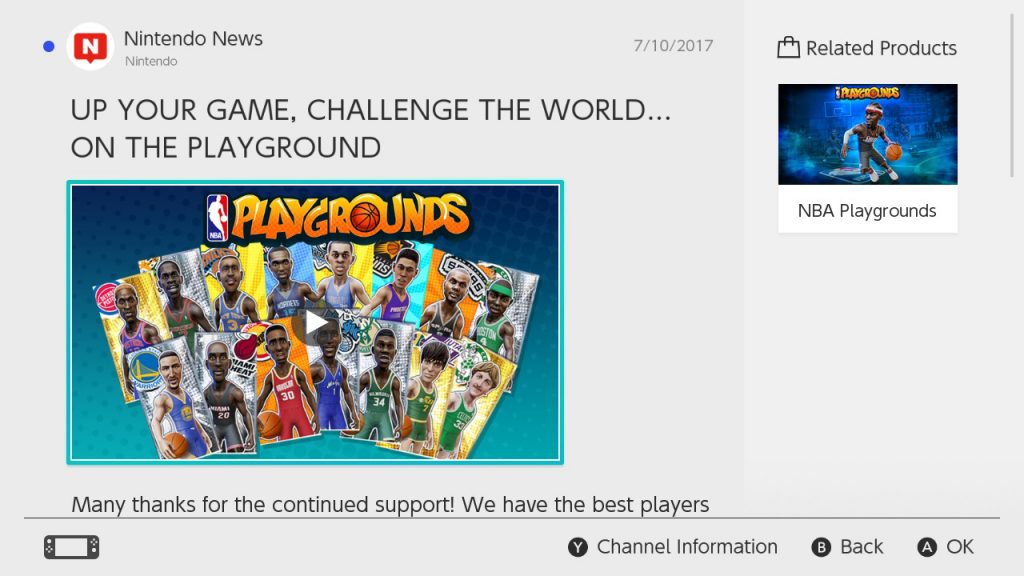 Here's the full announcement:
"Many thanks for the continued support! We have the best players in the world and we are privileged to serve you.

Update 1.1.3 for the Nintendo Switch brings the heat! Online is here at last. Play online, compete in ranked matches for top spots in the leaderboard and challenge your friends, enemies and other players. Game on! With the new Challenge feature, you'll be able to directly challenge another player to a game on the Playgrounds. All you have to do is agree on a code, open the online mode, switch to Challenges, enter that code and face each other.

In response to great feedback, we've also tweaked the entire shooting system from jump shots, to threes, to dunks, layups, and everything in-between. We've redone the timing, added a meter, and clarified the entire system. Keep those comments coming!

As a big thank you to our rabid fans, we've also added 15 new players, including Isaiah Thomas and Dennis Rodman! These two all-stars and 13 others can be unlocked regularly through player packs, earned during the tournament or when leveling up your profile."

Hopefully the update will be out for all territories later today — we need some great basketball games to play during the offseason!
Leave a Comment