Tomorrow at select GameStops, from 12:00 p.m. to 3:00 p.m., you can duke it out yet again with ARMS. Similar to last month's GameStop event, anyone who stops by and partakes in a match can pick up those sweet, sweet ARMS sleeves that feature Ribbon Girl and Spring Man.
For those intrigued by the swag, or anyone who simply wants to play ARMS, let me tell you what you can look forward to! Last month, I attended the first version of this event. Upon arriving at my local GameStop, I was greeted by the district's Nintendo Ambassador (Hi, Noah!), his Nintendo Switch and swag setup. All attendees who gave the Joy-Cons a go received some ARMS sleeves after the match, but if you happened to win your two rounds you got a little bonus. Nintendo Switch themed pens, screen cleaning cloths, lanyards and collapsible on-the-go bags were available for winners. If you wanted one of everything, you had to get back in line, due to time and demand (permitting), and then win whatever your heart desired.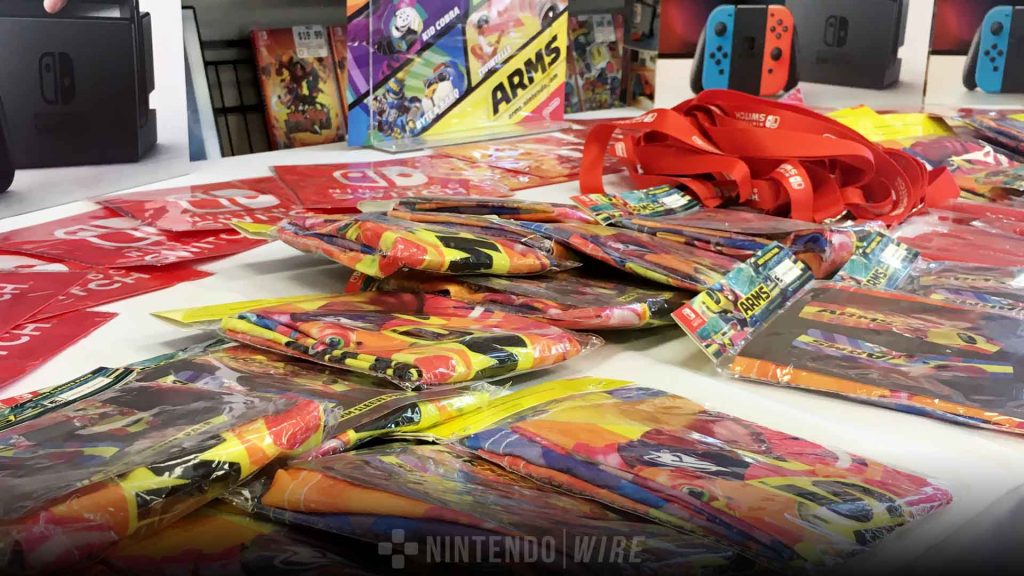 For those who are on the ropes about getting ARMS or haven't been able to find a Nintendo Switch, the event should help fill that void in your pixelated hearts. Depending on the turnout, and the time you have to play, you can always try the game's various modes — V-Ball, Hoops, Skillshot and more — to see how the game handles in these different matches. If you have the game and want to become a fantastic ARMS player, then you may want to stop by and challenge the Nintendo Ambassador there. You never know who might win.
Overall, the event is a fun little treat for Nintendo fans. If there's one taking place near you, I recommend going and checking it out, especially if you want to see more events like this in the future. Chatting with your local Nintendo Ambassador is helpful, as all of the Ambassadors work for Nintendo and share feedback with the company on a regular basis.
For the full list of GameStop locations that will be participating tomorrow, you can check out Nintendo's official post. Will you be going?
Leave a Comment