Over the past few months, it seems that Nintendo is investing more and more into competitive esports, featuring the concept strongly in the Switch reveal trailer and clearly gearing Splatoon 2 and ARMS towards a more hardcore crowd. The evidence keeps piling up, as the company today has launched a new Twitter account — @NintendoVS — for the explicit purpose of "social competitive" gaming.
Prominently featuring the upcoming E3 tournaments for Splatoon, ARMS, and Pokkén, the account took little time to announce the attendees for the latter tournament. Combatants for the Pokkén Invitational include a collection of YouTubers (MatPat, Stephanie Patrick, JD Witherspoon and Andre Meadows), FGC legends (Nairoby "Nairo" Quezada, Justin Wong, and Ken Hoang) and one actual prominent Pokkén player (Allister Singh). It would appear that the tourney will have some clear favorites, but we'll have to tune in on June 14th to see how things play out.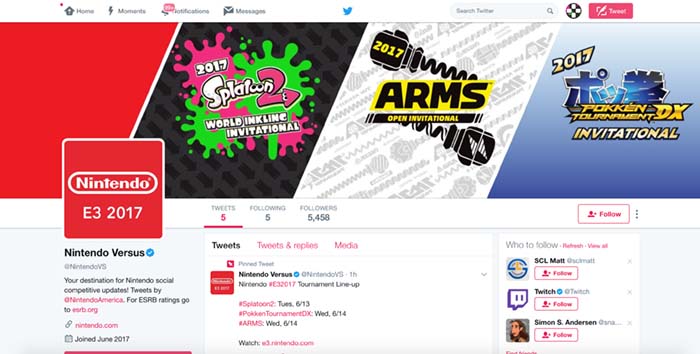 One other notable tidbit: In the banner for the Twitter account, there's a notable blank red space on the far left, suggesting that another game will be featured prominently in the future. Could it be Smash Bros.? It seems likely that we'll find out after the Nintendo Spotlight on Tuesday.
Leave a Comment