First an empty Splatoon 2 Switch box for sale and now a crossover that may make you scratch your head.
Throughout Japan, 7-Eleven has teamed up with Nintendo to sell various products associated with the game: the Nintendo Switch bundle (that's sold out), the game itself, all the bells and whistles of accessories themed "Callie Pink" and "Marie Green", and a plethora of merchandise that would cause joy and sadness to any diehard Splatoon fan.
The first selection of merchandise is for sale via the 7-Eleven store and you can check out some images below.







Not only are these items exclusive to 7-Eleven, but several of them come with a code for in-game DLC clothing. Two exclusive puffy bomber jackets can only be obtained by purchasing the game at the 7-Eleven site and are dubbed the FA – 11 Omote Custom and FA – 11 Ura Custom. There's no word if the naming is in reference to Grumman's F-11 Tiger fighter (a variant F-11A was made for the U.S. Navy) or hinting at Sheldon's expanded arsenal of weapons after Annie has joined his business.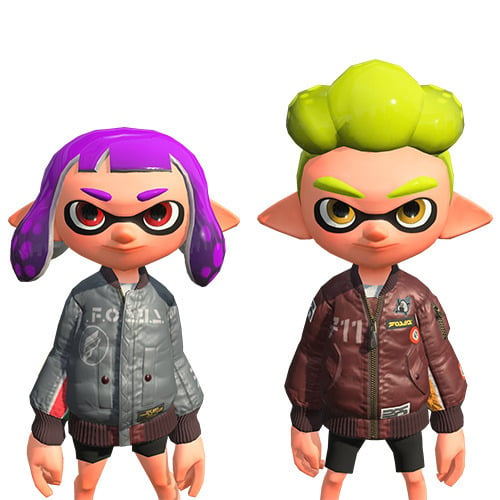 The other tops are a tad easier to get as you can purchase anything from the above selection to receive the code. Based on Google translate's interpretation, the t-shirts and possible gloves are part of the new Fuku Set, the tops dubbed Icared V Collaboration and Ika Green V Collaboration.
It's unclear as to when the codes will be sent out or become active. The Fuku set is tied to merchandise that will be released from July 28th to September 28th, as new reservations have been opened due to demand.
A little note on the site is also suggesting that these items may become My Nintendo rewards "after 2018". This is the first glimpse we have of possible Switch rewards through the site, and let's hope that these items come to North America and Europe this way in July or August of this year!
Some things that might not make the transition to the online store are merchandise tied to a lottery. From the teaser image below, this will include t-shirts of Firefin and a new clothing brand, a bright magenta Inkling plushie, various weapon and brand keychains, the new ink tank as a bag of some sort, and more.
What do you think of the new clothing? Tempted to import some of the new merchandise? Let us know in the comments!
Leave a Comment