At the very end of today's ARMS-focused Nintendo Direct, a brand new trailer for Splatoon 2's single-player campaign was revealed. The trailer opens on the player walking around a new hub-world similar to the Inkopolis hub in the first game. After wandering for a bit, the player spots Marie standing on top of a manhole covered by a grate, Cap'n Cuddlefish-style. Upon moving closer, Marie disappears down the hole, and the player follows.
Once in the hub for the new campaign, Marie introduces herself, and is disappointed when she's not recognized by the player. The trailer then cuts to a montage of beautiful footage from the campaign, showing off plenty of new locales, Octarians, mechanics and more. The level design in Splatoon 2 looks to be seriously amped up, along with the design of some new Octarian enemies.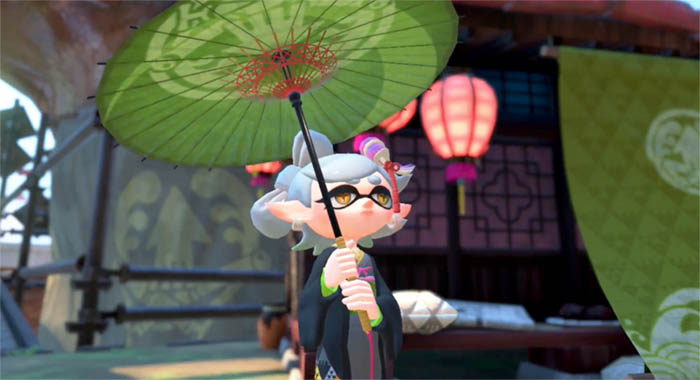 The trailer also shows off all the fresh new special weapons in action in the campaign mode, being used to take down several enemies at once. What could be the most notable addition to the campaign — the ability to use more than just a single weapon — was also featured. Different weapons seem to be delivered to you via a drone shaped like Sheldon's head. The delivery is titled "Sheldon Request" in the trailer, but it's unknown if these are weapons you request from Sheldon, or if he's requesting that you use the weapons, as he also provides dialogue stating that you'll be gathering "practical battle data."
Don't go into the game expecting six styles of weapons either; various weapons from each category are shown, really diversifying the playstyle of the single-player campaign this time around.
We're also treated to a quick look at some of the bosses in the campaign, and they're just as whimsical and entertaining as in the original installment. The trailer shows a strange tower-boss that shoots its faces out at you, and a giant Octarian wielding a roller weapon while astride a tiny unicycle — which doesn't sound intimidating, but it is, trust me.
The trailer ends on a gorgeous piece of new art for the game, featuring the player, Marie, Sheldon, various Octolings, and what appears to be Callie's sunglassed silhouette looming over the whole piece.
All in all, the trailer does a fantastic job showing off what looks to be a spectacular single-player experience, ramping it up from the first game. Make sure you get in on all the fresh action when Splatoon 2 launches on July 21st, 2017 for Nintendo Switch.
Leave a Comment