Ever since its superpowered inception, Mario Kart's been a defining tour de force for showing off Nintendo's latest console creations. From the 64-bit system's penchant for four player multiplayer mayhem to the Wii's focus on intuitive motion control steering, the flagship franchise makes it a point to use every trick in the company's respective hardware's playbook to impress in exciting new ways.
With each adrenaline-fueled entry more souped-up than the last, it should come as no surprise then that Mario Kart 8's slipstream on the Switch continues this tried-and-true tradition, proving the perfect showpiece for the hybrid console's pick-up-and-play nature. Whether you missed it on the Wii U or are returning for a second lap, Mario Kart 8's deluxe debut is a must-have multiplayer masterpiece that speed boosts the long-running racer to glorious new heights.
GO FOR GOLD
In case you've been living under a Thwomp these past few months, Deluxe bundles all the content released for the Wii U version in one slick package, along with a few Switch-exclusive extras. That's 48 gravity defying tracks, 42 colorful characters, and enough kart customization options to open your own Toad-run auto body shop. With the exception of kart parts and a single mystery character I won't spoil here, everything is unlocked from the start so you can get straight to racing without hesitation.
Which is exactly what you should do, too, because tearing up the track on the Switch is nothing short of breathtaking. Just like its Wii U counterpart, great art direction and fantastic course design set a new standard for the series, let alone the racing genre in general. Only this time, blitzing down Mount Wario's snow-capped peak or grooving through Electrodome's rhythmic rumblings have never felt better, sitting pretty at a smooth 60fps whether docked for TV play or on the go.
It's rarely talked about, but Mario Kart 8's soundtrack, deluxe or otherwise, is absolutely phenomenal and more than deserving of a dedicated paragraph of praise. Combining iconic and memorable Mario tunes with a jazzy orchestrated facelift is a stroke of genius that perfectly complements its vibrant, high-definition graphics. Whether strumming along to Music Park's toy-sounding synthesizers or soaking in the saxophone's blare after absorbing Dolphin Shoals' underwater muffles, each racetrack features immersive scores that will stick with you long after the credits roll.
SWITCHING IT UP: NOW YOU'RE PLAYING WITH (BOOST) POWER
For the more experienced racer revving for a challenge, 200cc tournaments put the pedal to the metal with break-neck speeds so insane you'll actually have to lift your finger off the accelerator (blasphemy, I know). Coupled with the newly added third tier of drift boosting, tackling time trials becomes an entirely new beast worthy of a second lap, especially for thrill-seeking Wii U veterans. Just prepare to throw a few of Luigi's patented death stares Nintendo's way, as some of their sublime staff ghost times will push your drift breaking skills to the test.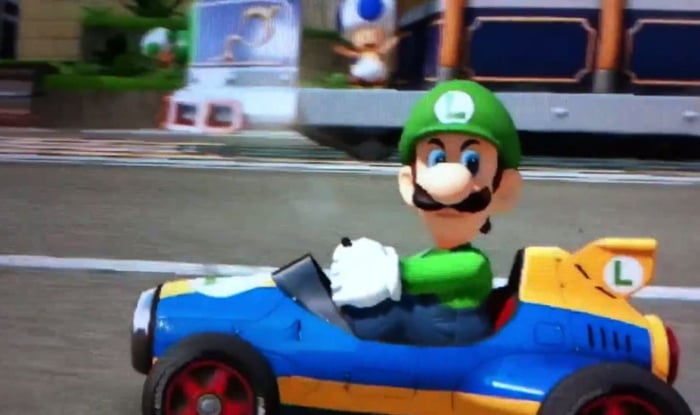 Rounding out the new features under its hood is an optional Smart Steering mode to keep rookie racers from careening off course and the ability to hold two items at once for more tactical racing. Venerable villains Bowser Jr. and King Boo return to the already robust roster alongside an inkjection of extra color from the Splatoon universe via two playable squid kids and a brand new battle map, Urchin Underpass.
(BOB-OMB) BLAST FROM THE PAST
The biggest shift in gear is Deluxe's fantastically revamped Battle Mode — now thoroughly waxed and fine-tuned to perfection. The old, hastily repurposed Grand Prix circuits on the Wii U have been taken to the chop shop, stripped of their parts and rebuilt from scratch, resulting in eight high-octane battle arenas spread over five captivating game modes purposely designed for close quarters weaponized warfare.
The courses themselves vary from brand new stadiums to old school favorites, effectively recapturing the multiplayer mayhem made popular by the franchise's superpowered origins. SNES Battle Course 1 in particular, with its low hopping walls and minimalistically retro design, transported me back to youthful days spent huddled around my tiny bedroom CRT television shouting at my siblings in a fit of gleeful rage. As far as new stages go, Sweet Sweet Kingdom easily takes the cake as Battle Mode's crowning achievement, cream filled with drifting doughnut archways and a delectable candy castle centerpiece that's sure to put your grandmother's gingerbread house to shame.
Fantastic map design can only take you so far without a varied collection of objective based modes, each just as uniquely competitive as the last. Balloon Battle is a classic kart-based battle royale at its purest with the time tested goal of popping your rivals' balloons while simultaneously protecting your own. Fan favorites, and previously Double Dash exclusives, Bob-omb Blast and Shine Thief make their historic return, too. The first features the titularly explosive minion as your sole means of cannon fodder as you chaotically blast your opponents to (mushroom) kingdom come, while the second's a nerve-racking riff of keep away where one player holds possession of an elusive Shine Sprite for as long as possible. Least intriguing is Coin Runners: a tepid race against time to see who can fill their karted coffers with the most coins.
It's worth noting that each of these varied game types can be played either with teams or in free-for-all fashion, though I personally found the former far more exhilarating and balanced — particularly true of Shine Thief where the outcome of its 1 vs 11 matches tends to rely far more on luck than any amount of skillful steering.
Despite all the classic modes on tap, its newcomer Renegade Roundup manages to steal the show. (Sorry, Shine Thief.) This thrilling cops 'n robbers inspired chase pits a team of dastardly outlaws against a die hard squad of piranha planted policemen in a frantic race against the clock. The round ends once all your burgling buddies are behind bars, though with a bit of bold driving, sneaky swindlers can bust out any captured crooks at the risk of getting caught themselves. Unlike other modes there's much more strategy involved when it comes to winning matches, and effectively managing your fight-or-flight response (especially when the last man standing) leads to some of Battle Mode's most intoxicating moments — whether gratifying victories or debilitated losses.
MULTIPLAYER MISHAPS
Despite all the welcome tune-ups, Lakitu himself wasn't able to steer Nintendo in the right direction when it came to adopting a more modern, user-friendly online experience. With the exception of finally being able to swap characters and karts between races, a lack of in-game voice chat, player invitations and proper matchmaking lobbies assure racing with friends remains just as cumbersome as it was on the Wii U.
While it's too early to tell whether Nintendo's eventual "app for that" solution will put these grievances to rest, it's a shame nonetheless to see so little effort put into calibrating the online interface, not to mention the Big N's continuous refusal to conform to widely accepted standards — especially given the franchise's immense popularity and pressures of being the first major showcase for an online multiplayer game on the Switch.
FAMILY FRIENDLY FUN
Much more than a pit stop on the road to the inevitable ninth lap, Mario Kart 8 Deluxe fires on all cylinders as the pinnacle of Nintendo's legendary kart racing series. The expertly crafted courses, immersive jazzy soundtrack and addictive online racing of the original meet the portability and added horsepower of the Switch in fantastic fashion, made more complete thanks to a turbocharged Battle Mode and host of finely tuned features.
While small scuffs to the online multiplayer experience prevent it from reaching perfection, Deluxe is a crowd cheering victory lap to the Wii U's wondrous warm-up every Switch owner deserves to get behind the wheel of.
Leave a Comment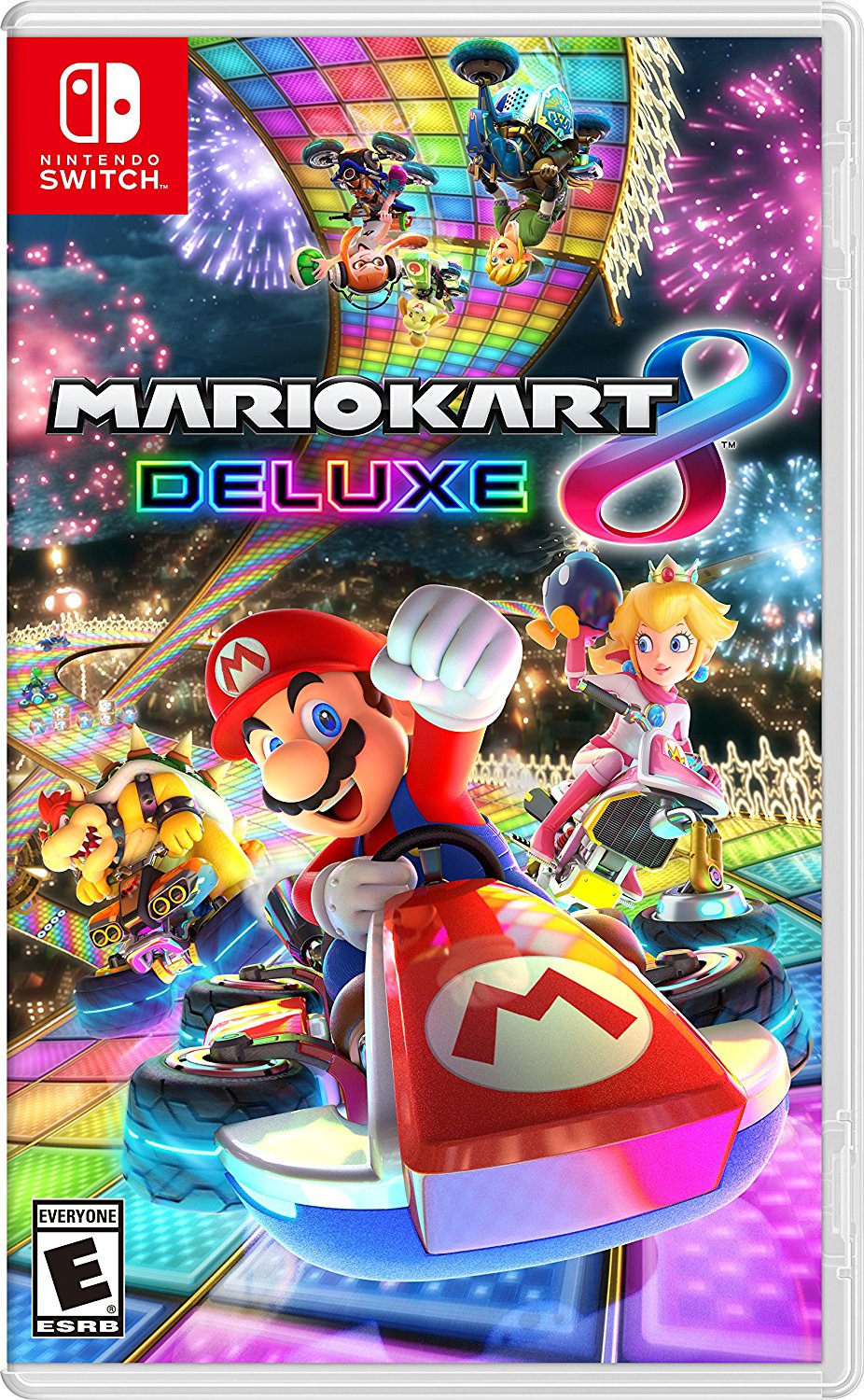 System: Nintendo Switch
Release Date: April 28, 2017
Categories: Racing
Publisher: Nintendo
Developer: Nintendo