This week in the Nintendo eShop: Wonder Boy III gets reanimated, Qbby says goodbye and Kirby's 25th kicks off with a freebie.
It's another dismal week in the Nintendo sales department. Psycho Pigs on 3DS (think Bomberman with a little bit of bacon grease drizzled on top) is a mere 13% off for the next week. The Legend of Korra: A New Era Begins is currently going for $14.99 too, though even at half the price the game's lackluster turn based strategy mechanics are hard to recommend – and that's coming from a longtime series fan.
SWITCH DOWNLOAD SOFTWARE
Wonder Boy: The Dragon's Trap (DotEmu, $19.99 | available 4/18) – A remake of the cult classic Sega Master System platformer by the same name, Wonder Boy III returns with its unique blend of exploration, action, and adventure on Nintendo Switch! This isn't your typical, run of the mill rehash either, boasting beautiful, hand-drawn animations and a fully re-orchestrated soundtrack while maintaining the integrity of the original's critically lauded gameplay mechanics. In fact, this enhanced version remains so faithful that you can actually switch from modern graphics and sound to retro 8-bit pixels and chiptunes at the mere press of a button.
The benefits of reverse engineering the 1989 action-platforming adventure don't end there, as it now runs at 60fps in widescreen with smoother scrolling and physics. As an added touch of nostalgia, fans of the original can even carry over their decade-old passwords! If you've got $20 burning a hole in your pocket and a hankering to experience one of the greatest platformers to ever grace the medium, look no further.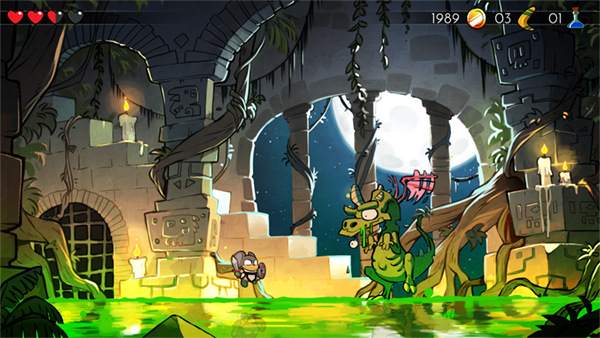 Mr. Shifty (tinyBuild Games, $14.99) – Heavily influenced by Dennaton Games' Hotline Miami, Mr. Shifty is a similarly fashioned top-down brawler, albeit with far less gratuitous bloodshed. More comical in tone, the story follows a teleportation-fueled heist to break into the world's most secure facility. Of course, things quickly go sideways, forcing you to channel your inner Nightcrawler and dodge all manner of gunfire and obstacles in the hopes of landing enough punches on hordes of goons to escape with your life intact. Frantically paced and set to a rockin' soundtrack, each of its 18 stages have multiple approaches for successful infiltration to keep the momentum moving and action fresh. Despite being a bit too formulaic and never quite reaching the creative heights of its inspirational source material, Mr. Shifty still proves a captivating caper any fan of the genre should enjoy.
Arcade Archives – Samurai Shodown IV: Amakusa's Revenge (Hamster Corporation, $7.99) – Amakusa's Revenge is the fourth in SNK's flagship Samurai Shodown series of fighting games, debuting in arcades and on the Neo Geo back in late 1996. It's universally praised for its large, detailed sprites, well paced battles and grave challenge. More intriguing is the complete removal of aerial blocks, switch-arounds and dodges, not to mention the inclusion of Suicide Moves: a self sacrificing technique that begins the next round with a full POW gauge. Sitting pretty amongst the best the franchise has to offer, fighter fans would be remiss in passing up this uniquely thrilling brawler – especially in a world where Street Fighter 2 costs $40. Seriously, Capcom… what are you thinking?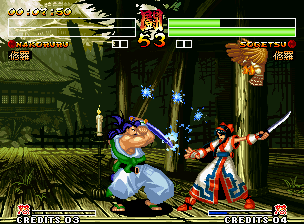 The Jackbox Party Pack 3 (Jackbox Games, $24.99) – The threequel to the party game phenomenon invades living rooms today, featuring five new sense-shattering games for you and your friends to obsess over. Games include the Cards Against Humanity inspired Quiplash 2; deadly quiz show Trivia Murder Party; surprising survey Q&A Guesspionage, t-shirt slugfest Tee K.O.; and sneaky trickster title Fakin' It. Supporting up to eight friends in simultaneous multiplayer mayhem, each game is extremely simply to learn, with no additional controllers necessary thanks to Jackbox's ability to link to phones, tablets and computers. The Switch's ease of portability cannot be stressed enough with this one either, proving the perfect example of the console's ability to bring the party with you wherever you go. Until the next WarioWare game releases, be sure to pick up this universally glowingly reviewed party pack this instant.
SWITCH DEMO
Puyo Puyo Tetris (SEGA, Free) – Relinquishing the need to choose between the two, the sticky goobers of Puyo Puyo collide with the blocky, geometric shapes of Tetris in this loving mashup of the puzzle genre's finest. Make sure you learn the basic mechanics of the game with the free demo today so you're ready to demolish the competition in style when it releases in just under two weeks time.
SWITCH ADD-ON CONTENT
I am Setsuna – Temporal Battle Arena (Square Enix, Free) – A Switch exclusive PvP mode finds its way to I am Setsuna today, introducing the ability to play against friends in thrilling turn-based combat. While you won't face off against live opponents, players can upload and download parties for battle, creating their perfect character set-up to fight against random parties of various skill levels. Best of all it's being made available for free, so Setsuna veterans have little excuse to pass this nugget of content by.
3DS DOWNLOAD SOFTWARE
Bye-Bye BoxBoy! (Nintendo, $4.99) – Prepare for Qbby's farewell tour as Bye-Bye BoxBoy! unpacks the adorable puzzle-platforming trilogy for its thrilling conclusion. Armed with four brand new power ups at their disposal, players climb, hover, warp and bomb across 18 puzzle laden worlds filled with unexpected hazards and deadly obstacles requiring serious outside the box thinking to overcome. Just like its predecessors, the pen and paper aesthetic couples nicely with the use of bold borders and simple shapes to create an incredibly charming experience, allowing the puzzles themselves to take center stage. Combine all that with a bevy of unlockables, amiibo supported costumes and an affordable price tag and what you're left with is one of the finest brain ticklers the 3DS has to offer.
Pic-a-Pix Color (Lightwood Games, $5.00) – Pic-a-Pix is a grid-based logic puzzler that anyone familiar with Nintendo's Picross series will feel right at home with. Like its many prior incarnations, you form whimsical pixel portraits using deductive reasoning and basic arithmetic. The kicker here is the creative use of colored clues, providing a unique twist to gameplay alongside beautifully vibrant art. Its 150 puzzles, stylus based control scheme and affordable price tag make it perfect for on-the-go puzzle aficionados seeking ways to kill some time on their morning commutes.
Team Kirby Clash Deluxe (Nintendo, Free) – The first of many 25th anniversary celebrations to come, Planet Robobot's robust action RPG mini game Team Kirby Clash got the standalone, deluxe treatment yesterday. Touted by Nintendo as "the best team up ever," Kirby, Kirby, Kirby, and Kirby unite in this free-to-start multiplayer action game as they take on bosses, level up and overcome challenges in an epic clash of power and puffiness. Think Monster Hunter with much simpler crafting mechanics and less grinding. While I'm not 100% sold on the game's penchant for in-game purchases, I am 100% a fan of the Kirbster, so I'd say give it a go for the love of all things pink and cute alone.
Bingo Collection (Starsign, $2.99) – I'm not gonna lie. Unless it's in the form of some silly drinking game, you couldn't pay me to play Bingo. It's a barebones game of chance requiring no skill whatsoever by its player base, resulting in an even more terrible concept for a video game adaptation. Yet that didn't stop Bingo Collection from being birthed into existence: a compilation of three lackluster mini games inspired by the elderly's favorite pastime. If solving infuriating slide puzzles and frantically tapping numbers in the hopes of enthusiastically shouting out a dog's name sounds like the best use of your Sunday morning, give it a try I guess.
Side note to the devs: not utilizing the 3DS' microphone for calling out Bingo was a huge missed opportunity.
NEW 3DS DOWNLOAD SOFTWARE
Ascent of Kings (Nostatic Software, $1.99) – Ascent of Kings is a Metroid inspired, side-scrolling platformer about a young boy's journey to become King. While the game's far more responsive with clickable buttons than its mobile counterparts, the hyper-pixelated graphics, sparse environments and extremely short length prevent it from reaching any significant heights. Still, for just a couple bucks, its hour long adventure might be worth taking for anyone seeking something quick and dirty to plow through on a rainy afternoon.
Scoop'n Birds (TwinSky Games, $7.99) – My brain hole is having a really hard time wrapping its talons around TwinSky Games' recent launch trailer for this zany looking… thing. Scoop'n Birds is, in a word, insane. From what I can surmise, Alice Scooper – famed rockstar turned avian activist – runs a pet store and has hired you to help manage it. Featuring true to life scoop physics, it's your job to literally scoop up birds using a variety of unconventional tools – like black holes and chick magnets – to meet customer demand. While the concept sounds just crazy enough to work, I can't say I'm the biggest fan of the Animal Crossing inspired gibberish speak or other irritating sound effects peppered throughout. Proceed with more salt than the ocean can provide.
FIFTEEN (RCMADIAX, $1.49) – Are you a fan of slider puzzles? No? That's because nobody is, but somebody forgot to tell RCMADIAX that enlightening fact. Despite my complete abhorrence for the genre, I do surprisingly have to give props to the devs for FIFTEEN's crisp, clean presentation. Each block features vividly vibrant, solid colored squares that really pop thanks to the darker toned backdrop. The gameplay, however, is insufferably tedious, consisting of the same 15 blocks to rearrange in a slightly different order for each run. Some sort of defining feature or intriguing twist could have went a long way in revitalizing the whole experience.
3DS DEMO
Bye-Bye BoxBoy! (Nintendo, Free) – Not sold on BoxBoy's sendoff? Give the free demo a try before you buy! Although I'm fairly certain you'll take the plunge after just one look into that bodacious box's beautiful mug. Seriously, how could you say no to that face? You monster!
WII U DOWNLOAD SOFTWARE
Pic-a-Pix Color (Lightwood Games, $5.00) – With the Nintendo Switch's rise in prominence and the game's portable counterpart being the superior way to experience its short burst nature, it's hard to fully recommend nabbing this particular puzzler on Wii U. While hardcore puzzlers can try their hand at extra "Giant" boards sprawled over massive 30×20 and 35×25 grids, they're unfortunately not included in the base game, requiring an additional cost of downloadable packs to experience. Considering there's no cross buy option, take a pass unless you can't live without Picross in your life and (for some reason) don't already own a 3DS.
SPECIAL OFFERS AND DEALS
[3DS] Psycho Pigs ($6.95 | 13% off) until 4/20
[3DS] The Legend of Korra: A New Era Begins ($14.99 | 50% off) until 4/18
[3DS] AeternoBlade ($4.94 | 67% off) until 4/27
[3DS] The Legend of Dark Witch 2 ($5.59 | 25% off) until 4/20
[3DS] Mercenaries Saga 3 ($4.79 | 20% off) until 4/20
[3DS] Cube Creator 3D ($5.99 | 25% off) until 4/20
[3DS] Gourmet Dream ($3.99 | 20% off) until 4/20
[3DS] Fairune 2 ($5.59 | 20% off) until 4/20
[3DS] Smash Cat Heroes ($1.99 | 50% off) until 4/27
[3DS] Power Disc Slam ($1.99 | 60% off) until 4/27
[3DS] Beyblade Evolution ($9.95 | 50% off) until 4/20
[3DS] Runny Egg ($0.99 | 50% off) until 4/27
[3DS] Noah's Cradle ($3.49 | 30% off) until 4/20
[3DS] Smash Cat Heroes ($1.99 | 50% off) until 4/27
[3DS] Color Zen ($3.19 | 20% off) until 4/20
[3DS] Excave II: Wizard of the Underworld ($6.95 | 30% off) until 4/20
[3DS] Excave III: Tower of Destiny ($6.95 | 14% off) until 4/20
[Wii U] Skylanders SuperChargers Portal Owner's Pack ($24.99 | 50% off) until 4/18
[Wii U] Cube Life: Island Survival ($7.99 | 20% off) until 4/20
[Wii U] Hot Rod Racer ($0.49 | 50% off) until 4/20
[Wii U] Star Splash: Shattered Star ($2.61 | 25% off) until 4/19
[Wii U] SDK Spriter ($5.00 | 50% off) until 4/20
[Wii U] Wicked Monsters BLAST! HD+ ($1.59 | 80% off) until 4/27
[Wii U] Color Zen ($3.19 | 20% off) until 4/20
[Wii U] Art of Balance ($6.70 | 25% off) until 5/4
[Wii U] VoxelMaker ($3.99 | 20% off) until 4/17
[Wii U] Citadale ($2.50 | 50% off) until 5/11
[Wii U] Mr. Pumpkin Adventure ($1.99 | 50% off) until 4/27
[Wii U] Rorrim ($2.49 | 50% off) until 5/11
[Wii U] PONCHO ($6.95 | 30% off) until 4/20
Check Nintendo's website for the full list of deals available.
What games will you be downloading this week? Be sure to let us know in the comments!
Leave a Comment