Week by week the Nintendo Switch becomes a modern day Neo Geo, with 9 titles already available via the eShop. Now a 10th has been confirmed via the European eShop – Samurai Shodown IV: Amakusa's Revenge.
Released in arcades and on the Neo Geo console in late 1996 by SNK, Samurai Shodown IV was praised for its large, detailed sprites and fast battles. It's especially noteworthy for the dark inclusion of a "Suicide Move", where the player can sacrifice themselves to begin the next round with a full POW gauge.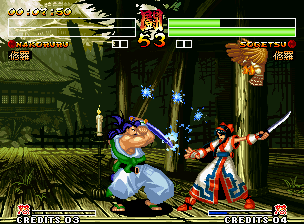 The game will launch on the Switch for €6.99 / £6.29 on April 13th. While a US release has yet to be confirmed, it's likely given the prior track record.
Leave a Comment