UPDATE: Off-screen footage of Sonic Forces has been added below. Provided generously to us by Samuel Oak.

The gameplay world premiere for Sonic Forces was unveiled at the Gotta Go Fast panel at SXSW! Taking inspiration from both Sonic Generations and Sonic Colors, the new entry in the Sonic franchise looks fast, fluid and fun. Not much gameplay was shown, but plenty of information was given on the title that will hit shelves this holiday season!
Hedgehog Engine 2
The engine that's been behind some of Sonic's best games has been rebuilt from the ground up for Sonic Forces. With a specific emphasis on rendering lighting and shadows quickly, the revamped Hedgehog Engine 2 aims to ensure that Sonic Forces will look better than ever.
Three Styles of Gameplay
This was revealed a few months back, but it has been confirmed that Sonic Forces will contain gameplay from Modern Sonic, Classic Sonic and a third, unknown character that will tout its own unique style of play. The gameplay shown at the panel featured Modern Sonic blazing through the city as it was being attacked, and it looked absolutely gorgeous. Look for more details on both Classic Sonic levels and the new style in the coming months.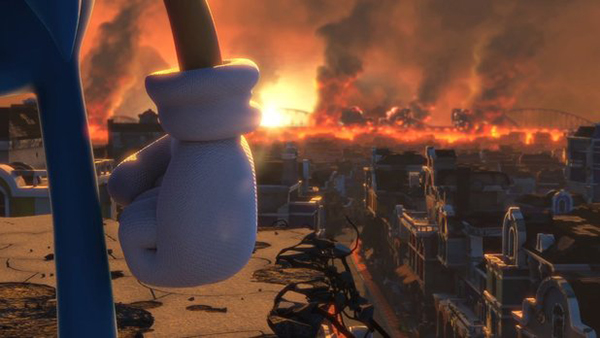 Returning Elements
Music has always been a strong point in Sonic games, and it seems that trend will continue with Sonic Forces. A sample track was played at the event, and it sounded just as catchy and upbeat as you would expect from a Sonic game.
The Modern Sonic gameplay style closely emulated the "boost-to-win" layout of recent 3D Sonic offerings. One feature the panelists pointed out is that Wisps are returning from Sonic Colors to help build up Sonic's boost gauge. The panelists were quick to point out that attacking enemies will also increase the boost gauge.
Hidden Red Rings will also be making a return, so you'll definitely be returning to levels to hunt down every last one.
Can't wait to see it for yourself? Check out the Sonic the Hedgehog YouTube page tomorrow at 6:00 a.m. PST | 8:00 a.m. CST | 9:00 a.m. EST to see the new gameplay from Sonic Forces. Make sure you head back to Nintendo Wire on Sunday for the newest edition of Sonic Sunday, when we'll dive into these new details even further.
Leave a Comment