2016 is in the books, and the anticipation for the Switch event is at an all time high. Before we get there, however, it's time to take a look back at the year Nintendo had in 2016. Last year was very interesting for Nintendo, as we watched a company that has been resistant to change for countless years finally begin to switch (pun intended) things up. Remember when we were all furious about the lack of NX information? Remember when the idea of Mario on mobile was nothing but every investor's fantasy? We remember. If you don't, then you're in the right place, because it's time for Nintendo Wire's 2016 Year in Review!
The Games
It's easy to look at Nintendo's effort in 2016 and label it as a transition year. With everyone and their mother wondering what the NX was, Nintendo's current consoles were somewhat overshadowed by the idea of a shiny, new console. That doesn't mean the 3DS took the year off by any means, as there was still a number of titles worth playing on Nintendo's aging handheld. The year kicked off strong with Fire Emblem Fates releasing in February, providing hours of exciting strategy paired with the interesting characters to make a truly memorable 3DS experience. Monster Hunter fans were pleased with the release of Generations, and Final Fantasy Explorers also tried to take a piece of the Monster Hunter pie.
The 3DS eShop also saw some fantastic titles this year, including a pair of sequels to earlier indie hits: BOXBOXBOY! and Azure Striker Gunvolt 2. The Ace Attorney series saw another solid release when Phoenix Wright: Ace Attorney – Spirit of Justice released in September. The Mario & Luigi RPG crossed paths with Paper Mario in Mario & Luigi: Paper Jam. Kirby: Planet Robobot and Rhythm Heaven Megamix were exciting titles to play during the summer nights. The 3DS title folks will remember 2016 for, however, is Pokémon Sun & Moon. These titles pushed Pokémon in a new direction, finally ending the trend of little to no change between Pokémon entries.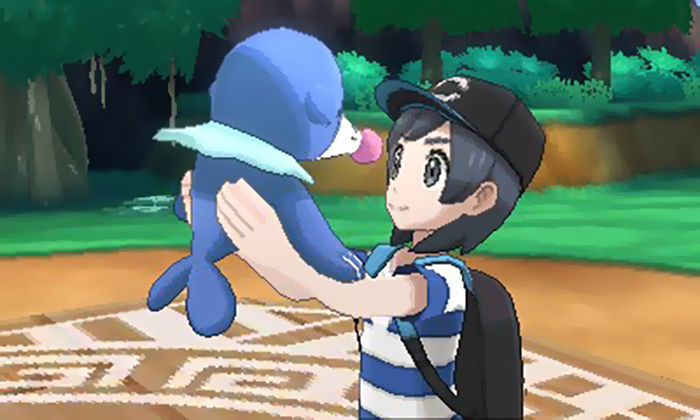 The Wii U had an interesting year in 2016, with no real blockbuster title headlining the calendar. Instead, we got a number of smaller, less ambitious titles, to various degrees of success. Tokyo Mirage Sessions finally delivered the Shin Megami Tensei and Fire Emblem crossover madness we had been waiting for ages to play. Granted, it was a zany, colorful J-Pop RPG, but it all managed to come together to create a unique, unforgettable experience. Twilight Princess HD allowed us to revisit the wonderful, dark version of Hyrule that is covered in darkness, while also giving us a sweet new Wolf Link amiibo to put on the shelf. Pokkén Tournament let us duke it out as our favorite creatures Tekken style, and the year came to a close with the release of the clear Game of the Year candidate, Paper Mario: Color Splash. Those were just some of the titles that hit Nintendo systems this year, but we can't overlook another market Nintendo tapped into this year: smartphones.
Mobile Movement
In 2016, Nintendo finally unleashed the beast and began developing games for smartphones. It all kicked off in the spring, when the social media/Mii maker hybrid hit the App Store. Nintendo's new foray into the mobile space was a hit at first, but quickly faded into the sea of apps available for download.
Then, in July, Pokémon GO launched and took the world by storm. Local news reports, national news coverage, memes, late night talk show appearances– you name it, Pokémon GO was there. The app sat atop the top grossing charts for months, with an addicting microtransaction system continuing to suck the cash out of players' wallets. Pokémon GO is still GOing strong, especially now that trainers can hunt for 'mons from Gen II. The successes of Pokémon GO can't completely attributed to Nintendo, so the Big N still had to prove it could be successful in the smartphone world after the Miitomo flop.
Who but Mario would be fit to rise to the challenge of leading Nintendo into a new frontier? I think the answer to that is no one, as Super Mario Run was the game investors, fans and onlookers were waiting for Nintendo to make, and so far, the results seem positive. Nintendo didn't simply port a Mario adventure from a previous console; it built a new experience from the ground up tailor-made for the mobile space. 2016 was an important stepping stone for Nintendo in terms of expanding the reach of Nintendo's adored properties, and we're all looking forward to more mobile games in 2017 and beyond.
Rumors, rumors, rumors
Ah, the good stuff. If I had a nickel for every time I heard "NX" this year, I'd probably be able to buy out Nintendo. Joking aside, those two letters dominated the Nintendo discussion in 2016, with rumors, speculations and prediction articles flooding the internet nearly every day. Anticipation was building for months and months, to the point where frustration was beginning to boil over.
Then, finally, on an early October morning, Nintendo gave us a bit more to work with than "NX." Nintendo released a short trailer revealing its new console: the Nintendo Switch. The reveal of the next era of Nintendo was probably the highlight of 2016 for Nintendo, and I'm sure hundreds of us rewatched that three minute trailer dozens of times. The video perfectly delivered the message of what the console is trying to achieve; a luxury we haven't experienced with recent Nintendo marketing.
Looking forward
We're now just over a week away from the Switch event that will hopefully answer all of our lingering questions. 2016 was a fun year for Nintendo, but all eyes are now focused on 2017 as Nintendo will be put under pressure to right the wrongs of the Wii U with the Switch. 2016 will always be remembered as a year of transitions, speculation and expansion for Nintendo. Nintendo Wire will continue to deliver quality news coverage throughout all of the Switch madness, so here's to an exciting 2017!
Leave a Comment