While Nintendo may be holding most of its Nintendo Switch information back for the January 12th event next month, that doesn't mean some things can't slip through the cracks. Case in point, earlier today various Switch patents went online and they feature all sorts of interesting details regarding the system. We'll summarise the best bits below, but if you want to check them out yourself head over to Nintendo's page on Free Patents Online.
The first thing worth noting is that the patents have detailed images of the main unit and the Joy-Cons. This means various buttons are finally unveiled after being shrouded in secrecy. Starting with the Switch Dock, it's confirmed the device will have a Sleep Button (74), which will have an LED that indicates the power status and will also flash if there are new updates or messages. This will essentially allow it to function as a home console.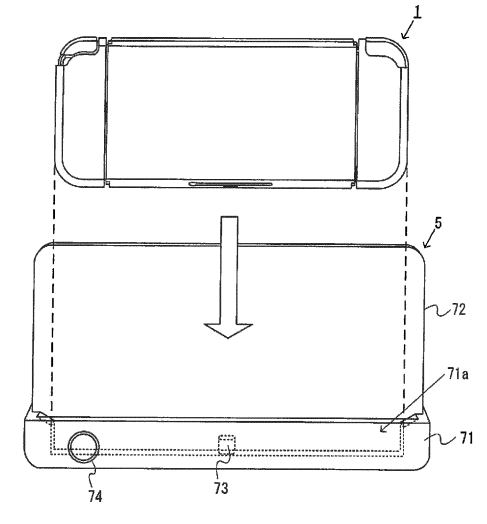 Of course a much bigger focus of the patents is on the main Switch unit itself, and there is a lot to cover. Check out the annotated diagram, and our guide: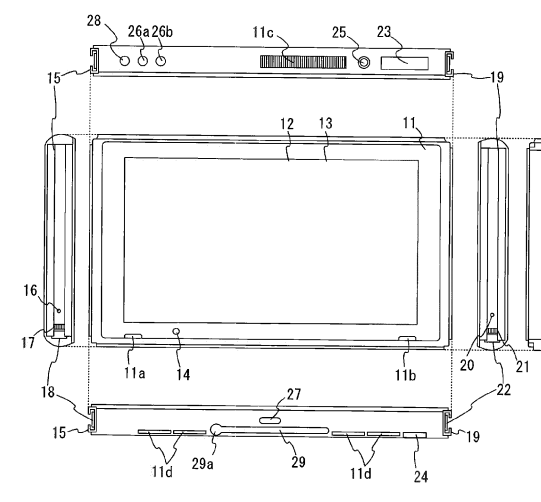 28 – Power Button
26a/26b – Volume Control
11c/11d – Ventilation
25 – Audio Jack
23 – Game Card Slot
11 – Housing
11a/11b – Speakers
12/13 – Touch Screen (described as capacitive, but they don't rule out resistive)
14 – Light Sensor
27 – Cradle Connector
24 – SD Card Slot
29 – The Stand
15/19 – Joy-Con Rail
17/21 – Joy-Con Connection Terminal
18/22 – Joy-Con Stopper
Outside of the main unit we have the Joy-Cons, which are described in just as much detail. While a lot of it is self explanatory, there are a few interesting things worth noting. For one, we have confirmation of a pairing button (46) for when playing wirelessly, as well as LED Indicators (45) which confirm that up to four players can connect to one Switch. The Joy-Cons will also have L and R buttons (43 and 44 respectively.)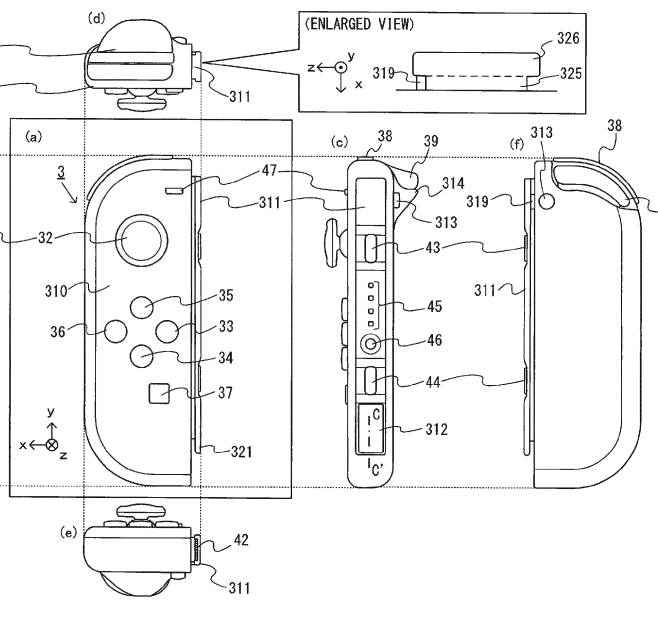 We also have confirmation of a Record Button (37), which is described as saving screenshots of what is on the display. This will no doubt act similarly to the Share button found on the PS4's DualShock controller. The button's equivalent on the Right Joy-Con is the home button, which acts the same as it does on Wii U and 3DS, although this second controller will be set apart by housing an NFC reader and an infrared sensor (on the bottom.) The small button on the back of both Joy-Cons (313) is used to unlock the devices from the main unit.
While there are a few other things that are worth noting, like an alternate Joy-Con Grip, perhaps most intriguing is what looks like Nintendo's potential answer to Samsung's Gear VR and Google's Daydream: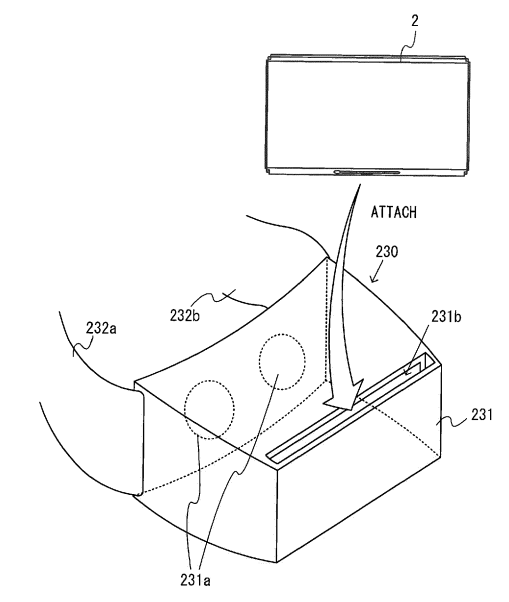 While this is by no means a confirmation of VR – the patent itself describes it as an "example accessory" – it does show Nintendo is considering it.
We'll be sure to let you know if any more Switch details emerge in the near future, but until then be sure to pore over the patents and let us know if we missed anything!
Leave a Comment