On Wednesday night's rendition of The Tonight Show with Jimmy Fallon, Nintendo of America president Reggie Fils-Aimé showed up with the legendary Shigeru Miyamoto (and Bill Trinen) in tow to show off the upcoming iOS title Super Mario Run. But that wasn't the only trick up their sleeves, as mere minutes into the presentation Reggie unveiled a surprise underneath a ? block: namely, the first public appearance of the Nintendo Switch.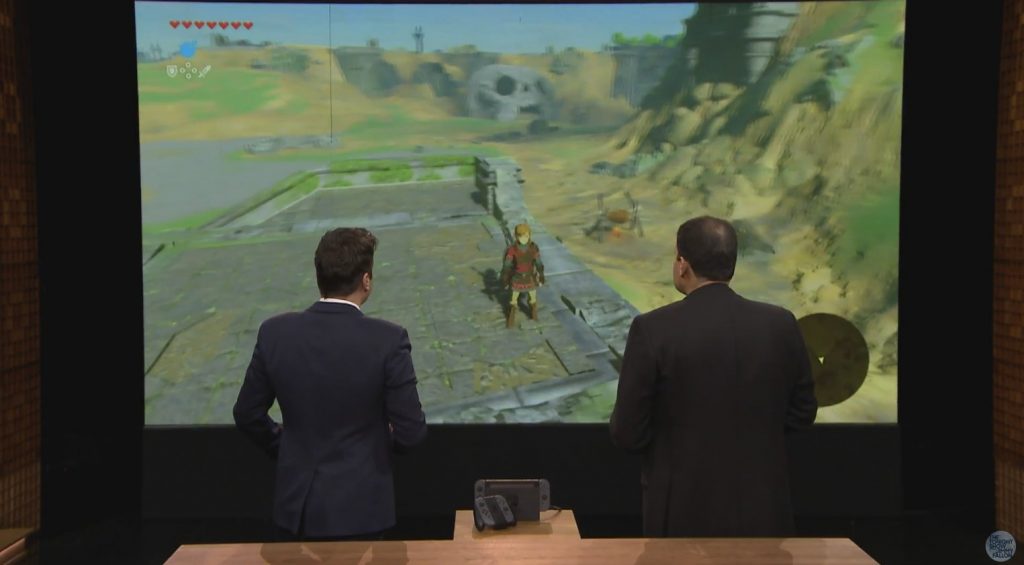 Jimmy Fallon, to the envy of nerds everywhere, became the first person to publically play the Nintendo Switch version of The Legend of Zelda: Breath of the Wild. While no new info regarding the game itself was shown, other than the fact that every place seen in game can be explored, Reggie did display the most touted aspect of the console: the duality of home console and handheld. The transition from playing on TV to the handheld screen appeared nearly seamless, as Reggie almost immediately was able to play after removing the Switch from the dock. While difficult to make judgments about frame rate or resolution from the video, there didn't appear to be any slowdown after the machine became portable.
Reggie reiterated the console's March release, and the news announcements that will come on January 12th.
Watch the segment for yourself below!
Leave a Comment