Hello there! Welcome to the world of handhelds! My name is Jaxson! People call me the Collector Professor! These handhelds are covered in creatures called Pokémon! For some people, consoles are toys. Others use them for display. Myself… I study consoles for a profession. First, what are we doing here?
Welcome back to Collectors Corner! Every other week I'll be bringing you a special article on the Nintendo consoles, merchandise, and collectibles that I love. Ever since I was a kid, Nintendo has held a special place in my heart, and has inspired me to collect and do research on the seemingly infinite amount of collectibles out there and I'm excited to share that passion with you all.
It's almost time everybody; Pokémon Sun & Moon are right around the corner, and they're launching tomorrow! In commemoration of this very, very special event, this week's Collectors Corner will be focused on Pokémon themed special edition handhelds. There are several of them to choose from, and plenty of them have already been featured in Collectors Corner. This week will feature all new consoles that I have never before highlighted in this series. Without further ado, let's get started.
Sun & Moon 2DS
This first console hasn't been released yet, but it's still one of the most stunning systems featured on this list. Available in Europe and Japan to commemorate the launch of Pokémon Sun & Moon, it's offered in a couple different bundles. In Europe, it's bundled with either Pokémon Sun or Pokémon Moon; in Japan, it's only available as a standalone console.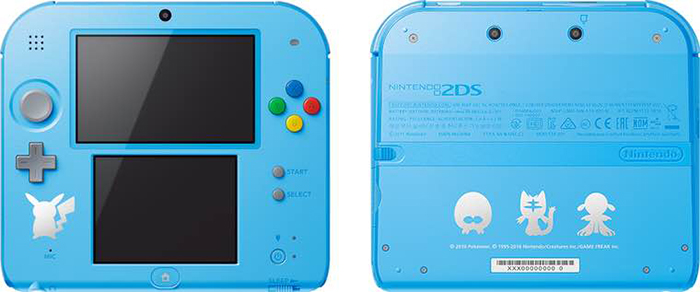 The light blue contrasts very nicely with the red, green, blue and yellow ABXY buttons on the front. The accompanying silver Pikachu on the front, and Rowlet, Litten and Popplio embossed on the back really make this system stand out from the crowd. You're out of luck when it comes to obtaining this system in North America, unless you'd like to import it from either Europe or Japan – but it will be locked to that region, making it essentially useless to play U.S. games.
Latios & Latias GBA
This beautiful system was released back in 2002 in Japan alongside the movie Pokémon Heroes: Latios & Latias. It features silhouettes of the two Pokémon on either side of the Game Boy Advance logo under the screen, and showcases a striking contrast of red and blue all throughout the system. The entire back of the system is a pinkish red, while the front of the system features a dark blue/purple color with red buttons to match the back.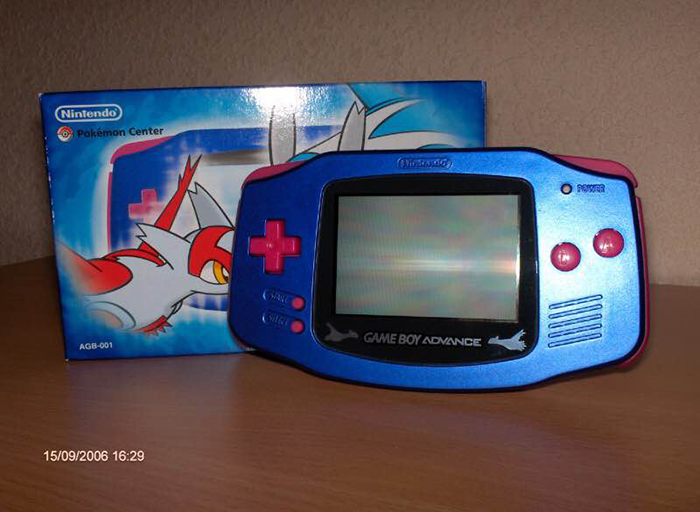 The system was only available in Pokémon Center stores in Japan, and thus has a sticker on the back featuring the Pokémon Center logo. This special edition is one of the only two-tone original Game Boy Advances made, although a couple of two-tone GBA SP were made later into the system's lifespan.
Do you want to capture one of these beautiful GBAs for yourself? There are a few listings on eBay, but you'll have to fork over $170 for the system, and over $500 for everything complete with the box.
Pokémon Third Anniversary Game Boy Color
A very memorable Game Boy Color that was one of many special edition Game Boy Colors to feature Pokémon around the screen, this system was released exclusively to Pokémon Center stores in Japan in 1999. This particular edition also serves as a great example of one of my favorite effects when it comes to positioning Pokémon art around the screen; Charmander's tail is positioned right over the power indicator light, and the flame lights up when the system is turned on. The other great thing about this system is that its face is a very satisfying orange, which pairs nicely with the blue back. Like many other Pokémon Center editions, this handheld is branded with the Pokémon Center logo on the bottom of the face.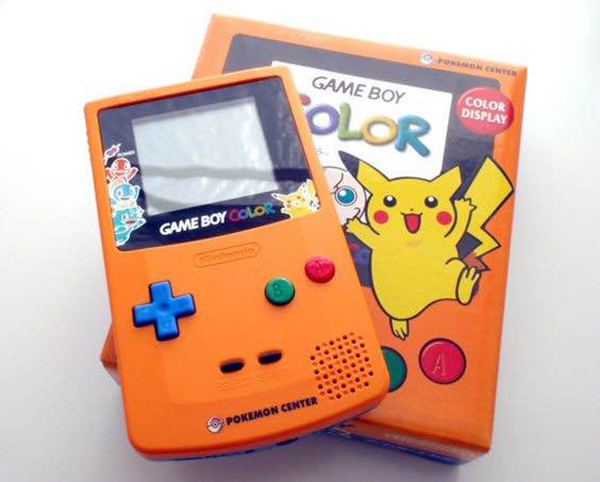 I recently had the pleasure of helping track down one of these bad boys for Nintendo Wire's very own Amiibo Jason, and let me tell you: they do not come cheap. The least expensive one I see on eBay right now is going for $350, but if you keep a watchful eye and aren't looking for the system complete in the box, they'll sometimes pop up for around $170, especially from international sellers.
20th Anniversary 2DS Collection
Another anniversary console comes in a fun variety of colors. Four of the systems were released in Japan and three of them were available in Europe. Celebrating Pokémon's 20th anniversary, the handhelds go all in on promoting the game they're bundled with. Coming bundled with the original Red, Green, Blue and Yellow, each system matches the color of the pre-installed game, and also has a sweet matching theme, featuring the original Sugimori art for each of the original 151 Pokémon. The systems also feature solid red, green, blue and yellow ABXY buttons, which look very nice against the transparent plastic that the body is made of.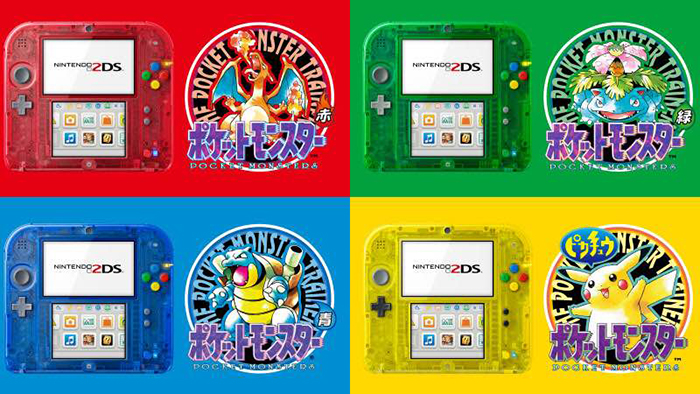 Seeing these special editions was really the first time I considered getting a 2DS for myself, since Pokémon is so significant to me, and they just look so nice. For U.S. collectors, there's no choice but to import the limited edition system, and at the moment any of the four colors are going for anywhere from $175 to $400.
For a closer look at one of these beautiful systems, check out our unboxing of the green 2DS! An unboxing video and a photo gallery are included.
Pikachu Yellow 3DS XL
Perhaps one of the most coveted special edition handhelds in recent memory, this striking yellow Pikachu 3DS XL is definitely my favorite entry on this list. The system was extremely popular when it first launched, and it continues to be extremely favored three years later. The inside of it is a clean white, which looks stunning when viewing it against the Pikachu yellow on the outer shell.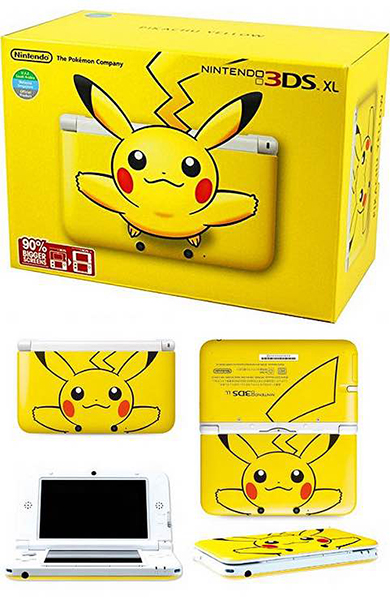 It wasn't bundled with any games in particular, but that didn't stop it from flying off of store shelves. Being the only console on today's list to have released in the U.S. is certainly a high point as well, since collectors won't have to deal with a pesky region lock should they decide to buy one. They'll just have to make sure they're buying one from the right region, since this 3DS XL was released worldwide in several stages – first in Japan in September 2012, then Europe in December 2012, and finally the U.S. in March 2013. Want to pick up one to have for yourself? There are plenty of them on eBay, starting at around $225, but most listings are above $300.
Stay tuned
So, you did it! Congratulations! You're the new Pokémon Console expert! You've learned so much since you first started this article!
Thank you all for reading through this very special edition of Collectors Corner. We're less than 24 hours away from Pokémon Sun & Moon, will any of you be playing it on any of the special editions mentioned here today? Did I leave out any of your favorite Pokémon special editions? Maybe I've covered them in a past Collectors Corner, so make sure you go back and read them all! I'm going to be very busy playing Pokémon Sun & Moon for the next little bit, so I'll see you in two weeks!
Leave a Comment