This week in the Nintendo eShop: Mario parties with some Toads, farms are tended to during the harvest moon, and DK slings some sick jungle beats.
It's an abysmal week in the deals department, especially if you're a 3DS owner. Those of you with a Wii U might want to consider picking up Elliot Quest and Olympia Rising, each of which is 30% off until November 11th. B3 Game Expo for Bees is also back on sale at 20% off. For those not in the know, it's a quirky, pun-filled FPS adventure where players take flight as a rookie security bee at B3, the annual Game Expo for Bees. Here's hoping for some great sales in the near future as we slowly approach the holiday season.
WII U DOWNLOAD SOFTWARE
Gravity+ (Nitrolic Games, $7.00) – A puzzle game suitable for all ages, Gravity+ pits you as a small robot on an isolated space station as you make your way through maze-like rooms in search of the exit. Manipulate gravity and work your way through two dozen stages filled with various traps, hazards and challenges as you compete in online leaderboards for the highest score. Most intriguing is the online level editor that can be shared via Miiverse, essentially providing endless replayability for those who seek it. Just remember, the level editor is an optional download, though fortunately you can still play user created maps without it. Give it a shot if solving "escape the room" puzzles in the vacuous expanses of space sounds like your kind of thing.
Pinball Breakout (nuGAME, $7.00) – It's classic Breakout with an added pinball twist! Gameplay is fairly straightforward: one or two players compete for highscores by mastering a mashup of game mechanics from traditional breakout and flipper games. I personally dig the bright colored aesthetic and psychedelic soundtrack, and the various stage designs add a breath of fresh air to what is typically a pretty stale genre. This one might be worth your time, especially for arcade game enthusiasts. I just wish that price tag was a little lower.
Twisted Fusion (Leuvsion, $5.00) – Twisted Fusion is the product of a lovingly crafted Kickstarter campaign built from the ground up exclusively for the Wii U. At heart, it's an action-RPG with a heavy emphasis on exploration. Three friends are mysteriously transported to a strange new world full of even stranger creatures and locals, armed with nothing more than their wits and an arsenal of water pistols. Fortunately, water is a scarce element possessing mysterious qualities in this new world, giving Cora and her buddies a powerful advantage over their adversaries. Most intriguing, the Wii U GamePad functions as a smartphone, hosting a variety of apps and gadgets that allow players to track the time and weather, check quest progress, fast travel and even train monsters! Boasting beautifully drawn 2D animated sprites, a user friendly upgrade system and intuitive drop in/drop out local multiplayer options, it's a great (and highly affordable) way to introduce the RPG genre to those unfamiliar with the territory.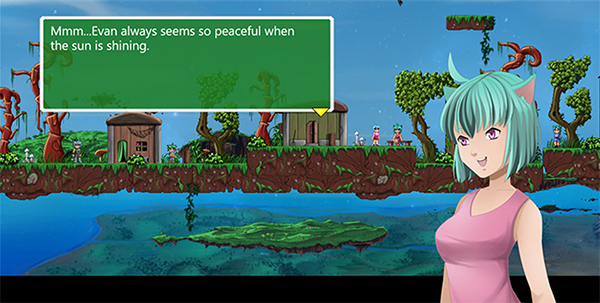 WII U VIRTUAL CONSOLE
Mario Hoops 3-on-3 (Nintendo, $9.99) – Pump those Reeboks and up your trash talking game: Mario and the gang are dribbling their way onto Wii U Virtual Consoles! Originally released on the Nintendo DS back in 2006, Mario Hoops is a colorful take on chillin' out maxin' relaxin' all cool and shootin' some b-ball outside of the school. Teams are made up of three players per side selected from the usual Mushroom Kingdom suspects, each sporting their own special moves and stats. Unfortunately, the Wii U version doesn't support local or online multiplayer in any capacity, making it difficult to fully recommend. Having said that, if you're a fan of light-hearted gameplay, vibrant graphics, inventive touch controls, and more unlockable content than you can shake a plunger at (including secret characters from developer Square Enix's Final Fantasy series), this is one slam dunk you won't want to miss.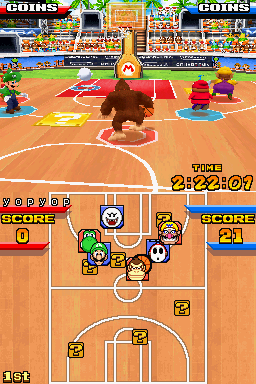 Donkey Kong Jungle Beat (Nintendo, $19.99) – Originally released on the GameCube back in 2005 and later ported to the Wii in 2009 under the New Play Control moniker, Jungle Beat is a unique platformer involving combat, jumping and counterattacking through intuitive use of motion controls. It's often praised for breaking new ground in platforming, shaking up the traditional run 'n jump genre with fun and quirky ways to play. Unfortunately, it's a rather short adventure, despite the replayability offered by an addictive scoring system for each level, and the boss fights have a tendency to get a little repetitive. There's also no support for the Bongo controller, instead opting for a combination of both traditional and motion controls using the Wii Remote and Nunchuk. The original makes for a far better experience if you can get your hands on it (especially the bongo drum peripheral), but this remaster should still suffice for anyone who missed out the first time around.
WII U SPECIAL OFFERS AND DEALS
B3 Game Expo for Bees ($3.99 | 20% off) until 11/9
Elliot Quest ($8.99 | 30% off) until 11/11
Olympia Rising ($3.49 | 30% off) until 11/11
Word Party ($9.99 | 50% off) until 11/10
Paper Monsters Recut ($0.99 | 87% off) until 11/10
Discovery ($3.99 | 42% off) until 11/30
The Letter ($1.29 | 35% off) until 11/10
Blocky Bot ($0.99 | 66% off) until 11/10
Wicked Monsters BLAST! HD+ ($2.99 | 62% off) until 11/4
Check Nintendo's website for the full list of deals available.
3DS RETAIL
Mario Party: Star Rush (Nintendo, $39.99 | available 11/4) – Mario Party is back, this time ditching the "everybody moves together in a vehicle" mechanic for some much needed strategy and innovation. A fresh take on the series, Star Rush breaks free of turn order and allows each player to roll the dice at the same time through five wild worlds filled with bite-sized, open maps. While the level designs come off a little bland compared to older titles in the series, the addicting minigames, memorable boss battles and abundance of amiibo support come together in an enjoyable package that's fun both as a solo experience or with a few friends. Be sure to check out our full review, where Nintendo Wire's very own Jaxson Tapp praised it for its innovation in handheld multiplayer.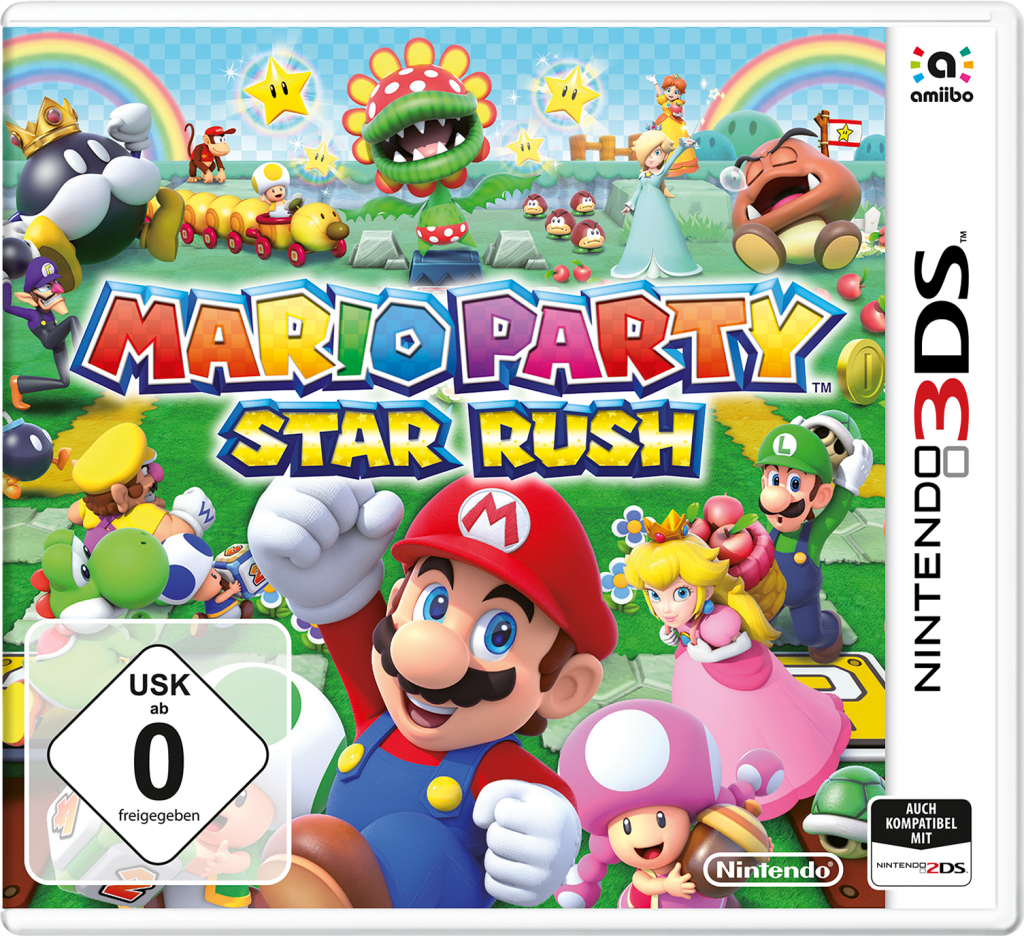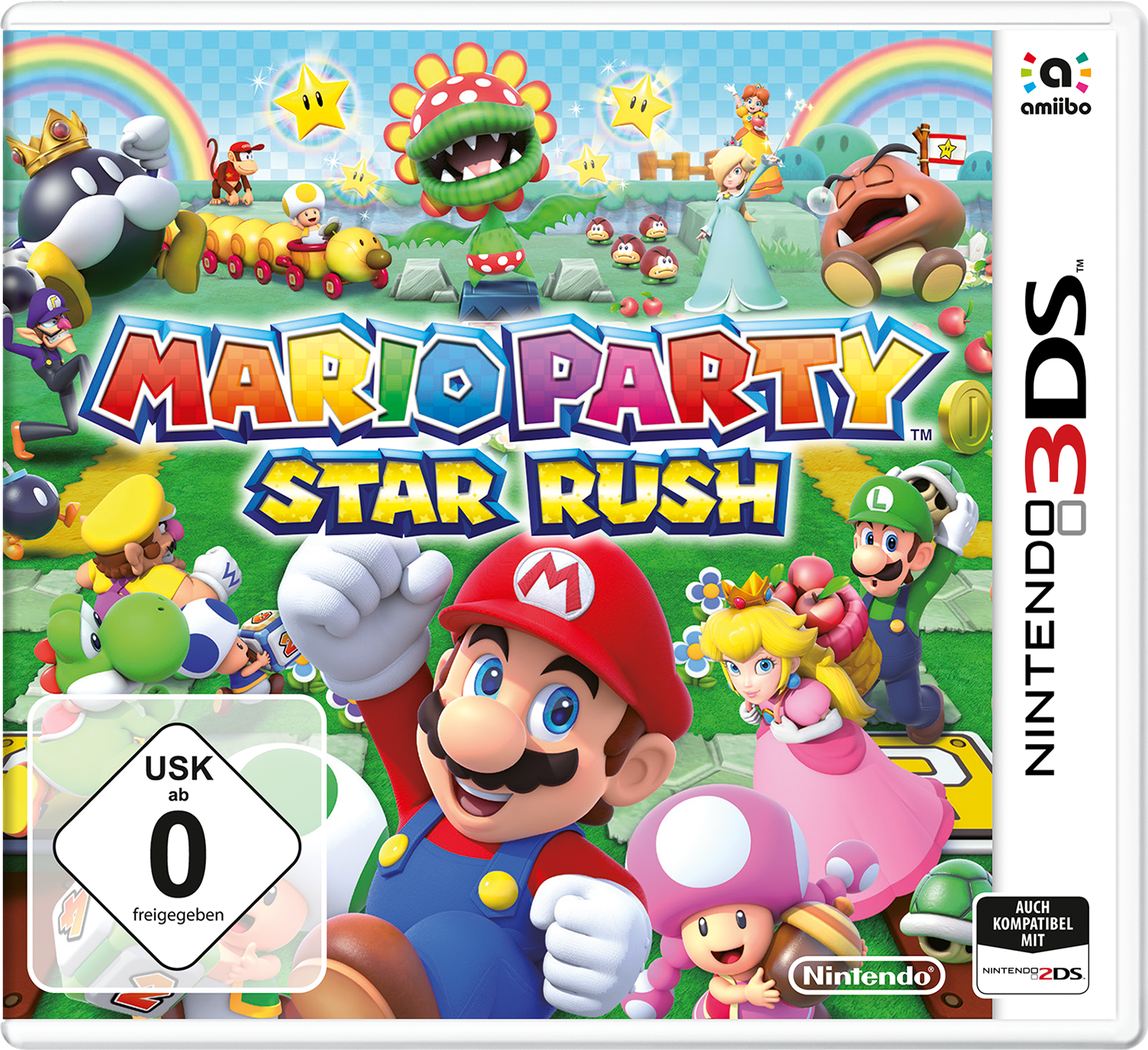 Cartoon Network: Battle Crashers (GameMill Entertainment, $29.99 | available 11/8) – A sidescrolling action brawler featuring some of Cartoon Network's most popular shows and characters, Battle Crashers has all the potential to be a thoroughly entertaining package, in the real way. Judging by the quality of some of the network's more recent tie-in games though, I wouldn't put too much stock into that being the case. A brawler that doesn't support local multiplayer (on the 3DS at least) is an unforgivable red flag, and the anemic roster and lack of more veteran characters feels like a missed opportunity. You know who else won't consider purchasing this game until it's in the bargain bin at my local Target? MY MOM!!!
Harvest Moon: Skytree Village (Natsume, $29.99 | available 11/8) – The latest iteration in the long running series of hybrid farming/dating simulation games is back! Armed with the power of the Harvest Goddess, it's up to you to revive the seven Skytrees and bring life back to the desolate lands of a long forgotten village. Featuring a completely new cast of characters and brand new art style, players can now terraform their land any way they like to help shape the land more efficiently. I can't personally attest to the quality of Harvest Moon games beyond the Game Boy era, but from what I've seen in gameplay videos, this looks to be a fresh new take on a pretty well established formula, adding just enough new content to keep the the genre from getting stale and repetitive. Also, that Poitou donkey is simply too adorable for words.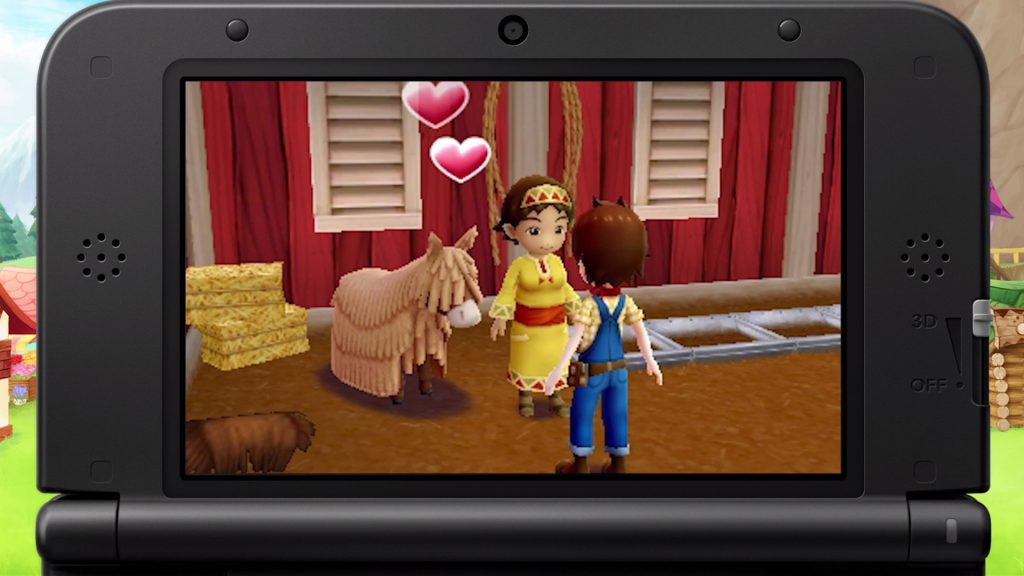 3DS DOWNLOAD SOFTWARE
Mario Party: Star Rush – Party Guest (Nintendo, Free | available 11/4) – Want to play with a bunch of your friends, but nobody else has a copy of the game? Fret not, as Nintendo has made it a precedence this time around to ensure anyone with a 2DS or 3DS system can join in on the multiplayer mayhem! Downloading the Party Guest app on your 3DS essentially provides players with unbridled access to the entire game sans the vast bulk of single player content, as long as one player owns a full copy. Keep in mind it only works for local play.
Ice Station Z (Wobbly Tooth, $3.99) – Ice Station Z is an open world zombie survival game boasting both single and multiplayer modes, with local and online support included. There's something immensely endearing in its N64/PlayStation era polygonal aesthetic, fitting in perfectly with the tense and gloomy undertones the game is going for. There are some obvious parallels to games like DayZ, but time will tell just how intricate of an experience the developers at Wobbly Tooth were going for. Personally, my head's still spinning at the fact that the game supports both voice and text chat. This is by far the most intriguing release for this week, and I can't wait to sink my teeth into its many mysteries.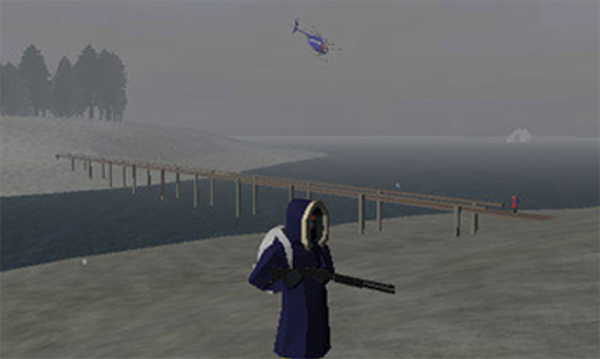 Unlucky Mage (KEMCO, $9.99) – Unfortunate name aside, Unlucky Mage is a traditional turn-based RPG that looks like it was plucked right out of the SNES era. As is typical of most RPG narratives, players follow the story of a moody loner who finds himself involved in a chain of events that sets him on a course to be the savior of a nation. A spin on common gameplay mechanics of the genre, there are no configurable stats for you party, replaced instead by the strategic use of various offensive and defensive formations and tactics. My recommendation: Be sure to watch some gameplay videos first to see if it's worth the price of admission.
3DS ADD-ON CONTENT
Animal Crossing: New Leaf – Welcome amiibo (Nintendo, Free) – For those living under a money rock, a brand-spanking new update for Animal Crossing: New Leaf launched after a very special Nintendo Direct yesterday morning. Most prominent is the addition of new amiibo-centric features, allowing players to tap in the villager of their choice on a whim and invite them into their town. That's only the tip of the iceberg when it comes to new additions, so be sure to check out the full details of this free update right here.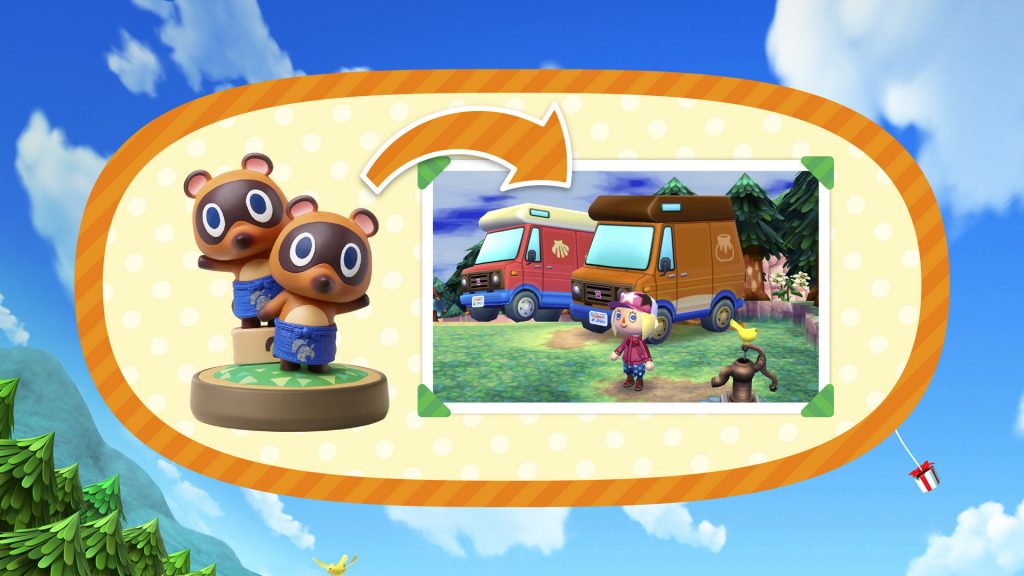 3DS PRE-PURCHASE
Pokémon Sun & Moon (Nintendo, $39.99 | available 11/18) – We're just two weeks away from our next adventure in pocket monster collecting! Avid Poké Trainers eager to catch, battle and trade all new Pokémon on the tropical islands of the Alola Region can finally pre-purchase the game starting now to help alleviate the wait of lengthy installs once the game finally launches on November 18th. As an added bonus, you'll also receive 12 Quick Balls as a reward for your impatience! Don't forget to pick up the free demo if you haven't already, featuring an exclusive Ash-Greninja transferable to the full game at launch.
3DS SPECIAL OFFERS AND DEALS
AeternoBlade ($4.99 | 66% off) until 11/4
Samurai Defender ($2.79 | 30% off) until 11/10
Glory of Generals ($3.99 | 42% off) until 11/10
3D Game Collection ($4.79 | 20% off) until 11/17
Luxor ($0.99 | 83% off) until 12/29
Soccer Up 3D ($1.99 | 33% off) until 11/10
Hidden Expedition Titanic (83% off) until 12/29
Ash ($2.79 | 30% off) until 11/10
4 Elements ($0.99 | 83% off) until 12/29
Azada ($0.99 | 83% off) until 12/29
Check Nintendo's website for the full list of deals available.
AMIIBO
Daisy (Nintendo, $12.99 | available 11/4)
Waluigi (Nintendo, $12.99 | available 11/4)
Wario (Nintendo, $12.99 | available 11/4)
Rosalina (Nintendo, $12.99 | available 11/4)
Donkey Kong (Nintendo, $12.99 | available 11/4)
Diddy Kong (Nintendo, $12.99 | available 11/4)
Boo (Nintendo, $12.99 | available 11/4)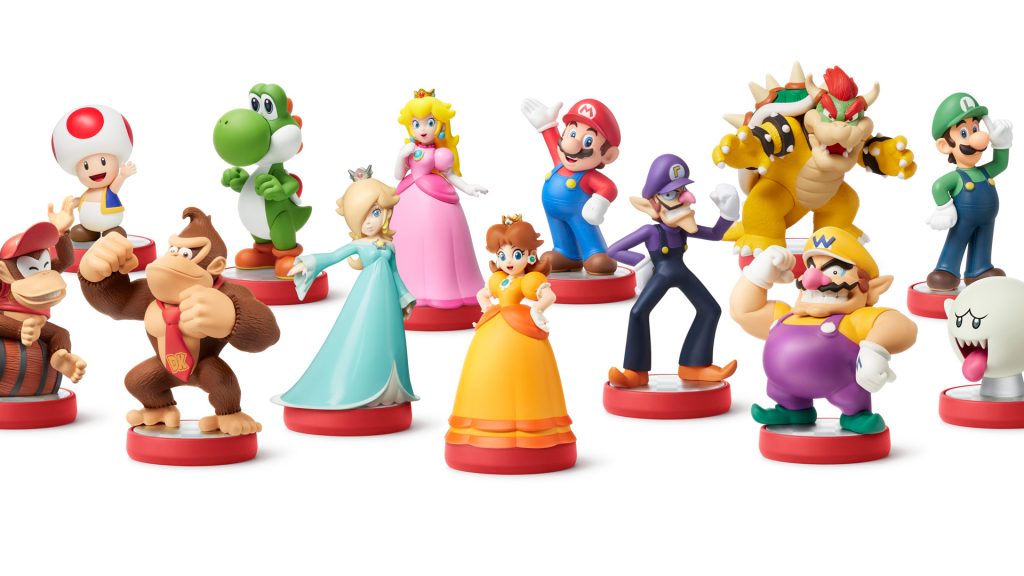 What games will you be downloading this week? Be sure to let us know in the comments!
Leave a Comment