Pump those Reeboks and up your trash talking game: Mario and the gang are dribbling their way onto Wii U Virtual Consoles!
Originally released on the Nintendo DS back in 2006, Mario Hoops is a colorful take on chillin' out maxin' relaxin' all cool and shootin' some b-ball outside of the school. Teams are made up of three players per side selected from the usual Mushroom Kingdom suspects, each sporting their own special moves and stats.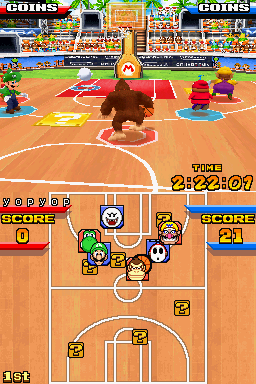 Unfortunately the new Wii U version doesn't support local or online multiplayer in any capacity, making it difficult to fully recommend. Having said that, if you're a fan of light-hearted gameplay, vibrant graphics, inventive touch controls and more unlockable content than you can shake a plunger at (including secret characters from developer Square Enix's Final Fantasy series), this is one slam dunk you won't want to miss.
Mario Hoops 3-on-3 will be available tomorrow, November 3rd, for $9.99.
Leave a Comment