The day Nintendo fans have so eagerly awaited since the first whispers of the NX fell upon their ears has finally come. We are now living in a post-NX world following the release of the very first trailer for Nintendo's next-gen Nintendo Switch. Plenty was shown off in the three minute-long video, so let's break down the essentials — and the things you might have missed.
The trailer begins with a young man playing the Switch version of The Legend of Zelda: Breath of the Wild in the comfort of his home before switching to him taking his Joy-Con controllers apart from his Joy-Con Grip, taking the device out of its dock, sliding the Joy-Con controllers on either side of the Switch's screen, and taking the game with him on-the-go. A recurring theme throughout the video is the emphasis on the various new playstyles the console has to offer, usually prefixing these scenes with the Switch's logo and a soon-to-be-very-familiar click!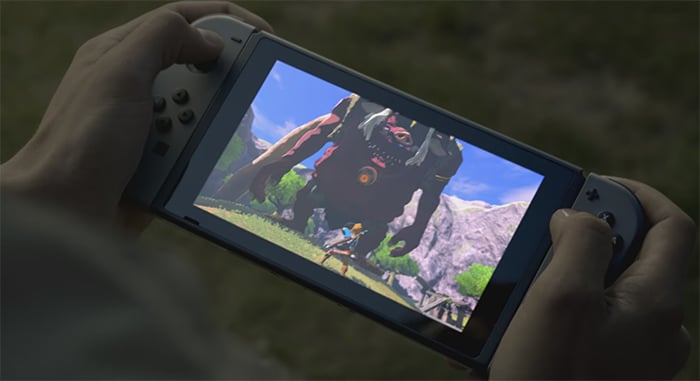 Outside, the man continues playing Breath of the Wild (with a noticeably lower framerate) on his Switch before we meet another young man in an airport. We see him obviously insert a cartridge into his Switch before he joins a woman playing on her own device. On his flight, the same man employs use of a built-in kickstand to prop the Switch up on his flight tray before inserting a pair of headphones. The Switch's great flexibility is shown off as the man removes the Joy-Con controllers to play The Elder Scrolls V: Skyrim wirelessly. Once he lands, he continues to play Skyrim in his cab with the Joy-Con controllers reattached. At home, he inserts the Switch back into its dock and grabs his Switch Pro Controller to seamlessly keep his play going on his television.
We are then introduced to a group of friends taking a road trip together, utilizing what appears to be a car dock accessory to play, presumably, a ported version of Mario Kart 8. Two friends race against each other on one screen using the Joy-Con controllers, one as Mario and the other as a character new to the game: King Boo. The Switch version of Mario Kart 8 also seems to have a new feature: the ability to carry two items at once. This, of course, confirms the existence of new content for the game, although we can only imagine the extent of it.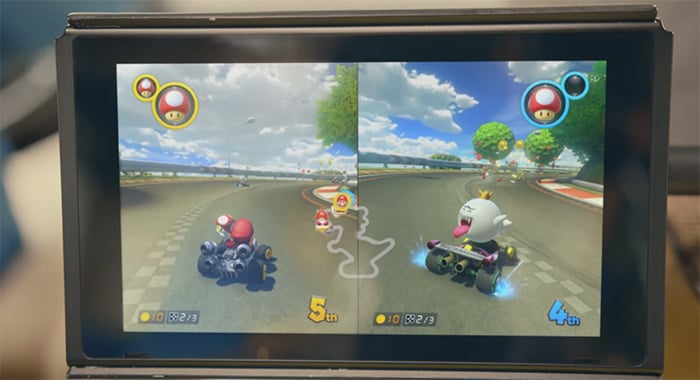 Then, the trailer switches to a group of men playing basketball before two of them set up their kickstands and place their Switches on a bench. Further promoting the Switch's third-party support, the men begin playing what looks like an NBA 2K game against each other, showing off the console's wireless communication capabilities.
In another home, a woman holds her Joy-Con Grip and plays what looks like a never-before-seen 3D Mario game not unlike Super Mario 64. Seeing her friends on a nearby rooftop, she slides her Joy-Con controllers onto her Switch console while the frame gives us a look at her amiibo collection, likely implying Switch compatibility with Nintendo's popular line of toys-to-life figures. She takes her Switch out of its dock and join her friends. Outside, she places her Switch on a table with its kickstand and hands her friend a Joy-Con controller before the two begin to play together. This, perhaps, could suggest the presence of multiplayer functionality in this upcoming Mario title.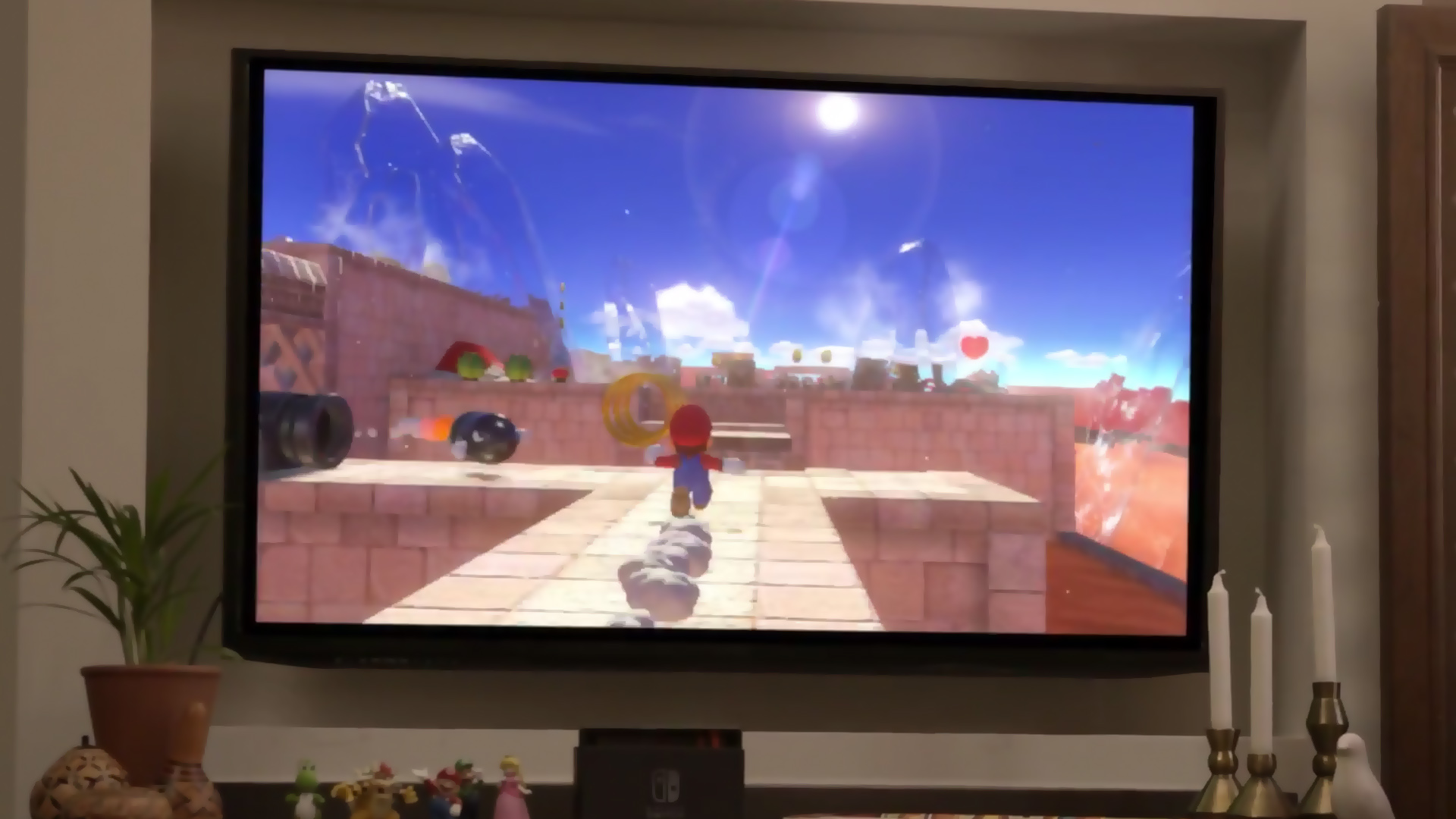 A group of eSports players are then shown outlining plays and strategy on a chalkboard, Switches standing upright around it. The scene then jumps to their competition, which is busy practicing a game of Splatoon, Pro Controllers in-hand and four Switches propped around them. After some pre-game cheering, the two groups then make their way to what looks like an officially-sponsored competition, Nintendo logos hanging high above a stage. They boot up the Switch version of Splatoon, which appears to have its own share of new content, as well, in the realm of new clothing (pants) and a variety of different hairstyles for Inklings. The scene ends on a shot of a crowded tournament hall, possibly implying a larger role for Nintendo in eSports.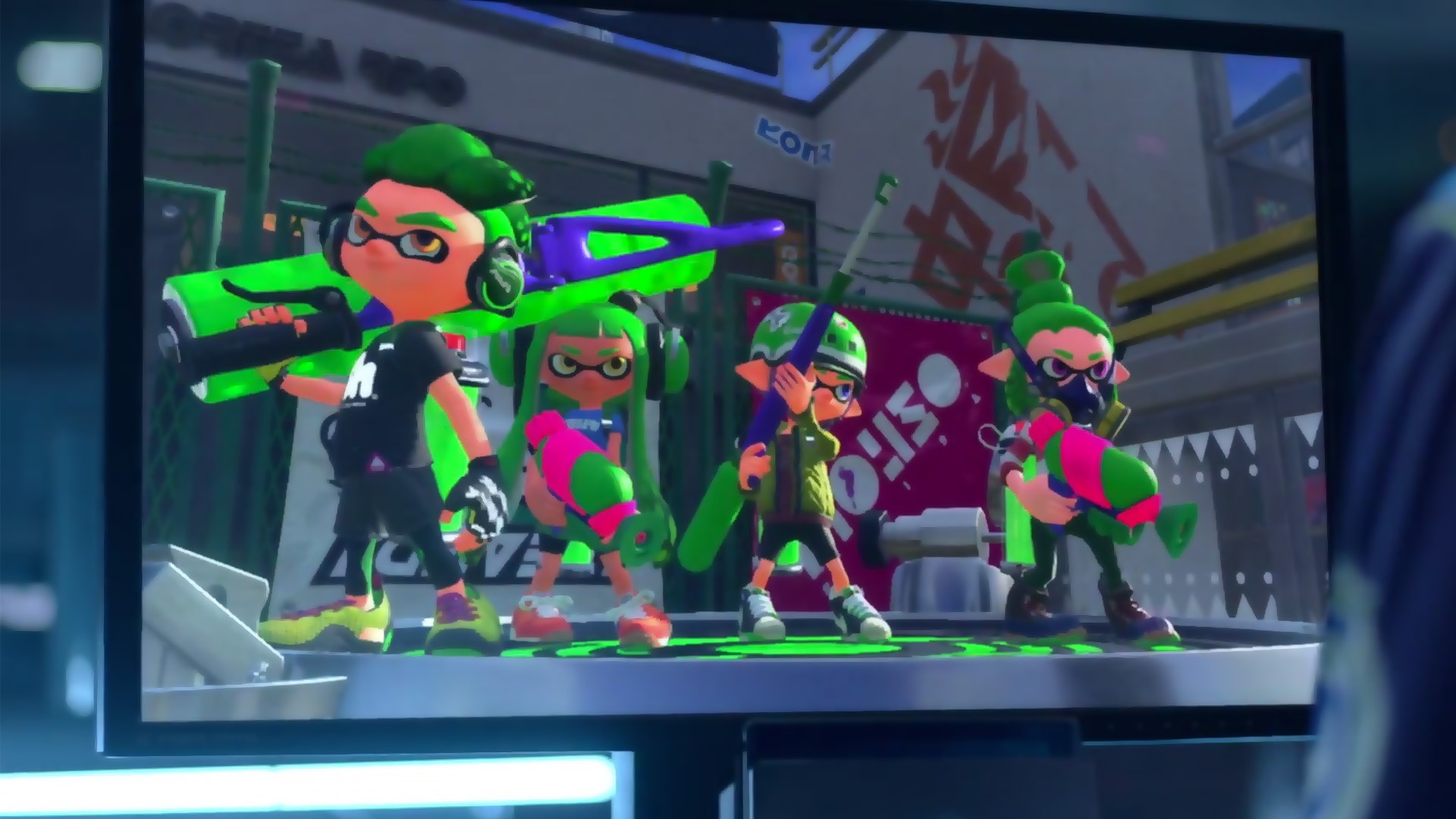 After a last look at the Switch logo, the video comes to a close with the console's release date: March 2017.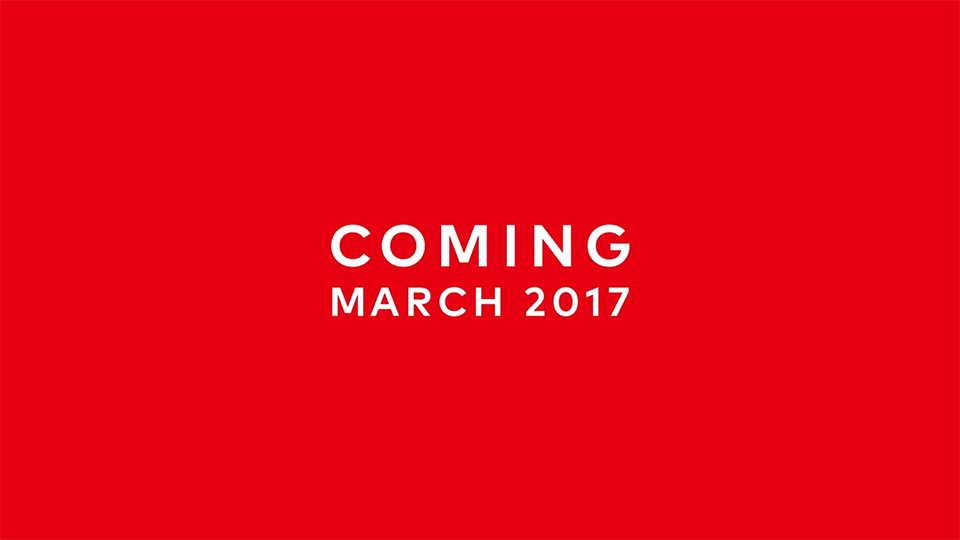 Stay connected to Nintendo Wire for more Switch news as it breaks!
Leave a Comment