Take a more visual tour of the Kirby Café in Osaka, Japan in our video, and then dive even more into the entire Kirby experience below!
For the last couple months I've been living and working in Japan, a country I've always wanted to visit – for many reasons. Part of that is, of course, my love of all things Nintendo, a company founded and headquartered here and thus the country sees many merchandise and events in line with its franchises and characters. Due to some incredible fortune, I was able to visit and savor such an event and for none other than my favorite Nintendo series: Kirby.
I'm talking about the Kirby Café and accompanying shop, in particular the one located in Osaka. The first step to enjoying the full experience was getting tickets for both. Arriving at the distribution location, there were separate lines for each. While there were people waiting to purchase the lovely, café exclusive merchandise, the number was far exceeded by the hundreds waiting to enjoy the themed dishes and Dream Land ambiance of the café itself. While the ticket distribution didn't start until nine in the morning, my seven o'clock arrival looked dicey, with a vast number of people waiting and playing plenty of – if my StreetPasses are any indication – Kirby: Planet Robobot. What staff was there were nice enough to provide fans and menus to everyone anticipating the distribution, but that was no guarantee that one would be able to go.
After a two hour wait in growing Osakan heat, they began to hand out tickets. Keeping an eye on the timetable board, they would add a red indicator to signal that a time slot was filled. Even with 11 hourlong slots I didn't feel all too confident, but thankfully, I ended up the happy holder of ticket number 424, which secured my seat between 8:30 and 9:30 that evening, the final hour of the day. The staff was very friendly and attentive during this period, giving updates to everyone in the line and providing extra tickets on request (if available and reasonable) to those who may have had an intended companion who couldn't join them for the early wait.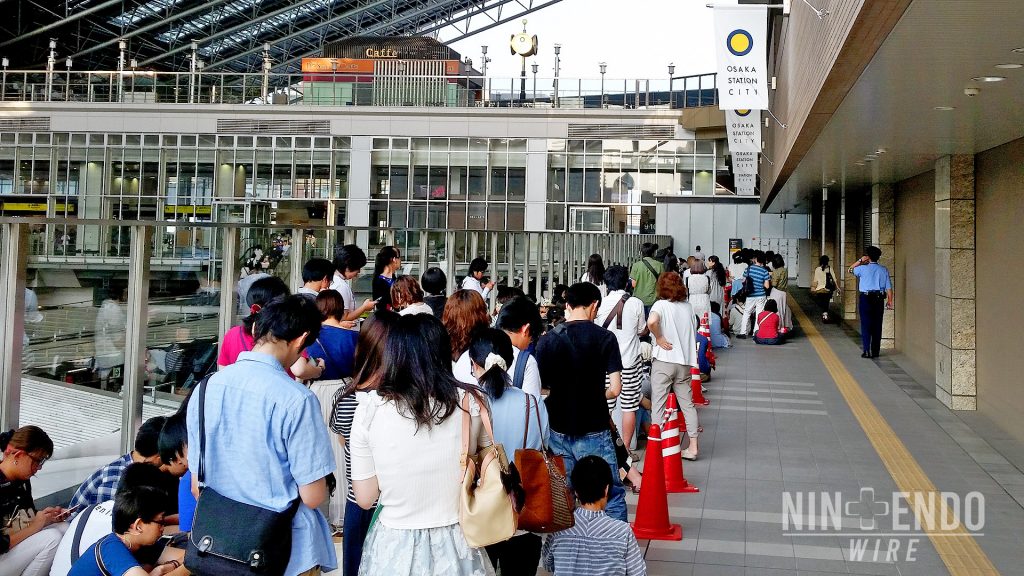 After a great day checking out Osaka it was finally time for my dinner with Kirby, and I was greeted with some fantastic decor around the location. The walls were adorned with Kirby of course but also Waddle Dee(s), the costar of the café, and some other recognizable Kirby elements. Contrasting black and white star marked doors, blocks, rainbows, clouds and more were all around with highlights in soft yellow and blues – they really set the stage for a pleasant night. The vibe and feel were enhanced by the soundtrack for the café, composed of light arrangements of Kirby music staples such as Green Greens and even some other, not-as-common pieces that I'm surprised could be made to fit the café ambiance, such as the 0² theme from Crystal Shards.
Guests' orders were taken before being seated, and those waiting for their scheduled time were arranged based on their ticket numbers. Sadly, by the time I arrived, most of the dessert treats and some of the food items were completely sold out for the day, leading to a bit of quick thinking as to what I'd be having that night instead of my original plan. Once an order was placed, they'd take it to the kitchen and after a bit of waiting it was finally time to be seated. That was where a wonderful surprise awaited me: first in the form of Kirby Cafe themed placemats, and then quickly eclipsed by the Kirby Nendoroid placed in a special Kirby Café themed stand. Every table had one of these to play with during your stay, and I couldn't resist posing him with the Kirby amiibo I brought along.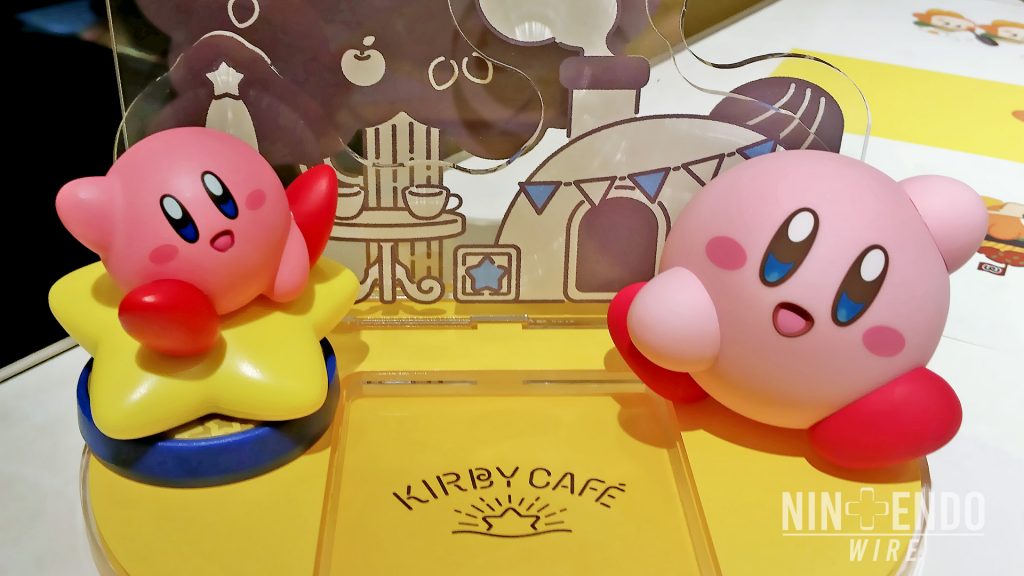 Since we didn't have to place an order within the cafe itself, the full wait could be spent enjoying the ambiance, taking pictures, and appreciating just how much thought went into decorating the place. While it didn't delve deep into obscure Kirby characters and concepts, the spirit of Kirby was felt all throughout the place. Waters had been served soon after I arrived they quickly went untouched once my drink orders arrived. And yes, that's orders plural, as how could I refuse the chance to enjoy two Kirby themed creations?
The first I tasted was the Orange Ocean juice drink, a blend of orange and other complementing flavors with a light yogurt cream drizzled with star sprinkles on top. It went down incredibly smoothly with just a hint of tartness, and it came complete with an Invincibility Candy styled drink stirrer. I initially thought this would be my favorite, and while I enjoyed it immensely, I was blown away by the next beverage.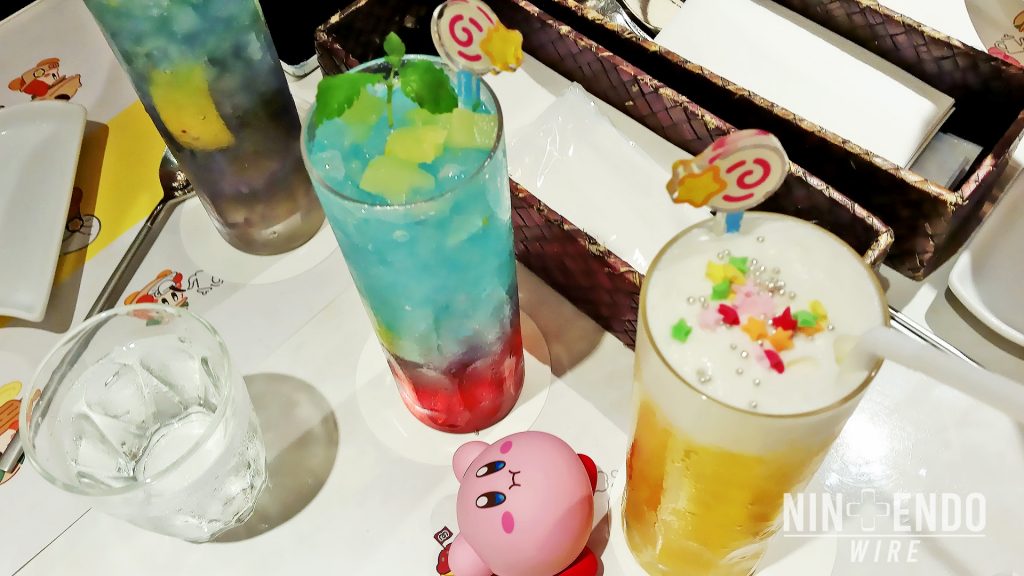 With a refreshing fizz and a perfect blend of tastes, the Fountain of Dreams sparkling drink was the surprise of the night. My first sip was full of watermelon flavor accompanied by an inoffensive bubbling sensation that perked me up after the more mellow Orange Ocean. After mixing the tastes using my Star Rod stirrer I couldn't believe how refreshing it was. Garnished with fruits cut into star shapes, I'm going to be busy trying to replicate this one myself.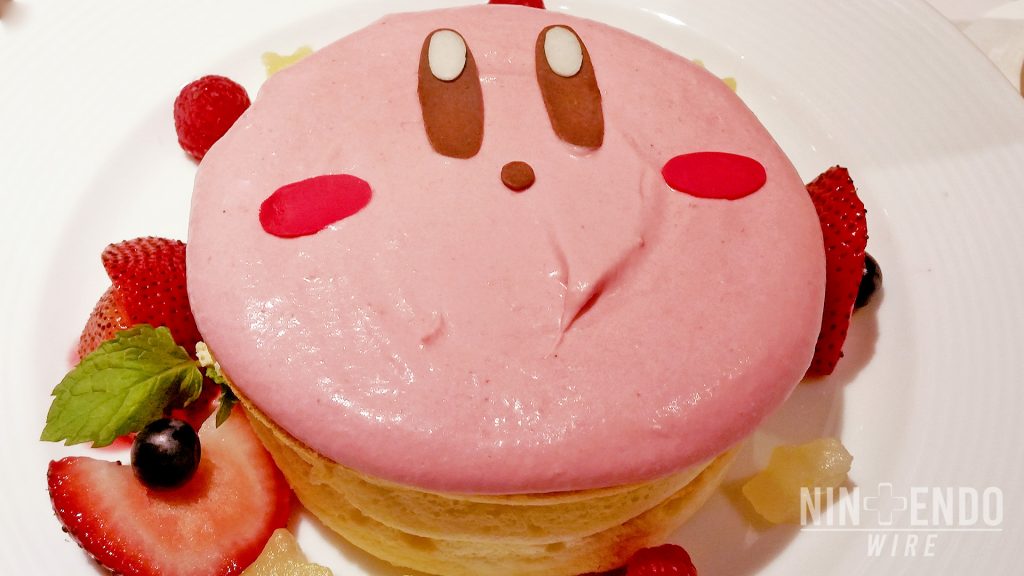 After sipping on the both of these for a while, it was time to eat; and since it was so late it felt only fitting to have a dinner fit for a king. The Dedede Feast plate was incredibly filling and varied, giving me a chance to enjoy ribs, potatoes, pancakes, bacon and eggs, salad, and a full chicken thigh all in the scope of one plate. Topped with a Dedede flag, the presentation of the food made the plate look inviting rather than intimidating in spite of the hefty amount. While the ribs satisfied a craving I'd had since moving to Japan and the salad and potato wedges were simple and tasty, the pancake stack and the chicken were incredible; they carried the whole meal from good to delicious.
The two pancakes, strips of lean bacon, and whole egg were simultaneously hearty and easy to eat. Pancakes in Japan are more commonly a dessert treat topped with sweet creams and fruit, though here they served a hot and fluffy base to the entire meal. The bacon and eggs together is a combination that needs no elaboration, but alongside everything else and paired with the pancakes it was a true delight. The chicken thigh, however, was exemplary, both succulent and carrying rich flavor – and I'm glad I saved it for last.
It was finally time for dessert, and I couldn't say no to a parfait named for Pop Star's masked protector. The Meta Knight inspired treat was a blend of chocolate, ice cream, banana and corn flakes that altogether tasted great. It was a satisfying end to the night's deliciousness – not too filling after the large meal I'd already had but fulfilled my sweets craving perfectly.
Setting aside the effort and waiting it took to be able to go, my experience with the Kirby Café was incredible. Granted, I'm an unashamed Kirby fan, but even judging the food and overall presentation on their own I'd say the night was a huge, tasty success. The staff were all friendly and understood that my Japanese was still a work in progress and didn't stop me from going about taking pictures throughout the interior.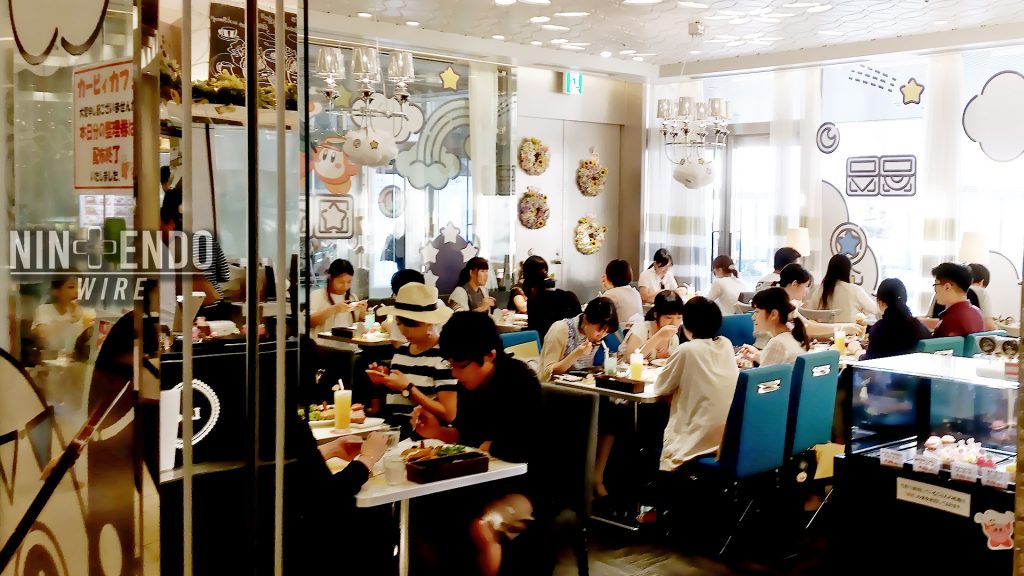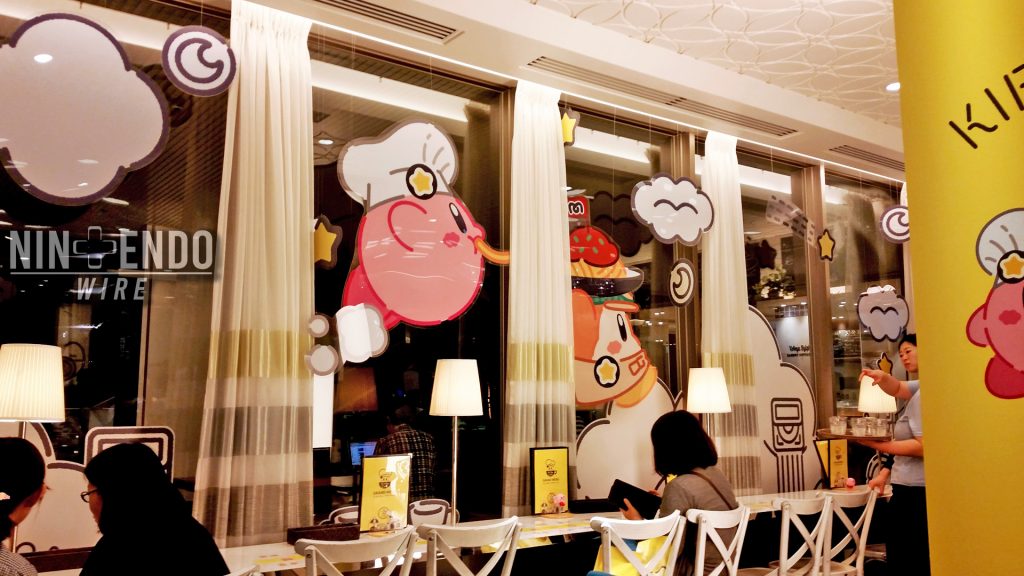 If it were a permanent installation, it would be a must-visit place when I visit my friends in Osaka, but sadly the café will only be around until early September. The prices were a bit on the high side, though that's a common feature of themed cafés. That said, there will be a Tokyo location opening at the end of August and staying hopefully through Tokyo Game Show – and anyone potentially going to that or just vacationing in Tokyo should consider setting aside the time to visit their version of the café. Just remember to line up early and come hungry.
Stay tuned for more on my Kirby experiences in Osaka, including a rundown of the separate Kirby Café Shop!
Leave a Comment