Super Smash Con 2016 has concluded, and four victors have been crowned in their respective games. It was exciting competition all around, but only four could come out on top.
Smash 4 saw another tournament filled with upsets – perhaps the most egregious one yet. Players like Dabuz, Ally, and Abadango lose to underdogs, while others such as ZeRo and ANTi didn't even make Top 8 due to running into rivals in the Loser's Bracket. While many made impressive runs, the victor of the day ended up being Nairo, who despite having good results in most tourneys this year, had been struggling at majors. His Zero Suit Samus looked very solid all the way up through Grand Finals. Nairo also did well in Brawl, placing 5th, and it's good to see him performing well under pressure again. Praise must be also given to ScAtt and Fatality, who also had great performances.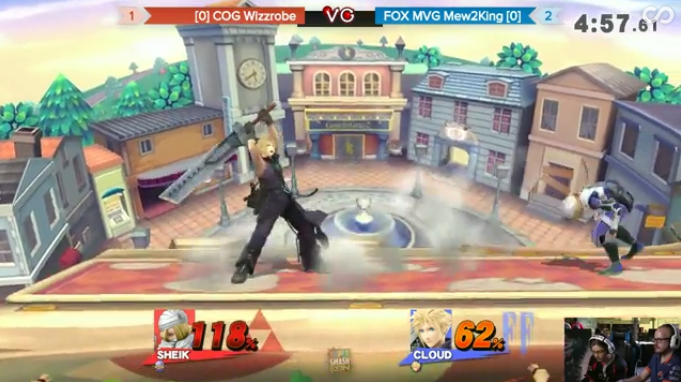 Melee, meanwhile, saw the return of the GOAT to glory, as Mang0 took out current top head Hungrybox to take the crown. Getting third at last weekend's Clutch City Clash must have been a wake up call to The Kid, for he put up one of his most convincing performances in months, taking his first tourney since early July's WTFox 2. There were some other notable upsets earlier in bracket – including Mew2King losing to PewPewU for the first time ever (the second Marth player to do so, after PPMD) – but Top 8 ultimately looked and placed as expected.
64 celebrated its largest tourney ever, as the difficult-to-type SuPeRbOoMfAn of Canada took out surprise placer Wizzrobe to seize the glory. While Boom played well, taking out Wizzy in two separate sets, the real highlight of the day was one of the game's greatest, Isai, pulling his usual antics by busting out lower tier characters for no particular reasons, even taking a game off with Luigi (generally considered the worst in the game). While Isai may have taken it all if he had just gone Pikachu the whole time, his preference to just play the game for fun is what makes him a legend in both 64 and Melee.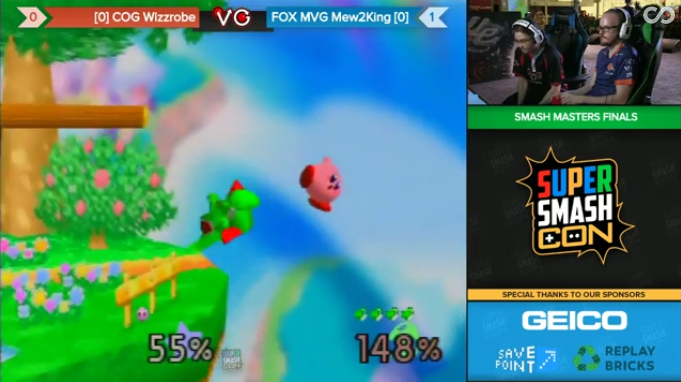 Brawl had its once a year resurgence, and with such sparse playing people weren't quite sure what to expect. Most surprisingly, no Meta Knights made Top 3, with ANTi taking 4th and last year's winner, Mew2King, placing a surprising 9th. The victory fell to Vinnie, who was using perhaps the game's most polarizing character, Ice Climbers, taking out V115 in Grands. While Brawl had its moment of glory, it appears that it may not be over, as there is a planned "Revival of Brawl" tournament in the future, announced this weekend.
While the Con had some other great attractions, special note must be made of the Smash Masters event, which intended to establish the greatest overall Smash player of all time across all four games. Mew2King was the favorite going in, and came out on top against Wizzrobe to claim the title of Smash Master. The event was quite entertaining, and with any due luck will return next year.
The next premier tournament we'll cover will likely be The Big House 6 in October. You can check out the full Top 8 placings for Super Smash Con 2016 below.
Smash 4 Top 8
1. Liquid | Nairo (Zero Suit Samus)
2. dT | Dabuz (Rosalina, Olimar)
3. Mr. R (Sheik)
4. CLG | VoiD (Sheik)
5. Ally (Mario)
5. MVG | ScAtt (Mega Man)
7. Abadango (Mewtwo, Meta Knight)
7. TA | Fatality (Captain Falcon)
Melee Top 8
1. C9 | Mang0 (Fox, Falco)
2. Liquid | Hungrybox (Jigglypuff)
3. MVG FOX | Mew2King (Marth, Sheik, Fox)
4. Tempo | Axe (Pikachu, Falco)
5. WFX | Shroomed (Sheik)
5. CLG | SFAT (Fox)
7. CLG | PewPewU (Marth)
7. G2 | Westballz (Falco)
64 Top 8
1. SuPeRbOoMfAn (Cpt. Falcon, Pikachu, Kirby, others)
2. COG | Wizzrobe (Yoshi)
3. Isai (Pikachu, Fox, literally everyone else except Samus)
4. Mariguas (Pikachu)
5. The Z (Pikachu)
5. Wangera (Jigglypuff)
7. Kurabba (Yoshi)
7. Revan (Kirby)
Brawl Top 8
1. Vinnie (Ice Climbers)
2. V115 (Zero Suit Samus)
3. ADHD (Diddy Kong)
4. dT | ANTi (Meta Knight)
5. Liquid | Nairo (Meta Knight)
5. Player-1 (Diddy Kong)
7. Ally (Snake)
7. Rich Brown (Olimar)
Leave a Comment