This week in the Nintendo eShop: Tadpole Treble splashes on the Wii U, Mega Man X beams onto 3DS Virtual Consoles, and Mario Sports Mix swings onto Wii U Virtual Consoles.
After some truly objectionable sales in the past few weeks, we finally have some noteworthy discounts to celebrate! Both Phoenix Wright: Ace Attorney – Dual Destinies and Phoenix Wright: Ace Attorney Trilogy are down to $11.99 and $16.49 respectively for the next week. Atlus is also back with a vengeance, featuring sales on Stella Glow and multiple Etrian Odyssey games. Still not enough? How about some 3D classics from Sega? While they haven't gone live yet, 3D Streets of Rage, 3D Shinobi III: Return of the Ninja and many others are planned to go on sale sometime this week until the end of the month. When that happens is anybody's guess, but we'll be sure to keep you posted on updates.
WII U DOWNLOAD SOFTWARE
Tadpole Treble (BitFinity, $9.99) – Created by Matthew Taranto of Brawl in the Family fame, Tadpole Treble is a refreshingly new take on the rhythm genre that tasks players with swimming through a melodic river of sheet music. As the stage auto-scrolls, Baton – the game's astoundingly adorable protagonist – must avoid notes, hit beats, and masterfully maneuver through incredibly varied stages and boss battles in an effort to find her way home. Its art style is nothing short of beautiful and highly reminiscent of something you'd find in a children's storybook. Most importantly, the songs themselves are addictively catchy and original, with "Midnight Bayou" being a personal favorite of mine. Trust me, Tadpole Treble is one epic musical odyssey that rhythm game fans won't want to miss out on.
360 Breakout (nuGAME, $7.00) – If I had a nickel for every permutation of classic breakout gameplay released on the Wii U… Anyway, despite its "out of the ordinary" designation by its developers, 360 Breakout offers much of what you'd expect from its brick breaking influences. Players control a small platform as they bounce a ball around the screen, breaking tiny blocks spread out over the screen. It features single player, two player co-op and two player VS modes through 20 unique levels… and that's about all I was able to learn. From the gameplay footage I've seen, it's hard to tell how you lose lives, as the ball seems to be perfectly able to ricochet off the edges of the screen without penalty. I'll be honest here: I'm a little baffled by this one, and at $7.00 am not sure I can wholeheartedly recommend it.
Surfin' Sam – Attack of the Aqualites (Slyon Studios LLC, ??) – In this 2D platformer, guide Sam and his adorably named sidekick, Flip Flops the beach dog, through more than 30 levels of adventure as you run, jump and surf through in search of Prong, the leader of the Aqualites, to end his assault on Earth. Cool title and great use of alliteration aside, Surfin Sam's aesthetics are an abomination. It's polarizing graphical style – split between vibrant, hand drawn backgrounds and butt ugly 3D character models – is an immense eyesore that kills the presentation of the game. Other than that, it looks like an okay family friendly game if you're desperate for another platformer to sink your teeth into, though given the fact that the genre is pretty much the Wii U's bread and butter, it probably wouldn't be too hard to find a better experience out there.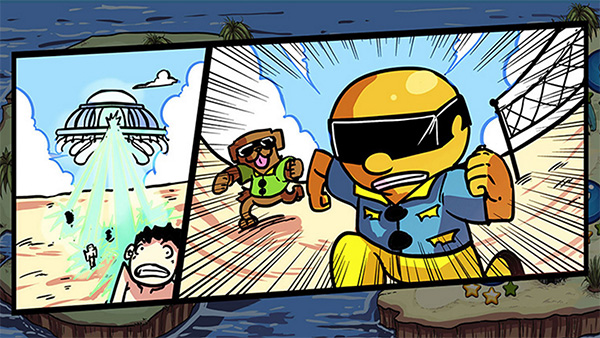 WII U VIRTUAL CONSOLE
Mario Sports Mix (Nintendo, $19.99) – Originally released on the Wii back in 2011, Mario Sports Mix features a bundle of familiar sports with that fun, classic Mario twist we've all grown to love. Play as a variety of Mushroom Kingdom's finest as you prove who's the best in either dodgeball, basketball, hockey or volleyball. Having been developed by Square Enix, there are even a few guest appearances from the Final Fantasy and Dragon Quest series to unlock! While lacking in depth of Mario's more fully featured endeavors as either a pro golfer or tennis player, there's definitely a lot of fun to be had here, especially if you can find up to four friends to join in on the frenzy.
Wave Race 64 (Nintendo, $9.99) – The definitive water-based racer finally arrives on the Wii U! Initially a launch title on the Nintendo 64, Wave Race 64 lets players choose between four characters – each with their own unique abilities and style – as they jet ski through nine intense courses for that coveted gold trophy. Most notable are the highly realistic water physics and changing weather conditions: an impressive feat that was notoriously difficult to program back in the mid '90s. Sporting tight controls, memorable tracks and a trick system that would make Tony Hawk Pro Skater jealous, this is one adrenaline fueled racer you won't want to miss.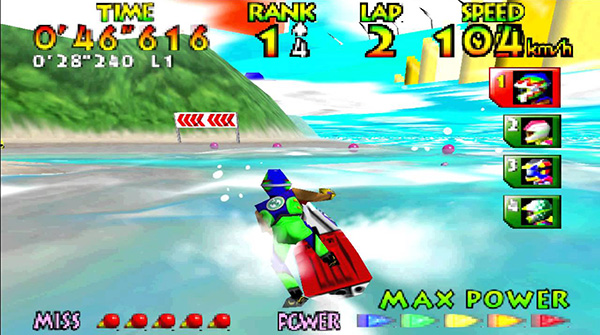 WII U SPECIAL OFFERS AND DEALS
Nano Assault NEO ($7.49 | 25% off) until 8/25
Trine Enchanted Edition ($8.99 | 40% off) until 8/29
Trine 2: Director's Cut ($11.99 | 40% off) until 8/29
The Perplexing Orb ($0.99 | 75% off) until 8/19
Pixel Slime U ($2.00 | 33% off) until 9/28
Tap Tap Arcade ($1.25 | 37% off) until 9/28
Wicked Monsters BLAST! HD+ ($4.99 | 37% off) until 8/31
Star Wars Pinball ($4.99 | 50% off) until 8/18
STEEL RIVALS ($4.99 | 28% off) until 8/25
Midnight 2 ($1.59 | 20% off) until 8/25
Ascent of Kings ($1.49 | 25% off) until 8/15
Jones on Fire ($2.99 | 50% off) until 8/18
STEEL LORDS ($7.50 | 50% off) until 8/18
Rock 'N Racing Off Road ($2.99 | 33% off) until 8/18
Check Nintendo's website for the full list of deals available.
3DS DOWNLOAD SOFTWARE
Ambition of the Slimes (CIRCLE Entertainment, $5.00) – Ambition of the Slimes is a turn-based strategy RPG that borrows elements of both Tactics Ogre and Fire Emblem, though with a gruesomely awesome twist. Too weak to fight on their own, players control a team of slimes who can possess the bodies of their enemies by getting close enough to wiggle their way down their unsuspecting throats. Personally, I'm a huge fan of the game's goofy vibe, best exemplified through its deliberately retro art style and quirky chip-tune soundtrack. With a number of different slimes and abilities to master, each map plays like a puzzle that requires careful thought and strategy to overcome. Animorphs fans and Tactics lovers alike might want to give this charmingly unique twist on the genre a shot.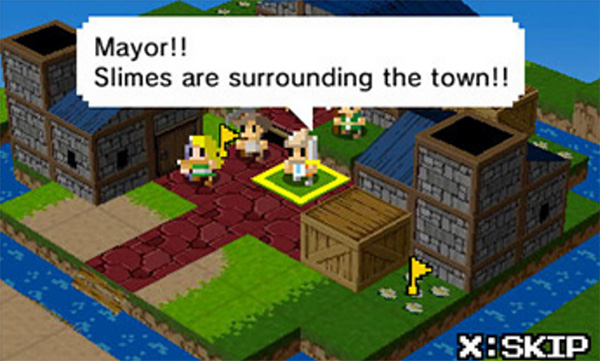 3DS DEMO
Disney Art Academy – (Nintendo, Free) – Despite having come out almost two months ago, Nintendo has finally released a demo for players to test their Disney drawing chops. The latest game in the Art Academy series, the full version of Disney Art Academy lets you draw inspiration from over 80 Disney and Pixar characters. The series has always been known for its robust toolset and varied suite of drawing lessons, so it's sure to delight both budding artists and advanced illustrators alike. In the demo, players are given access to two lessons: Mickey Mouse and Olaf from Disney Frozen.
3DS VIRTUAL CONSOLE
Mega Man X (Capcom, $7.99) – Mega Man X was the very first 16-bit Mega Man game released for the SNES back in 1993. A spin-off of the original Mega Man series, X takes place a century later, set in a futuristic world populated by both humans and Reploids. The X series itself is best known for reinventing the franchise while maintaining the spirit of what made the originals so phenomenal, as highlighted by a more mature story and expanded gameplay elements – such as scaling walls and dashing along the ground. Even the music remained faithful to its roots, featuring a classic chip tune sound, albeit with some more modern synthesized audio touches. Even today, it remains one of the strongest action platformers ever made and is more than deserving of a coveted spot in your growing digital libraries.
3DS SPECIAL OFFERS AND DEALS
Phoenix Wright: Ace Attorney – Dual Destinies ($11.99 | 60% off) until 8/18
Phoenix Wright: Ace Attorney Trilogy ($16.49 | 45% off) until 8/18
Etrian Odyssey Untold: The Millennium Girl ($9.99 | 66% off) until 8/22
Etrian Odyssey 2 Untold: The Fafnir Knight ($34.99 | 30% off) until 8/22
Stella Glow ($29.99 | 40% off) until 8/22
3D Streets of Rage (coming soon) until 8/29
3D Shinobi III: Return of the Ninja (coming soon) until 8/29
AeternoBlade ($4.99 | 66% off) until 8/31
Real Heroes: Firefighter 3D ($4.99 | 50% off) until 8/18
4 Elements ($0.99 | 83% off) until 12/29
Azada ($0.99 | 83% off) until 12/29
Brunch Panic ($2.79 | 30% off) until 9/1
Sweet Memories – Blackjack ($2.79 | 30% off) until 9/1
Crazy Construction ($2.49 | 50% off) until 8/25
Chain Blaster ($3.49 | 50% off) until 8/25
Crazy Kangaroo ($0.99 | 50% off) until 8/31
League of Heroes ($2.49 | 50% off) until 8/31
ASH ($2.79 | 30% off) until 8/25
MY PETS ($9.99 | 70% off) until 9/9
Runny Egg ($1.39 | 30% off) until 8/26
Ninja Battle Heroes ($2.10 | 30% off) until 8/26
Glory of Generals ($3.99 | 42% off) until 8/18
Samurai Defender ($2.79 | 30% off) until 8/18
Sadame ($7.99 | 46% off) until 8/25
Soccer Up Online ($2.99 | 25% off) until 8/18
Check Nintendo's website for the full list of deals available.
What games will you be downloading this week? Be sure to let us know in the comments!
Leave a Comment