The highly-anticipated Sonic birthday bash came to a close last night. Despite technical difficulties, lots of dancing, a Sonic-themed car and relentless advertising of Totino's stuffed nachos, every Sonic fan should walk away happy with what was presented. As Ivo Gerscovich, the head of the Sonic brand, put it: "We have something for every Sonic fan."
After a lengthy performance from video game-influenced electronic duo Hyper Potions, the party really got started when the first new game was announced. Sonic Mania, a love letter to classic Sonic games, is set to release in the spring of next year. While the new game was not announced for any Nintendo platform, its release window coincides with the launch window of NX, leading this Sonic fan to hope a Nintendo release is in the cards.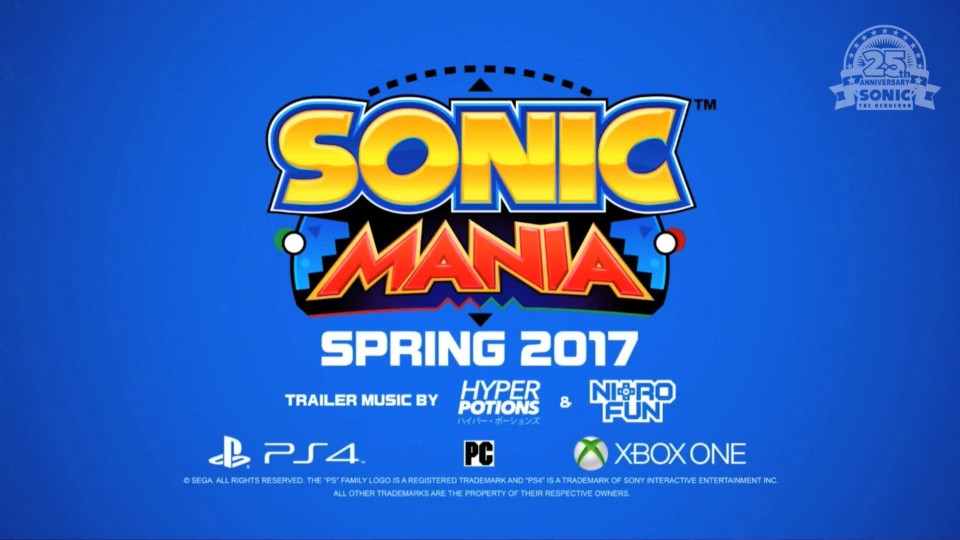 Additionally, Classic Sonic, as well as Green Hill Zone, were both announced to be on their way to the mobile game Sonic Dash. A sneak peek of the second season of the Sonic Boom TV series was also shown, and fans were provided with news that its first season is now streaming on Hulu.
Now for the Nintendo news:
Sonic Boom: Fire and Ice will be "fast"
The release of the new 3DS title is just two months away, and SEGA is still working hard to change the reputation of the Sonic Boom franchise. The developers promise that the game will be fast — an element sorely lacking from the previous two entries in the Boom series.
New Lego Dimensions trailer showcases Sonic
No matter who is developing new Sonic games, everybody seems to understand that Sonic needs to be speedy. The new Lego Dimensions trailer shows Sonic racing through Green Hill Zone as well as the worlds of many other franchises.
Project Sonic 2017 coming to NX
Throughout the entire stream, whoever had the microphone continued to tease that "fans should stick around to the very end" and "modern Sonic fans shouldn't give up yet." The wait was well worth it, as fans received a teaser trailer for the next modern Sonic title, which is coming to NX! The game features both hedgehogs from Sonic Generations, only this time they face a world on the brink of destruction.
So there you have it! Whether you enjoy classic Sonic, mobile gaming, the TV series, Sonic Boom, Lego games, modern Sonic or even stuffed nachos, there was definitely something for every Sonic fan. Happy 25th, Sonic — you sure know how to throw a party!
Leave a Comment