Welcome to Collectors Corner! Each week I'll be bringing you a special article on the special editions of consoles and other Nintendo merchandise that I love. Ever since I was a kid, Nintendo's special editions have stood out to me, and I'm excited to share that passion with you all.
The Year of Zelda
This week we're taking a look at special edition consoles and items centered around one of Nintendo's most beloved franchises, The Legend of Zelda. The Legend of Zelda has seen quite a bit of coverage this year, due to the 30th anniversary of the first game in the series taking place back in February, and, more recently, the fact that The Legend of Zelda: Breath of the Wild totally dominated E3 2016. As you may know, Nintendo is celebrating a Year of Zelda right now, and if you follow the first two links in this paragraph, you'll see that Nintendo Wire is also throwing our very own Year of Zelda party, all year long. Today's Collectors Corner is focused all around Zelda, Link, and the worlds that they've saved many, many times over the last 30 years.
Gold Analogue Nt
First up, I want to just give a quick shoutout to a special edition that was not made or produced by Nintendo, but rather by a hardware company called Analogue. We detailed the console back in April, and I just want to give you guys a quick update while showing off a beautiful rendition of a classic Nintendo console. The console, now sold out, was limited to only ten units, and was released to commemorate The Legend of Zelda's 30th Anniversary. Sold for $4,999, this beautiful console was made of aluminum, plated in 24 karat gold. Each unit has a transparent bottom so that you can "see exactly how beautiful your Analogue Nt is inside." Every system also shipped with an original, gold cartridge copy of The Legend of Zelda.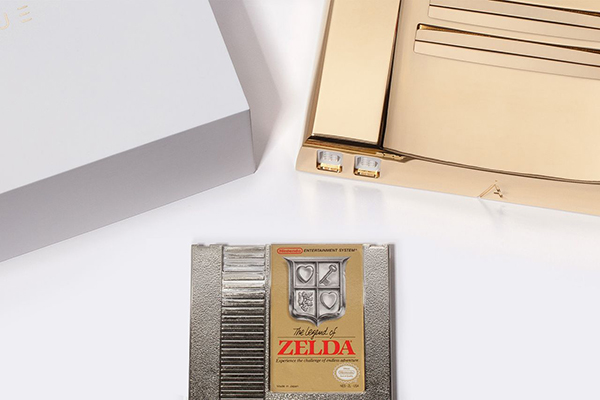 Nintendo World Store Swarovski Crystal
Back in 2007, everything was more… glamorous? At least looking back at this Swarovski Crystal studded DS Lite casing makes me think that was the case (no pun intended). This Legend of Zelda: Phantom Hourglass themed, crystal studded DS Lite was only available at the Nintendo World Store in New York City for $600.
Phantom Hourglass DS Lite
While the color scheme here doesn't exactly scream "Zelda," this is one of my favorite Zelda consoles. I'm a sucker for black paired with a metallic color, and what's more metallic than silver? Released exclusively in Europe, this DS Lite features great artwork from Phantom Hourglass along with the logo, and was bundled with the game itself. If you want to get one for yourself here in the U.S., you'll be hard pressed to find one. I wasn't able to find any on eBay.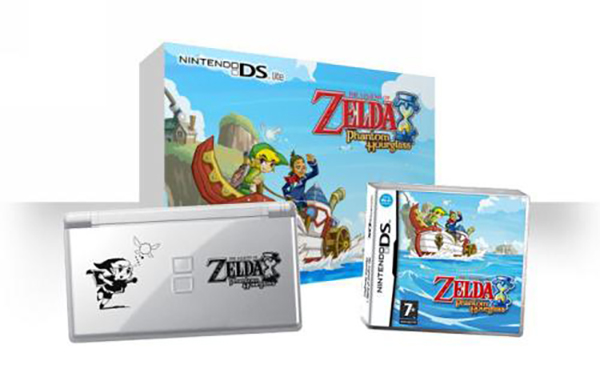 A Link Between Worlds 3DS XL
This beautiful piece of hardware is my all time favorite special edition Zelda console. Part of that may be due to the fact that A Link Between Worlds is my favorite Zelda game, and it's also because of the beautiful representation of the two, opposite worlds present within the game. With one half gold and one half black, featuring mirrored Triforces and an all-gold interior with black buttons. This console happens to be one of the most gorgeous consoles Nintendo has ever released. It also came bundled with a copy of a download code for A Link Between Worlds. For looking so good and being so hard to find when it was first released, this console is available for pretty cheap these days. You can find the complete package on eBay starting at only $240.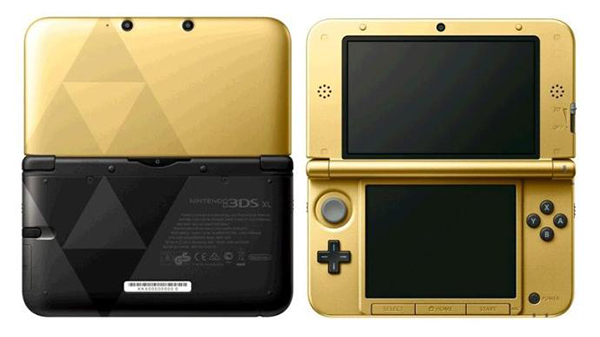 Majora's Mask 3DS XL
Contribution by Jason Ganos
The Majora's Mask New 3DS XL stands out as one of my favorite limited edition handhelds to date. It was released right during the launch of the New 3DS in the U.S. in February 2015 alongside the traditional red and black editions, along with the Monster Hunter special edition. Judging by how quickly the Majora's Mask version sold out online and in stores, it's easy to see that fans loved its unique gold design as much as I do. The console is branded with an image of Majora's Mask on the front, which is surrounded by images of masks you collect throughout the game. This is definitely a must own for Zelda fans everywhere, and with a price tag of $250-300 new (and around $200 used), getting it for a collection these days isn't completely out of the question!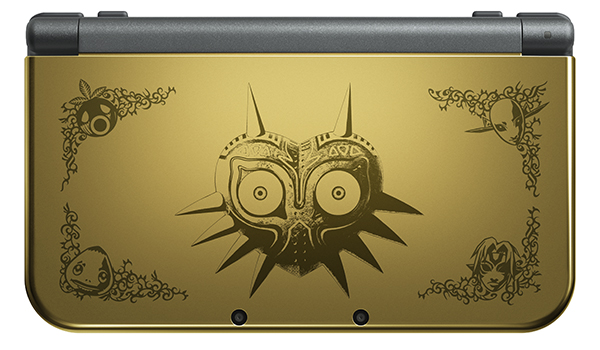 Stay tuned
There you have it, folks! A wonderful look at a couple beautiful Legend of Zelda consoles, featuring an entry by our fantastic editor-in-chief, Jason Ganos. While some of these editions seem a little out of left field, most really great collectible items often are. Let's hope that Nintendo releases even more Legend of Zelda special editions consoles as we go into 2017 and the release of The Legend of Zelda: Breath of the Wild. Make sure you stick around so you can experience even more of Nintendo Wire's Year of Zelda! See you next week!
Leave a Comment