NX rumors just keep on coming as we head ever closer to E3. This time around numerous sources have shared the news that four Wii U games may be getting ported to Nintendo's next system: Super Mario Maker, Splatoon, the as-of-yet unnamed Zelda and Super Smash Bros.
The information comes courtesy of noted video game news sleuth Emily Rogers, who is quick to point out that, while all four are in development, that's no guarantee each will actually be released. Supposedly Super Smash Bros and Zelda are almost guaranteed, while the other two are up in the air.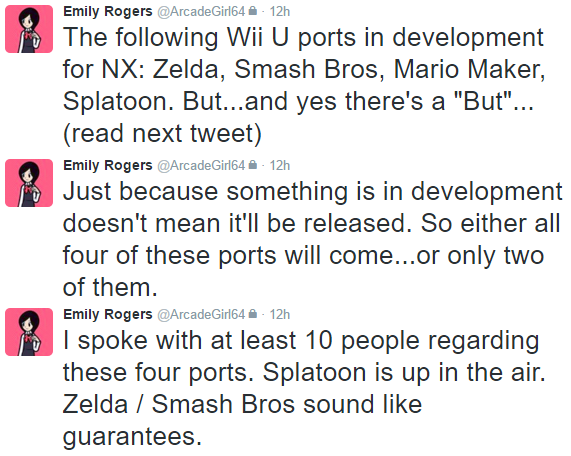 We first heard murmurings of at least one of these ports back in January, when Japanese game industry consultant
Serkan Toto
suggested that
Bandai Namco was working on a Super Smash Bros. game for NX
.
Backing Emily Rogers up more directly is Neogaf user 10k, whose sources have supposedly been verified by moderators. In his post, 10k reveals that the reason Super Mario Maker and Splatoon ports aren't guaranteed is due to their online functionality, and Nintendo wants to make sure levels and player data can be carried over from the Wii U versions before committing.
10k also states that many of his sources have told him that the NX will be noticeably more powerful than the PS4, but he doesn't give any hardware specifics.
Do you want to see the NX library get these Wii U ports, or would you rather Nintendo work on brand new games for the system? Let us know what you think in the comments!
Leave a Comment