Please note: This is Part 4 in a series of articles covering the history of Nintendo game competitions. Part 1 explored The Nintendo World Championships, Super Star Fox Weekend and Powerfest '94. Part 2 discussed the Nintendo Campus Challenges in 1991 and 1992. Part 3 looked at the Blockbuster World Video Game Championships in 1994 and 1995.
---
When I started this series, I had completely forgotten about this competition. I was focused squarely on the days of my youth. This is of particular interest, because this is one of only two competitions in this series that I actually participated in (the other being The Blockbuster World Video Game Championships II). How I forgot, I have no idea. Wii Summer Games 2010 took place in– surprise– the summer of 2010. It was held in various Six Flags theme parks and malls across the country. I personally participated at Southridge Mall in Greendale, Wisconsin.
There were two parts to this. The part I did was just for funsies (so I guess I didn't really participate in the competition). Participants in this part were tasked with earning coins by completing certain feats in a variety of Wii titles. Getting a certain score for some games resulted in more coins. For other games, just trying it netted you a single coin. The coins could then be traded in for some prizes. I still have a Super Mario Yahtzee set that adorns my shelf from the event. Other prizes included t-shirts and buttons.
What I didn't know until I started work on this article was that you could actually advance. There were finals in Los Angeles over Labor Day Weekend in 2010! And, as fate would have it, my editors ran into the winners of the Adult division at a recent Nintendo event and had the opportunity to talk with them.
TJ Harris and Chris Mrozek won that division (there were several divisions, including Kids, Super Adults and Family) after winning a qualifying event and being flown to California for the finals. They decided to pair up and wait until the final day of qualifiers, so as to have a good idea of the score they had to beat.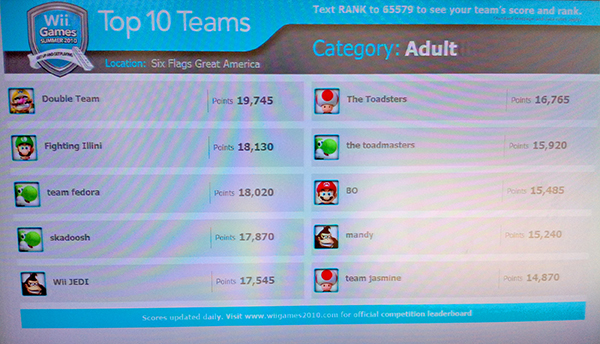 The games differed a little from the "fun and swag" portion to the "serious competition" portion. In the actual competition, the games were Wii Fit Plus (Hula Hoop), Wii Sports Resort (3-pointers and Bowling), New Super Mario Bros. Wii and Mario Kart Wii. In the 'just for fun' portion, those games were all present. Just Dance and Super Mario Galaxy 2 were as well.
The games in the finals were the same as the qualifiers, but with different stages and challenges. While only one member of a team played in the qualifer, both played in the final with the higher score being taken– with the exception of Mario Kart Wii, where both played together. All games seem to have been played on full retail versions of the games set up at different kiosks. No ultra-rare discs here! Or, if there were, no one is aware of them as of this the publication of this article.
The prizes were pretty lavish, though there was nothing as unique as, say, a Nintendo World Championships cartridge. Still, a black Wii system with three controllers and nunchuks, a new 43" TV, a Panasonic stereo system, three new Wii games of your choice and a yearlong subscription to Netflix. Oh, and a trophy in the shape of a Wii controller.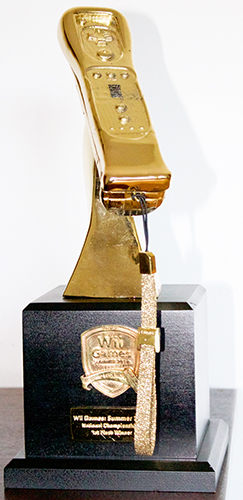 So, what does the future of Nintendo competitions hold? This year's pre-E3 Nintendo World Championships were a smashing success by all appearances, and Nintendo has already stated that it's planning to host the event again next year. I'd say the future is pretty bright! With Nintendo's massive back catalog and history, I think it's safe to say the company can mix it up pretty well and keep this event going for as long as the fanbase wants it to (which is probably forever).
Leave a Comment