Since Super Mario RPG was released for the Super NES, role-playing games have been a staple of the portly plumber's extensive portfolio of spinoffs. In recent years, players had two main ways to get their Mario RPG fix: the Paper Mario series on Nintendo 64, GameCube, Wii and 3DS, and the Mario & Luigi series on GameBoy Advance, DS and 3DS. But now, these two sister series will cross paths in the upcoming 3DS game Mario & Luigi: Paper Jam.
That's right, for the first time, these two worlds will collide in one handheld title. Series mainstays like Princess Peach and Bowser will be rubbing elbows and butting heads with their paper-cutout counterparts. And just when you thought Luigi couldn't slide any further down the totem pole, he now has to tackle a new adventure with not one, but two, as Paper Mario joins the dynamic duo this time around. Guess this means Luigi is no longer the thinnest brother either anymore, either.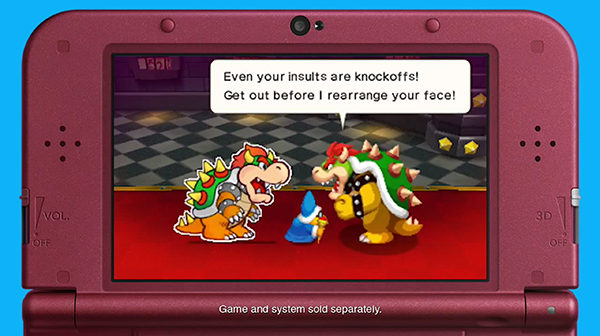 Paper Mario, Mario and Luigi do battle with whatever nefarious forces are behind this interdimensional ruckus with trademark "Action Commands" gameplay, which should be old hat for anyone who's played either series. Paper Jam also looks to take advantage of both series' staple mechanics in interesting new ways: the brothers use Paper Mario to float safely over enemy attacks, Paper Mario slips through otherwise inaccessible cracks. We see a new take on Mario & Luigi's Special Attacks, and the threesome unite to take control of a giant "Papercraft Mario" which could be a nod to the giant Bowser and Luigi battles from the recent Mario & Luigi games.
Mario & Luigi: Paper Jam certainly sounds like an awesome idea on paper. The game is currently scheduled for a release in Spring 2016. Stay tuned for any new details.
Leave a Comment