Welcome to Speedrun Sunday: that sadistic time of the week when we dare to challenge both your D-pad's durability and sanity's stamina with the ultimate test in video game bragging rights.
Hot off the Badnick crusted kicks of our Sonic Forces challenge comes yet another ruthless run that's fated to stomp you right in the Sacred Stones. That's right, fans of blue haired heroes and shameless heavy petting: We're marching our armies through the Outrealm gate in search of Fire Emblem Warriors' most legendary falchion wielding fighter.
THE CHALLENGE
Who can rack up the most KOs in a single stage as Shadow Dragon's leading lord and franchise mascot, Marth?
Our claim to fame is 5946, which is sure to test even the most talented of tacticians among you. The highest kill count by 12:00 a.m. EST will win a coveted $10 eShop card (North America), along with the illustrious title of Humble Hero-King of Altea.
THE RULES
Only Marth is allowed for the purposes of this challenge. Remember to remove all other playable characters in the Map Deployment screen before heading into battle.

Any stage is fair game! To help get you started, we had the best luck in History Mode map "Noble Lady of Caelin" (Timed Onslaught Lv. 25).

Feel free to equip whichever weapons or skills you like. After all, finding a strategy that either works for you or others have yet to discover is half the fun!

Switch version only.
Follow @NinWire and @cityw0k on Twitter and retweet this post to qualify for today's cash prize. After that, simply snap a screenshot of your results screen (as shown below) and share it in the Twitter comments, and we'll personally send both the prize and a social media shoutout to the winner on Monday afternoon. Also, make sure you scribble your online alias alongside your fanciful feat using the Switch's editing feature so we know it was you.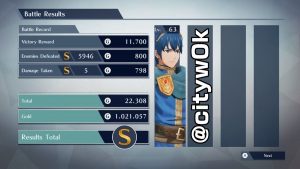 Remember, we'll be keeping score right here in the article all day, too, so you can easily keep track where your top rivals rank.
So whaddya say? Fancy yourself a person of lordly caliber? In the words of Hoshido's grumpiest, arrow slinging sibling "Mercy is for the weak… so don't go expecting any."
---
Humble Hero-King of Altea
1. @autobotkirby1up [14663]
Valiant Foot Soldiers Sent to the Infirmary
2. @cityw0k [11952]
3. @Knux_11 [11888]
4. @PiePhysics [9322]
5. @SgodPie [8411]
Leave a Comment