Welcome to Speedrun Sunday: that sadistic time of the week when we dare to challenge both your D-pad's durability and sanity's stamina with the ultimate test in video game bragging rights.
Hot off the red clad kicks of our super Sonic Mania challenge comes yet another enchanting run that'll give neither calm nor quarter. That's right, fans of cerulean courage and 8-bit bravery: We're digging through the dirt in hopes of unearthing the hastiest heroes Shovel Knight has to offer.
THE CHALLENGE
Who can fell the Black Knight the fastest as the Blue Burrower himself in the Challenge Mode rematch?
Our claim to fame is 0:22, which shouldn't be too hard to top for the most diligent of diggers among you. The azure adventurer with the fastest time by 12:00 a.m. PT will win a coveted $10 eShop card (North America), along with the illustrious title Champion of Shovelry.
THE RULES
All participants must play as Shovel Knight.
Submissions must be made using the Switch's capture button, particularly a snapshot of your victory pose upon feeling the Black Knight (as shown below).
Make sure to scribble your Twitter handle using the Switch's editing feature alongside your fanciful feat so we know it was you.
Since scores are based on a countdown timer, the winner will be determined by who has the most time remaining on the clock.
Feel free to improve upon and submit new scores as many times as you like.
In the instance of a tie, we'll settle things in Smash live later during the week using various level 50 amiibo representing the winners.
Switch version only.
Follow @NinWire and @cityw0k on Twitter and retweet this post to qualify for today's cash prize. After that, simply share your snapshot in the Twitter comments and we'll personally send both your winnings and a social media shoutout within the week.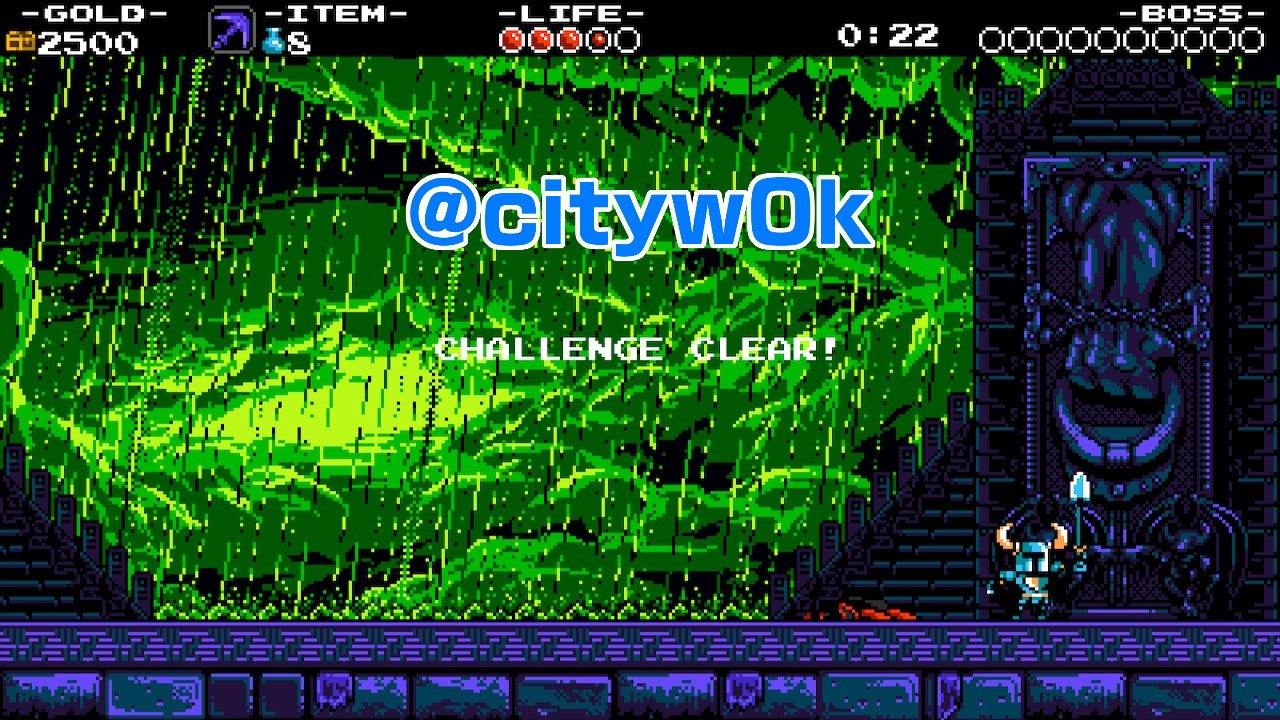 We'll be keeping score right here in the article all day, too, so you can easily keep track where your top rivals rank. Also, feel free to tune in to our Shovel Knight livestream at 5:00 p.m. PT where I'll personally be contending alongside today's top competitors for fame and glory.
So whaddya say? Hoping to snag a spot in the hallowed Hall of Champions? To quote the enigmatic Black Knight himself, "Steel thy shovel!"
---
Champion of Shovelry
1. @vanthournut [0:28]
Shovelers Left in Shambles
2.@_danpar [0:27]
3. @cityw0k [0:24]
4. —
5. —
Leave a Comment