Welcome back to Sonic Sunday! While last week the spotlight was focused on Project Sonic 2017, the new Sonic game already confirmed for NX, this week we'll look at the other major announcement that came out of the Sonic's recent birthday bash. First, some basic details about the new title…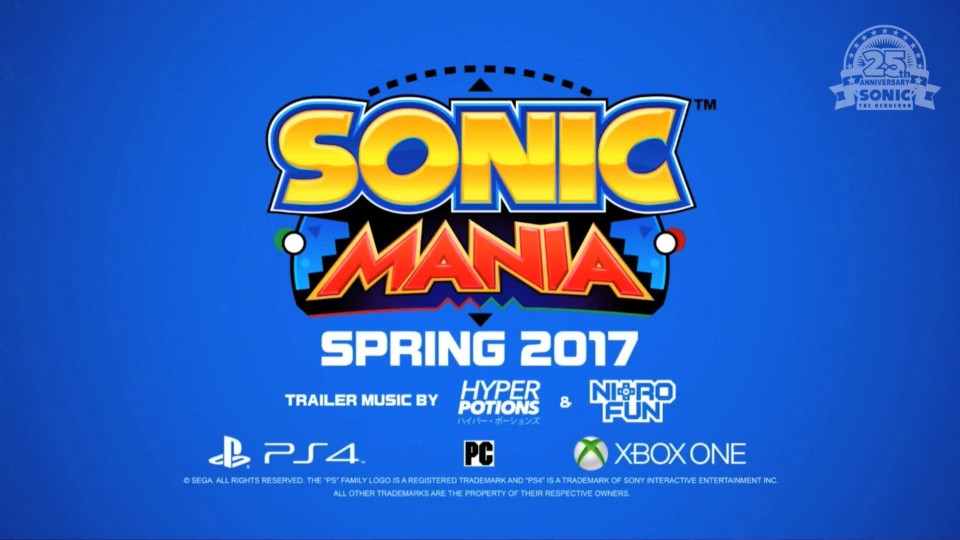 Much to the delight of classic Sonic fans everywhere, Sonic Mania, a new game styled in the vein of Genesis-era Sonic, was announced at Sonic's party in San Diego. The game will feature both new zones and re-imagined classics in one package. Miles "Tails" Prower and Knuckles the Echidna will be joining Sonic as playable characters in the new adventure.
Developed by Sega, Headcannon, PagodaWest games and Christian Whitehead, Sonic Mania will release in the spring of next year. Christian Whitehead, known for porting early Sonic titles to mobile, appeared at Sonic's 25th anniversary party to discuss development of the game. As the Sonic trailer states, the new title hopes to "go back" to "discover what made Sonic a gaming icon" through classic Sonic graphics and level design. The trailer also features the catchiest video game song in recent memory.
The Sonic Mania footage seemed to feature everything die hard Sonic fans could want from a re-imagined classic except for a release on Nintendo consoles. Many people believed Nintendo wasn't ready to label a trailer with "NX" given that the company has yet to reveal the official title of the console, but that point was proven moot later in the night when the Project Sonic 2017 trailer included those two all-important letters. While the game is currently slated to head to every console but Nintendo's, there is reason to believe NX could eventually see Mania.
Sega and Nintendo have joined forces
20 years ago, no one would have taken that headline seriously. It seems like it was only yesterday when Sega and the Big N were at each other's throats, willing to do anything to get their leg up on the competition. Today, we live in a different world — one in which Sonic and Mario meet up every two years to compete in the Olympics.
Remember the Sonic Storybook series that released exclusively on Wii? Sonic and the Secret Rings kicked it off, with Sonic and the Black Knight following it up two years later. Yes, the games were received pretty poorly across the board, but they were exclusive to Nintendo! Some fans are still trying to forget the most recent three-game exclusivity deal Sega made with Nintendo, as that was also a bust. Sonic Lost World, Sonic Boom and Mario & Sonic at the Sochi 2014 Olympic Winter Games were the three additional projects that headed solely to Nintendo platforms. Lost World is now available on Steam, but it was a Wii U-exclusive for quite some time.
The high point of Sega's newfound partnership with Nintendo is Sonic Colors. In the same vein as Sonic Unleashed, Colors finally proved Sonic could work in a 3-D environment. How? By limiting Sonic mostly to 2-D…
Anyway, the purpose of all of this is that Sega has shown again and again that Sonic games have found a new home on Nintendo platforms, a point proven even further with Sonic's appearances in the Super Smash Bros. series. Sonic fits right in with all of Nintendo's IPs, so it only makes sense to get as many Sonic games as possible on Nintendo consoles.
Launching Spring 2017
The trailer revealed that Sonic Mania is set to release in the spring of next year. Sound familiar? Nintendo has consistently said NX will launch Spring 2017. Part of the reason the Wii U failed to sell was a lackluster launch lineup — apart from New Super Mario Bros. U and Nintendo Land, there just wasn't a lot there. Reggie Fils-Aime and other Nintendo leaders understand the missteps of the Wii U and know they have to fix those problems with NX. Even though Mania seems like a smaller project that will only be available digitally, Nintendo should try to fill up the launch lineup for NX to make the new system look very attractive to consumers.
Next week's Sonic Sunday will also serve to kick off a new series called Franchise Five. Nintendo Wire writers have collaborated to compile a list of the five quintessential Sonic titles every fan should play. We'll also defend our choices with a small blurb about each one!
Leave a Comment