Super Mario Party is one-year-old today! It's crazy how time flies, isn't it? To celebrate, we took a look back at where the game stands a year from release, but we also wanted to put together some trivia about Super Mario Party you may not have known!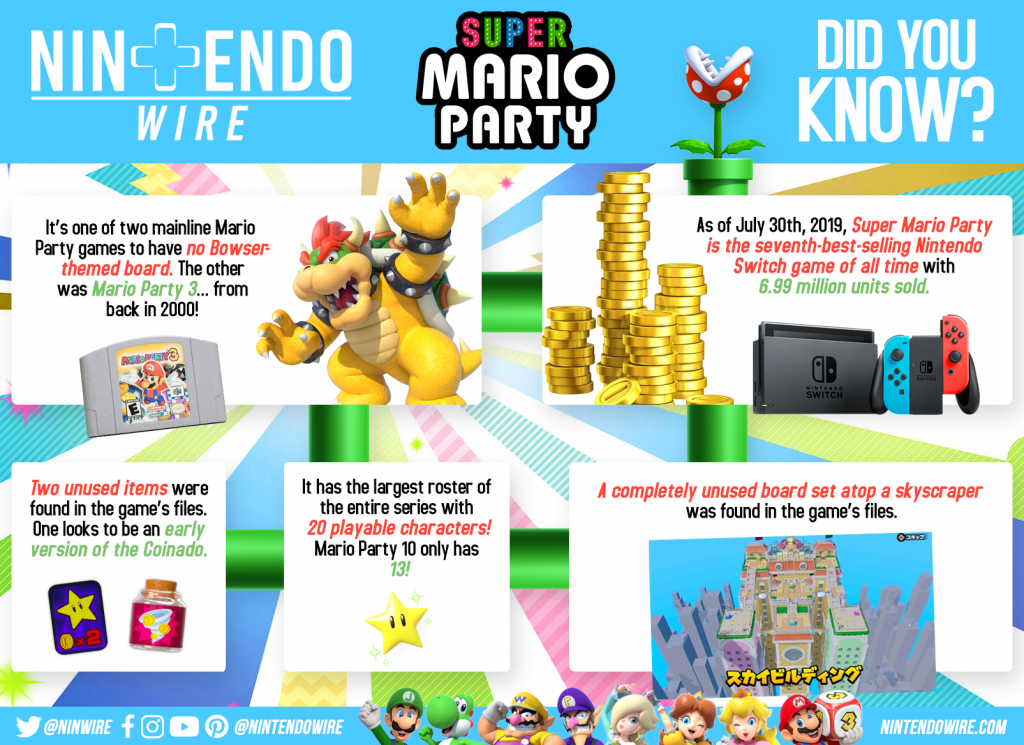 1. It's one of two mainline Mario Party games to have no Bowser-themed board
Yep, that's right: Along with 2000's Mario Party 3 for the Nintendo 64, Super Mario Party is the only mainline game in the series to have no Bowser-themed stage! Bowser boards of the past include Mario Party's Bowser's Magma Mountain, Mario Party 2's Bowser Land, Mario Party 4's Bowser's Gnarly Party, Mario Party 5's Bowser Nightmare, Mario Party 6's Infernal Tower, Mario Party 7's Bowser's Enchanted Inferno!, Mario Party 8's Bowser's Warped Orbit, Mario Party 9's Bowser Station, and Mario Party 10's Chaos Castle (and amiibo Party's Bowser Board, if you count that).
2. As of July 30th, 2019, Super Mario Party is the seventh-best-selling Nintendo Switch game
With over 6.99 million units sold, Super Mario Party has outsold games like New Super Mario Bros. Deluxe, Mario Tennis Aces, Super Mario Maker 2, Xenoblade Chronicles 2, and Yoshi's Crafted World. The game has a way's to go to beat the No. 6 spot on that list: Splatoon 2, with 9.02 million units.
3. Two unused items were found in the game's files
Two unused items were found in Super Mario Party's files: The Cutting Room Floor theorizes the first might've been used in an early version of the Kamek's Tantalizing Tower stage, while the other seems to be an early version of the Coinado.
4. It has the largest roster of the entire series with 20 playable characters
Super Mario Party's cast of playable characters is enormous! Its immediate predecessor, Mario Party 10, only had 13! The only other Mario Party game to come close is Mario Party: Star Rush for the Nintendo 3DS with 19 characters, although many of them were simply differently-colored Toads and limited to certain modes.
5. A completely unused board set atop a skyscraper was found in the game's files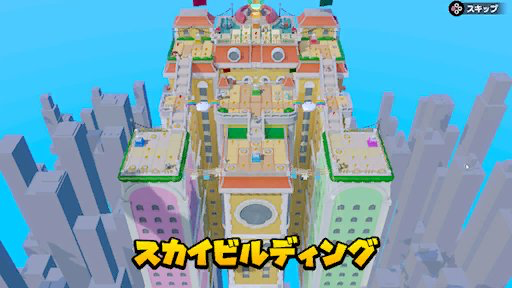 A screenshot found within the game's files named test_ps_01 shows a completely unused board that is set on top of a skyscraper. Could this have been a cut board, an unfinished one, or one intended for paid or free DLC down the line? I suppose we'll never know.
---
Have any Super Mario Party fun facts of your own? We wanna hear 'em! Sound off in the comments!
Leave a Comment