I'd heard a lot of praise for Stardew Valley as it jumped from system to system, but never quite enough to want to introduce myself to its fields and friends. I've spent hours on hours playing the likes of Animal Crossing and Harvest Moon 64, so I'm no stranger to the design or ideas at work, and the pixelated style felt right up my alley — but it was almost intimidating to approach. A peek at its community of fans shows passion and understanding of the game's wide scope of tasks and characters; I felt like I'd never be able to play through such a robust game and enjoy it the way others did, but once I gave it a chance, elements of Stardew started to fall into place.
Starting anew
Starting the game off with that idea that you're leaving behind a dissatisfied life to start fresh is something I can get into. It paints your farm and its surroundings as an escape, making it feel like a new start and a home to call your own. As I started to explore my Riverland Farm, seeing its scattered islands covered in stone and wood and weeds, I started to think of how I could make the most of it all. I got to know my set of tools (and the game's inventory system) as I cleared out everything and gathered materials. Once my pockets were full, I set to selling it off, buying some seeds in town and made farming my priority. I set up a little plot of land right in front of my house, making sure to water the seeds, before (in-game) exhaustion set in and I ended up pushing myself too far. I even passed out in the fields from overdoing it once or twice, tempting fate just to get more done.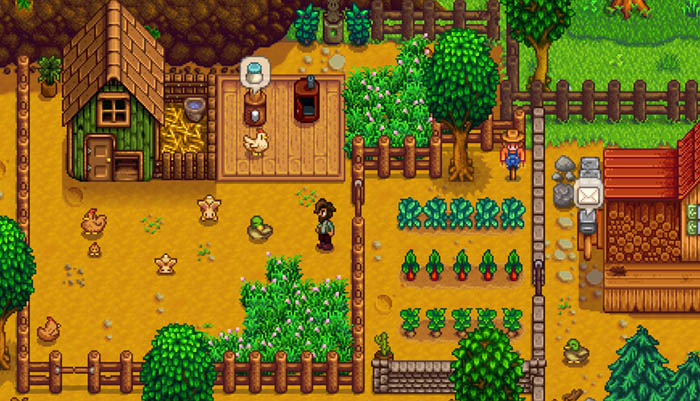 So now I knew I couldn't just go for broke. What's a farmer to do with what free time they can manage when all the work is done? I tried getting to know some of the folks in town, taking a shine to a few that I made a point to stop and talk with whenever I'd see them. One even invited me to hang out with them by chance when I walked into their home, so I started to give them gifts, trying to find out what they were into based on their responses. A couple older gents gifted me a fishing pole and sword, giving me a bit more to do around town. I even met a wizard and took part in a couple town festivals. I continued to see and do new things throughout the month, and it was all based on what I pursued and sought out myself. To me, that made it all the more special, especially as I started to compare experiences with friends — some who settling in for the first time and others who had plenty of farm life under their belts.
Making the most of my new life
Most of my time ended up going towards mining, farming and fishing from that point on. I'd only really focus on a couple of friends, but I'd still poke my head into the town's Saloon on the way back home to see what was happening and who was around. I'd been concerned with how much money I was making, but then I remembered just how much I'd planted midway through the season and ended up with a huge profit that funded a new backpack (probably my best purchase in the game so far) and my first chicken coop. It had taken me a while, but I earned them. They weren't 'rewards' or 'treasure'; they were bought goods that felt worth the invested time. I wanted that feeling again, to keep making Grantwish Farms bigger and better.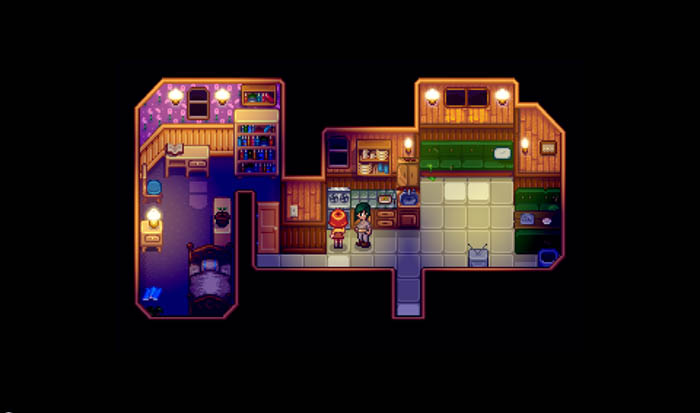 Maybe I'm shunning relationships in town a bit, though at least Abigail likes me. Maybe I could stand to fish a little less and spend more time gathering wood, but then I wouldn't have reeled in that diamond by surprise. I'm digging and slashing my way down the mines, deeper and deeper, but then I realize I forgot to feed my growing chickens. I was right about the game being a little intimidating with how much there is to think about, but it's important to keep in mind that I'm the one who's deciding what's important to me. My gameplay is purely based on all my own choices and chosen direction, with gentle nudges in the form of journal and town bulletin quests. Things definitely aren't optimal, but I feel like summer's going to go better. I'm planning on getting a barn and silo up and running by the midpoint, with fresh crops funding the whole plan and my freshly upgraded copper tools helping out.
I'm sure anyone who's been playing can relate and probably has similar stories to share, but the beauty I'm finding in Stardew Valley is that no one will be able to tell it the exact same way.
Leave a Comment