'Tis the season — for Black Friday deals, premature holiday lights, and kids sending lists off to Santa so he can impart strict moral judgment upon them. But before December rolls around, late November in the US brings that most thankful of holidays, Thanksgiving. And while you eat turkey and watch The Game, you can also watch the annual Macy's Thanksgiving Day parade — which for the second year in a row will feature Pikachu and Eevee on a Poké Ball-shaped bobsled, adorned with wintry scarf and Santa hat.
Pikachu has of course descended on the streets of New York for the Macy's parade for 22 consecutive years, ever since Pokémon became entrenched as a global phenomenon. He only got a buddy along for the ride last year, though, so hopefully Pika and Eevee can make some fond memories together. I'm sure the children watching them will.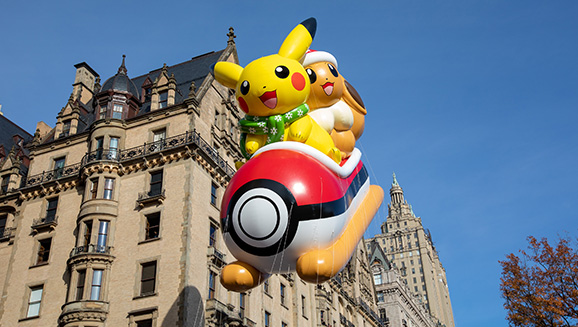 The Macy's Thanksgiving Day Parade begins on November 24th at 9 a.m. (all time zones).
Leave a Comment