Litwick had its fun for Pokémon GO's October 2022 Community Day this weekend. Now with it completed, there are just November 2022's Community Day and Classic Community Day events before it's time for the big December 2022 Community Day roundup event. While we've known that Dratini is the star of November 2022's Classic Community Day, the Pokémon for the standard Community Day event has been a mystery. That changes this week!
On Saturday, November 12th, 2022 from 2 p.m. to 5 p.m. your local time, Trainers will find swarms of Teddiursa in the wild.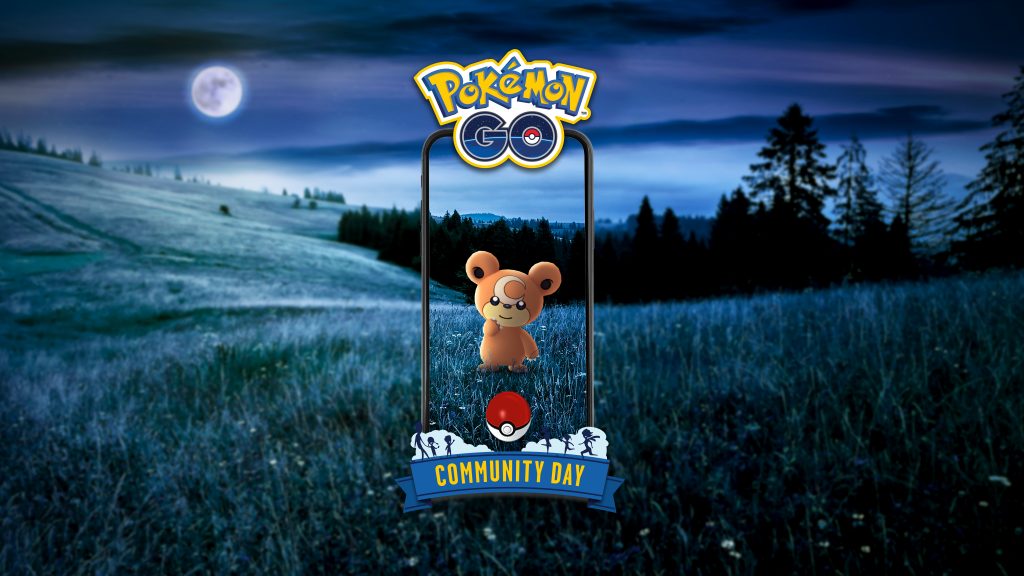 Not only that, Teddiursa's newest final evolution (Ursaluna) will be added to the game. Plus, if you evolve an Ursaring into Ursaluna (from 2 p.m. to 10 p.m. your local time), you'll have an Ursaluna that'll know High Horsepower (Charged Attack). You'll definitely want to take advantage during this time, as Ursaluna has some very specific evolution conditions. With 100 Teddiursa Candies in hand, you'll need something else to evolve Ursaring into Ursaluna – the moon. In Pokémon GO, a "full moon" will appear on screen in the sky from Saturday, November 12th, 2022 at 2 p.m. to Sunday, November 13th, 2022 at 6 a.m. your local time. When on-screen (and in effect), Ursaring can evolve into Ursaluna. Without that, you have to wait for the full moon to appear again. Keep in mind that Niantic isn't clear if this new full moon feature will mimic the lunar calendar going forward (November 2022's full moon takes place on November 8th, not November 12th).
Other than the addition of Ursaluna and its evolution requirements, the typical Community Day bonuses, Special Research, and more will be taking place. Bonus Raid Battles after Community Day are back too and will pick up where the Community Day event ends from 5 p.m. to 10 p.m. your local time. Trainers can find Ursaring in special Four-Star Raid Battles and once successfully defeated, Trainers can get a catch encounter with Ursaring and Teddiursa will spawn in the area of the Gym where the Raid Battle took place for 30 minutes.
For all the finer detail, you can read about it on the official Pokémon GO blog.
Leave a Comment