This year's Tokyo Game Show is just around the corner, meaning we are going to get a look at a bunch of new and upcoming games. In preparation, the Computer Entertainment Supplier's Association has released the program schedule for the show's livestreamed events.
As covered by Gematsu, the event, which runs from September 15th to 18th in Chiba, Japan, will feature 38 livestreamed presentations. Exhibitors include the likes of Capcom, Sega, Konami, and Bandai Namco. The event will be streamed by IGN in the US, featuring a live English translation.
Below is the full stream schedule. All times are Japan Standard Time.
September 15th
10:00 to 11:00 – Tokyo Game Show 2022 Opening Program

11:00 to 12:00 – Keynote

12:00 to 13:00 – Gamera Games

13:00 to 14:00 – Japane Esports Union

15:00 to 16:00 – BenQ Japan

16:00 to 18:00 – Japan Game Awards 2022

18:00 to 19:00 – Microsoft

19:00 to 20:00 – Archosaur Games

20:00 to 21:00 – GREE

22:00 to 23:00 – Bandai Namco Entertainment

23:00 to 24:00 – Capcom
September 16th
12:00 to 14:00 – Prime Gaming

16:00 to 18:00 – Sense of Wonder Night 2022

18:00 to 19:00 – 505 Games

19:00 to 20:00 – Koei Tecmo Games

20:00 to 21:00 – SEGA / ATLUS

21:00 to 22:00 – Konami

22:00 to 23:00 – Square Enix

24:00 to 25:00 – Capcom
September 17th
11:00 to 12:00 – D3 Publisher

12:00 to 13:00 – Donuts Games

13:00 to 15:00 – Qookka Entertainment

13:00 to 15:00 – Japan Game Awards 2022

15:00 to 17:00 – GungHo Online Entertainment

17:00 to 18:00 – Happinet

18:00 to 20:00 – miHoYo

20:00 to 21:00 – fingger

21:00 to 22:00 – LEVEL-5

22:00 to 23:00 – Aniplex

23:00 to 00:00 – ProjectMoon
September 18th
10:00 to 12:00 – Online Experience Tour

10:00 to 12:00 – Japan Game Awards 2022

12:00 to 13:00 – Japan Electronics College

13:00 to 14:00 – Japan Game Awards 2022

16:00 to 17:00 – GungHo Online Entertainment

17:00 to 18:00 – 110 Industries

18:00 to 19:00 – Happinet

19:00 to 20:00 – Tokyo Game Show 2022 Ending Program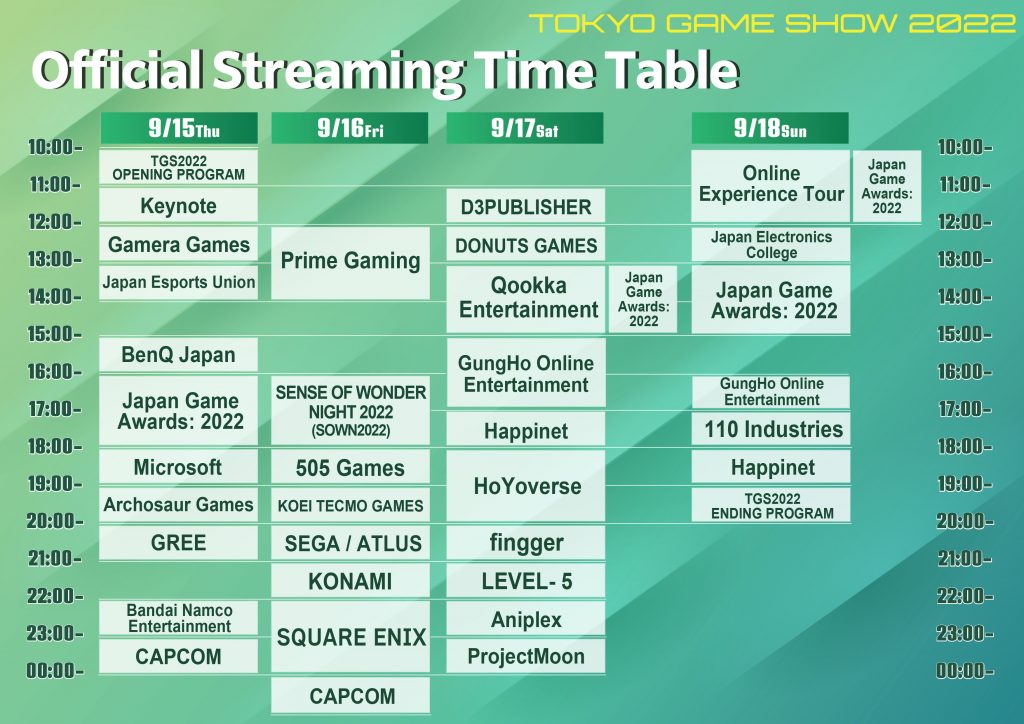 Leave a Comment