Now is your chance to receive a promo code to buy a TCG promo card! To celebrate the launch of The Pokémon Center in the UK, the online store will be distributing codes sometime during the next 12 weeks for customers to receive a Special Delivery Charizard TCG promo card with a purchase of $20 or more (before taxes). The promo card is open to all customers living in the United States, United Kingdom, and Canada (except Quebec).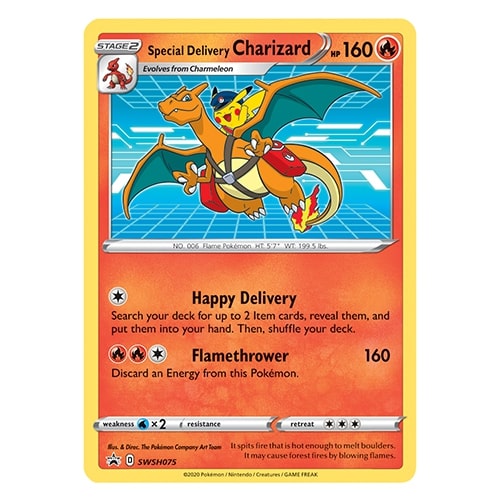 As can be seen in the photo above, the card depicts Charmander's beloved final evolution carrying The Pokémon Center's mail Pikachu mascot across a digital plain. The Special Delivery Charizard has 160 HP and the moves Happy Delivery and Flamethrower.
Each Special Delivery Charizard promo code from The Pokémon Center can only be used one time. Codes are set to expire before the end of the year on December 31st. To request and potentially receive the Special Delivery Charizard promo card code, you can follow the link right here to The Pokémon Center's entry page. Act fast before you miss out on this special delivery!
---
Source: Serebii
Leave a Comment