Eclipsed perhaps only by Pokémon at this point, the Kirby merchandise hype train never really seems to end in Japan. A selection of 30th Anniversary goods just made their presence known at Nintendo Tokyo, notable in that that store's real estate is typically held by the likes of Nintendo's own in-house developments. HAL Laboratory has continued to make the pink, puffy, powerful cutie into a lifestyle brand all his own.
#星のカービィ 30周年をテーマにしたグッズを#NintendoTOKYO と #マイニンテンドーストア でも販売中です。Nintendo TOKYO店頭にてカービィのグッズをお買い上げいただいたお客様に、30周年デザインのステッカーを数量限定でお渡ししています。https://t.co/w2CxLz1kiu pic.twitter.com/0W7GHPFIHF

— Nintendo TOKYO (@N_Officialstore) April 15, 2022
Granted, this isn't the first time Kirby merch has been celebrated by Nintendo Tokyo, but tied together with the three decade milestone it's certainly a bigger splash that Dream Land devotees should take note of. Many of the items, showcased on the Japanese My Nintendo site, are ones you can actually pick up yourself thanks to import sites like Play-Asia, and the fact they aren't exclusives. 
That doesn't make them any less tempting, of course. Setting aside the plushes and Nintendo Switch accessories that you can nab online, I'm personally most drawn to a special relief medal collection themed to the Kirby 30th Anniversary artwork. 10 medals, each with a different depiction of Kirby on them, are sold as either a full set or random singles.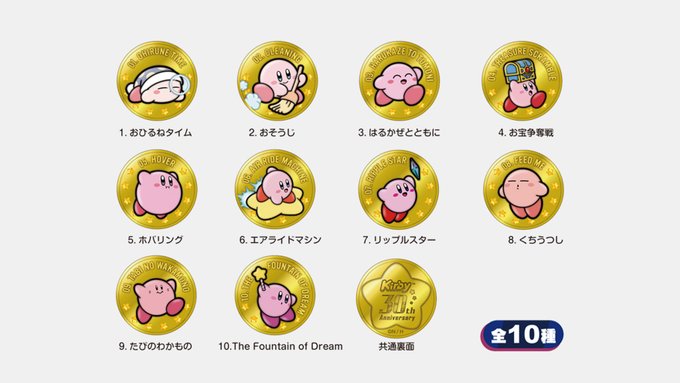 Keep an eye out for more Kirby 30th Anniversary items and celebrations, especially as we come closer to the series' actual birthday on April 27th.    
Leave a Comment