Resident Evil: Welcome to Raccoon City finally stumbled into US theaters yesterday, and with the origin story-based movie reboot now available to fans, Director Johannes Roberts recently addressed the omission of Resident Evil 2 antagonist Mr. X.
Speaking with the ComicBook Nation podcast, Roberts revealed that he was interested in including the relentless T-00 Tyrant in the film, but just couldn't find a way to make it work. "We talked a lot about whether we should have the Tyrant in the movie or not. And in the end, we decided it just didn't tonally fit," Roberts explains. "At some points it was in, at some points it wasn't, and in the end we just decided not to go with it."
Though Mr. X ultimately didn't make the cut, Roberts still attempted to include a reference to the stalking enemy in the film, though even that proved difficult. "I at least wanted a nod to it. I had a Tyrant head put in a specimen jar that was in the back of Birkin's lab in the cold storage room. I never shot it right and when it came to editing, I never used the shots with it in, so it will forever be just off-camera — I think you can see an ear, but that's it."
Roberts also quickly touched on another enemy that was omitted from the film. "As a shark guy, I would have loved to have put a zombie shark in as well."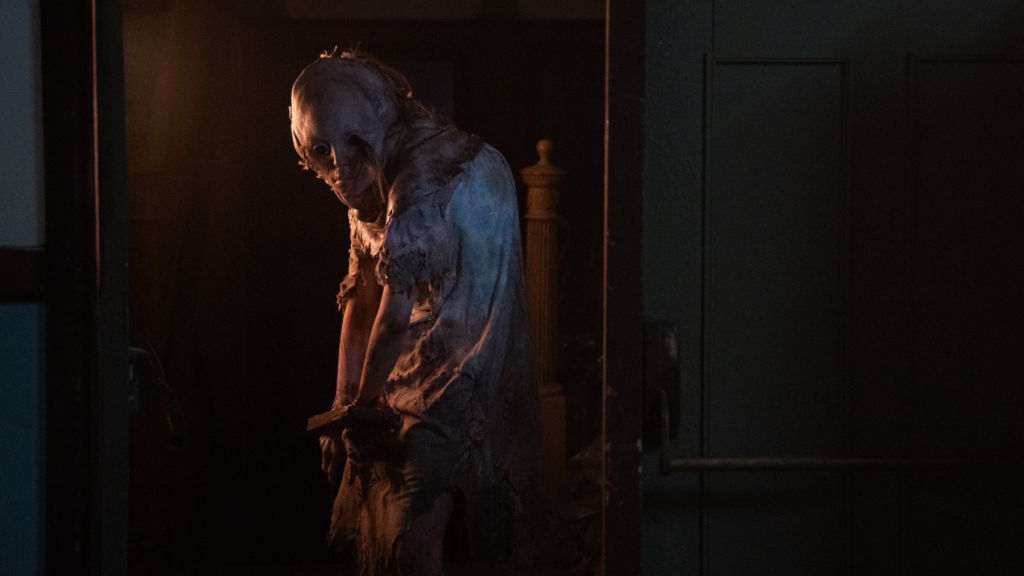 The director also recently spoke with SFX Magazine (as reported by GamesRadar) on his love for Resident Evil 4, and how the highly acclaimed title may influence a sequel to Welcome to Raccoon City. "I am obsessed with the fourth game. I could very much see that becoming part of the next installment," he says. "There's a lot of interesting lore and tiny details that we have brought into this movie, but would be amazing to expand on. There are characters that we didn't use in this game that we would love to expand upon in the next movie."
Roberts appears in a recent promotional video for the film, praising Capcom for their cooperation in helping produce the project. The video also has Capcom Producer Hiroyuki Kobayashi teasing, "Though the movie is based on games 1 and 2, Director Johannes snuck in one of his favorite elements from a later game."
Working closely with game developers at @CapcomUSA_, #ResidentEvil: #WelcomeToRaccoonCity is packed with Easter Eggs from the games. 🎮🎬💥
Get your tickets now to see Resident Evil: Welcome To Raccoon City, exclusively in movie theaters TOMORROW! https://t.co/pbDUzck7cY pic.twitter.com/MZAFS4cH5p

— Resident Evil (@ResidentEvil) November 22, 2021
Robbie Amell, who plays Chris Redfield in the movie, also recently featured in a promotional video wherein he plays the remakes of the first two Resident Evil games. Throughout the clip, Amell comments on just how authentic Welcome to Raccoon City is to its source material, and says "Anyone that has played the games before is going to absolutely lose their minds."
.@RobbieAmell and @RoosterTeeth's Matt Bragg take on Resident Evil 1 and 2 🎮 while diving into the details of bringing these games to life in #ResidentEvil #WelcomeToRaccoonCity. 💥🧟‍♂️
Exclusively in movie theaters on Tuesday. https://t.co/pbDUzcBIBy pic.twitter.com/vm8eGJLVko

— Resident Evil (@ResidentEvil) November 20, 2021
Resident Evil: Welcome to Raccoon City is now available to watch exclusively in theaters in the US, and will arrive in UK theaters on December 3rd, 2021.
Leave a Comment